These crockpot meatball cubs are made with homemade or frozen meatballs in tomatoes sauce, mozzarella cheese, and sub rolls. Great game day food or a quick and easy weeknight dinner.
This post may contain affiliate links. As an affiliate, I earn a commission.
Jump down to Recipe
Crockpot meatball subs are a favorite easy dinner!
These subs are delicious and incredibly simple to make. You just need 4 ingredients!
You can also make meatball sliders using small buns to serve as an appetizer.
Crockpot Meatball Subs Made Easy with Frozen Meatballs
Of course you could make your own meatballs if you prefer homemade (grab my homemade meatloaf and meatball recipe) but the key to this dinner or appetizer being super easy is by starting with frozen meatballs.
Now, that being said, frozen meatballs are not all created equal. I'm actually not a fan of most frozen meatballs. For some reason almost all of them have a weird taste. So to me, if you're going ot go with store-bought meatballs, then there's only one brand I buy. The best tasting frozen meatballs are Sam's Choice.
If you have another favorite brand, go ahead and use that one. But if you're not sure, I recommend starting with Sam's Choice.
Away at work or school all day?
You can still throw these meatballs and sauce into the slow cooker in the morning and have them ready to go for dinner later in the evening. Just set these to cook on high for 2 hours (or low for 4 hours), then set your Crockpot so it switches to "Keep Warm" mode so these don't over cook. You can give them a gentle stir and bump the temp back up the high when you get home. Get unpacked from the day and then in about 15-20 minutes these will be nice and hot and ready to eat.
Taste Testing Meatballs
Taste testing is one of our family's favorite things to do for a little fun. We like to do blind taste tests and all vote on which we like best. So if you're bored, hey, there's an idea for ya. 😉
Choosing a Good Cheese
The next most important ingredient in this meatball sub recipe, next to the meatballs themselves, is the cheese.
When a recipe only calls for a few ingredients, then it just makes sense to choose the best tasting ingredients you can get your hands on. So for these meatball subs, I really enjoy using sliced fresh mozzarella. It's thick but melts so nicely and is less messy than shredded mozzarella although you could certainly use that instead.
Then there's the tomato sauce. That's certainly important too!
The secret is always in the sauce. You want to pick a good one. Especially when you're relying on the sauce to really punch up the flavor of the meatballs. I've found that the most expensive a pasta sauce is typically is better. BUT you can also dress up a cheap pasta sauce by adding a 1 tablespoon of olive oil and 1 tablespoon of sugar. The olive oil adds flavor but also some fat which will add some richness.
Last but not least, the bun.
There's no right or wrong here except for maybe using plain sandwich bread. I am going to go ahead and say please don't do that. A bun would be preferable. A good bun, ideal.
I personally really enjoy fresh baked bakery buns because that yeast flavor they have, compliments the flavors of the meatballs and sauce really nicely. But sometimes they can be dry. So when I'm in the mood for something soft and more moist, then I'll opt for the artisan or sesame seed rolls. You do you and go with your favorite style bun.
How to Melt the Cheese
If using the thick slices of fresh mozzarella, I'll lightly toast the cheese onto the roll before I add the meatballs. I do this by bringing the mozzarella cheese to room temperature and then toasting the bun open faced with cheese on one side in the toaster oven for just a couple minutes.
You can also skip toasting and just layer room temperature mozzarella cheese onto the bun then let the hot meatballs melt the cheese once you add them on top.
Perfect for Weeknight Dinner or Game Days
These meatball subs make such an easy dinner that's basic enough to be kid-friendly and well liked by even the pickiest eaters. So it's great for an easy dinner on busy weeknights or for serving a crowd at a birthday party or game day gathering.
Great Tailgate Food!
You can even bring these Crockpot meatballs to a tailgate. Just pre-heat the meatballs until the are piping hot, keep the lid on the Crockpot tightly sealed so they stay warm, and then assemble the subs when you get to the tailgate.
Turn these meatball subs into meatball sliders!
To make these subs more like finger food, all you have to do is change up the buns. You can use savory Hawaiian rolls, small buns, or any single-serving sized bun or roll you'd like. Simply add one meatball to each with some mozzarella cheese and boom! You have DIY sliders.
Need a Crockpot or want to upgrade?
Want more easy dinner ideas?
This recipe for easy crockpot meatball subs was featured on Meal Plan Monday!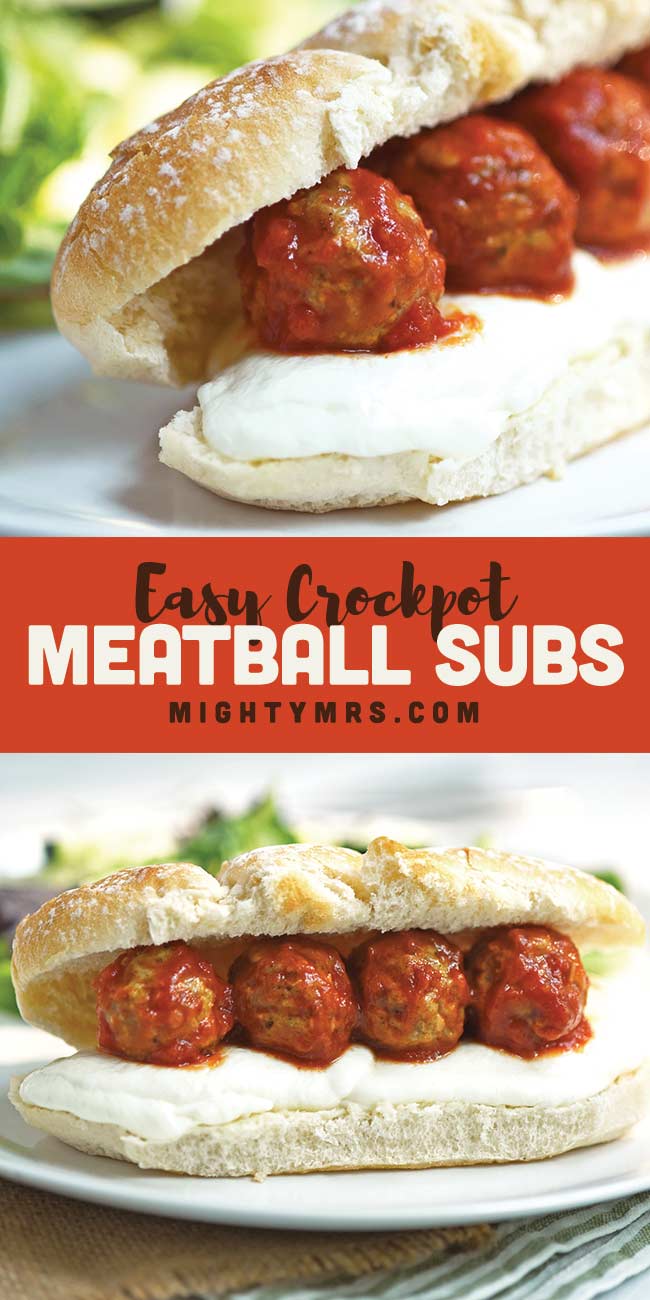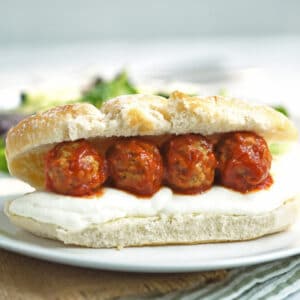 Crockpot Meatball Subs (or Sliders)
These crockpot meatball cubs are made with homemade or frozen meatballs in tomatoes sauce, mozzarella cheese, and sub rolls. Great game day food or a quick and easy weeknight dinner.
Read Comments
Print
Pin
Rate
Ingredients
10

oz

frozen meatballs (about 20 meatballs)

14

oz

favorite tomato sauce

10

slices

mozarella cheese

5

sub roll

grated Parmesan cheese

to taste
Instructions
Add meatballs and tomato sauce to crockpot and cook on high for 2 hours.

Or heat meatballs and sauce on the stovetop in a covered pot oven medium heat for 25 minutes.

Preheat oven to 400˚

Slice sub rolls if needed and lay face-up and open on a baking sheet.

Add 4 meatballs with a generous amount of sauce to each sub roll.

Layer meatballs with 2 slices of mozzarella cheese. Repeat for each of the 5 subs.

Bake subs, open-faced at 400˚ for about 5 minutes or until cheese is melted and sub rolls are lightly toasted (golden brown in color).

Shake with Parmesan cheese and serve immediately.
Nutrition Facts
Calories:
509
kcal
|
Carbohydrates:
37
g
|
Protein:
28
g
|
Fat:
27
g
|
Saturated Fat:
12
g
|
Polyunsaturated Fat:
2
g
|
Monounsaturated Fat:
9
g
|
Cholesterol:
86
mg
|
Sodium:
1036
mg
|
Potassium:
431
mg
|
Fiber:
2
g
|
Sugar:
8
g
|
Vitamin A:
682
IU
|
Vitamin C:
5
mg
|
Calcium:
309
mg
|
Iron:
12
mg
Follow Mighty Mrs. for more easy recipes!
Find @MightyMrs on Pinterest