This skillet meal is perfect for the "I forgot to plan dinner" days because you have everything on hand and it comes together quickly.
This post may contain affiliate links. As an affiliate, I earn a commission.
Jump down to Recipe
Turkey Meatball Skillet with Brown Rice and Quinoa Whew. That's a long recipe name but felt like this recipe, while super simple, needed a bit of explanation.
Long name but a great easy dinner if you're short on time
Now that you've absorbed that big long Turkey-Meatball-Skillet-with-Brown-Rice-and-Quinoa name, let's talk about how this works. This is just the kind of recipe for those Oh-no-I-forgot-to-plan-dinner days. Ever have those?
Of course you do. Probably more than you'd like to admit? Me too. See the beauty of the frozen meatball is that you can plan dinner in about 45 seconds and have it still taste delicious and be healthy. #winning
What kind of meatballs — frozen or homemade?
Another little thing I love about the frozen meatball is that you can use store bought or homemade. I have sampled a number of brands and some are far better than others. So if you've tried frozen before and weren't too keen on them, try a different brand and see if you find one you like, even if you have to spend a little more.
Of course, you can always make your own and freeze those. A little more time and planning is required, but the convenience of being able to freeze and defrost the meatballs quickly is a perk that doesn't always come with homemade meals. So you see why I like whoever invented the meatball? Genius, I tell you. By the way, when I go homemade, I use my meatloaf recipe and just roll into 1 ½" balls. I prefer to cook them in the oven and rotate them around so they cook evenly without any flat parts.
For the love of meatballs
Can I just sing one more praise about the glorious meatball before we get on with this? OK, maybe two things. Sheesh, who would have thought I'd have so much to say about a ball of meat?
OK, 1.) My kids love them, homemade or not so this automatically puts them at the top of my favorite things to cook.
2.) You can make your own breadcrumbs by saving leftover bread ends and/or crackers. It's a fun way to be resourceful and also mix up the flavor a bit each time. I lightly toast the bread ends and then leave them in my toaster oven for the day to dry out. I store them in an old bread bag until I collect a bunch (read: they no longer fit in the bag) and then I food-process them and put them into a recycled breadcrumb tin.
One other things you might want to try is replacing breadcrumbs with oatmeal. It's an easy way to put a new spin on your meatball recipe.
The sauce matters.
For years I loved Hunt's tomato sauce. It was cheap and good. Or so I thought. Until I finally splurged and bought a good jar of pasta sauce. Oh man. The difference is everything. My favorite sauce after trying many different ones is now Rao's Homemade.
A spoon full of sugar really does make the sauce better.
If you had one of those grandmas who added a little sugar to the sauce, then you know what I'm talking about. The reason why adding sugar to tomato sauce makes it taste better is because the sweetness of the sugar balances out the acidity of the tomatoes. So feel free to sprinkle a bit of sugar in with your sauce when you add it.
Quiona is healthy but a bit pricey.
A final note about the quinoa. It's trendy and healthy therefore it's expensive. So if money is no object, then feel free to go full quinoa. I choose the quinoa and brown rice blend strictly because it was significantly less expensive.
Helpful tools for making this recipe:
Want more easy dinner ideas?
This turkey meatball skillet with quinoa was featured on Menu Plan Monday!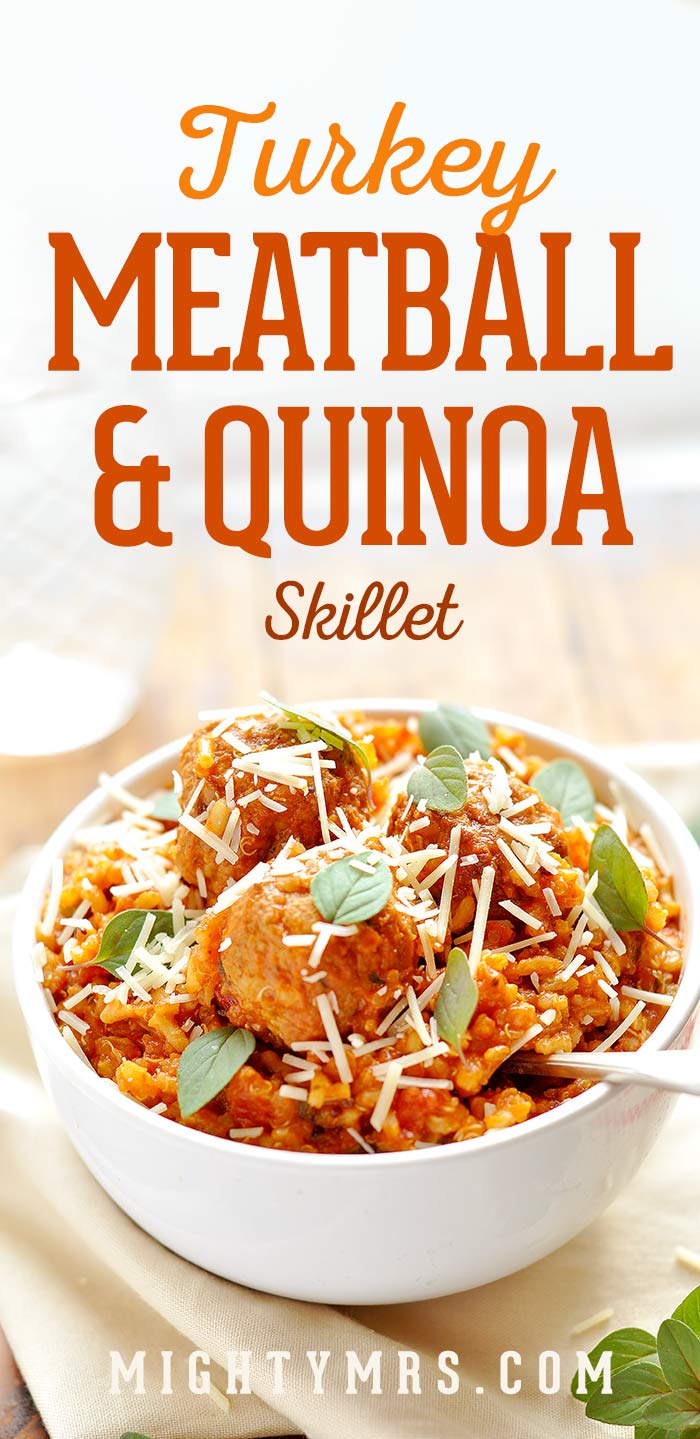 Turkey Meatball Skillet with Quinoa
This skillet meal is perfect for the "I forgot to plan dinner" days because you have everything on hand and it comes together quickly.
Read Comments
Print
Pin
Rate
Ingredients
1

lb

turkey meatballs

4

tablespoon

butter

½

onion

diced

1

tablespoon

minced garlic

1

bell pepper

chopped (choose your favorite color)

24

oz

Rao's spicy Marinara sauce

14.5

oz

crushed tomatoes

1

tablespoon

Worcestershire sauce

1

teaspoon

Italian seasoning

salt and pepper to taste

1

tablespoon

sugar

2

cups

cooked brown rice and quinoa

Shredded parmesan or Italian cheese blend

Parsley

basil and/or oregano for garnish
Instructions
In a large skillet, sauté peppers, onions and then add garlic in butter over medium heat.

Add tomato sauce, crushed tomatoes, Worcestershire sauce, Italian seasoning, salt, pepper, sugar and meatballs. Toss to coat meatballs, cover and cook over medium-low heat, stirring occasionally. Cook for 15-20 minutes or until meatballs are thoroughly warmed.

Spoon into bowls and serve topped with shredded parmesan cheese and garnish.
Nutrition Facts
Calories:
560
kcal
|
Carbohydrates:
52
g
|
Protein:
28
g
|
Fat:
30
g
|
Saturated Fat:
13
g
|
Polyunsaturated Fat:
1
g
|
Monounsaturated Fat:
3
g
|
Trans Fat:
1
g
|
Cholesterol:
138
mg
|
Sodium:
1712
mg
|
Potassium:
1076
mg
|
Fiber:
7
g
|
Sugar:
18
g
|
Vitamin A:
2251
IU
|
Vitamin C:
62
mg
|
Calcium:
173
mg
|
Iron:
7
mg
Follow Mighty Mrs. for more easy recipes!
Find @MightyMrs on Pinterest