This delicious grilled salmon is made with a sweet and spicy maple-chipotle pepper glaze brightened with fresh grapefruit! Simple ingredients, easy to make! A new way to enjoy salmon that you're sure to love.
This post may contain affiliate links. As an affiliate, I earn a commission.
Jump down to Recipe
This grilled maple chipotle salmon recipe is so simple yet tastes amazing!
Grapefruit adds a twist to this classic sweet and spicy glazed salmon which elevates the flavor, without a ton of effort. Win-win!
★ Why You'll Love this Recipe ★
If you want to eat more salmon for the health benefits, but don't know how to really bring out the flavor , you'll love this tasty glaze.
This particular recipe uses sliced grapefruit in place of a more traditional citrus like lemons and limes.
The tart qualities of the grapefruit really balance out the sweet and spicy flavors of the maple syrup and chipotle pepper. It may sounds a little wild, but trust me. This is good stuff! And it's super easy to pull off.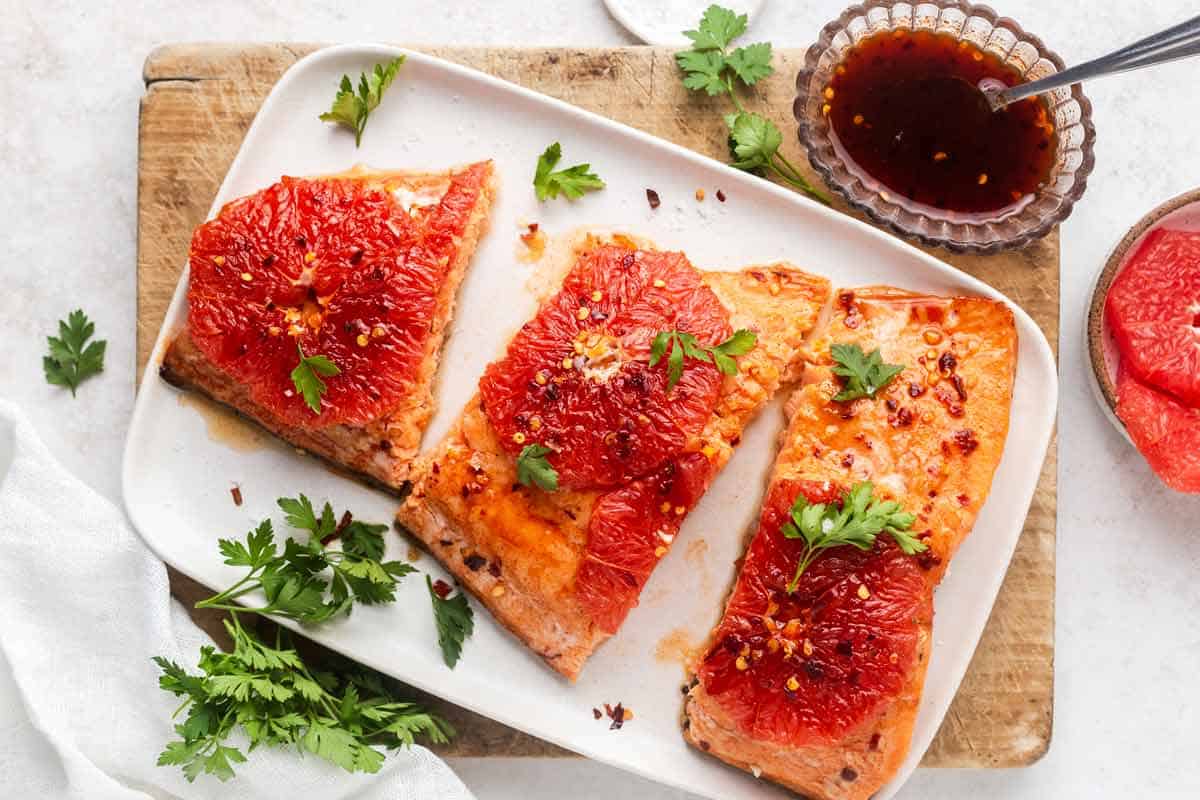 The glaze is made using just a handful of ingredients. Brush it on and grill. You'll have a delicious dinner is ready in no time. Marinate for extra flavor if you have time, but it's not required.
I'll also give you tips on how to be sure your salmon is cooked just right. Keep reading!
★ Ingredients You'll Need ★
There's not a lot to this grilled salmon recipe. It's very simple yet the flavor will blow you away!
Here's everything you need: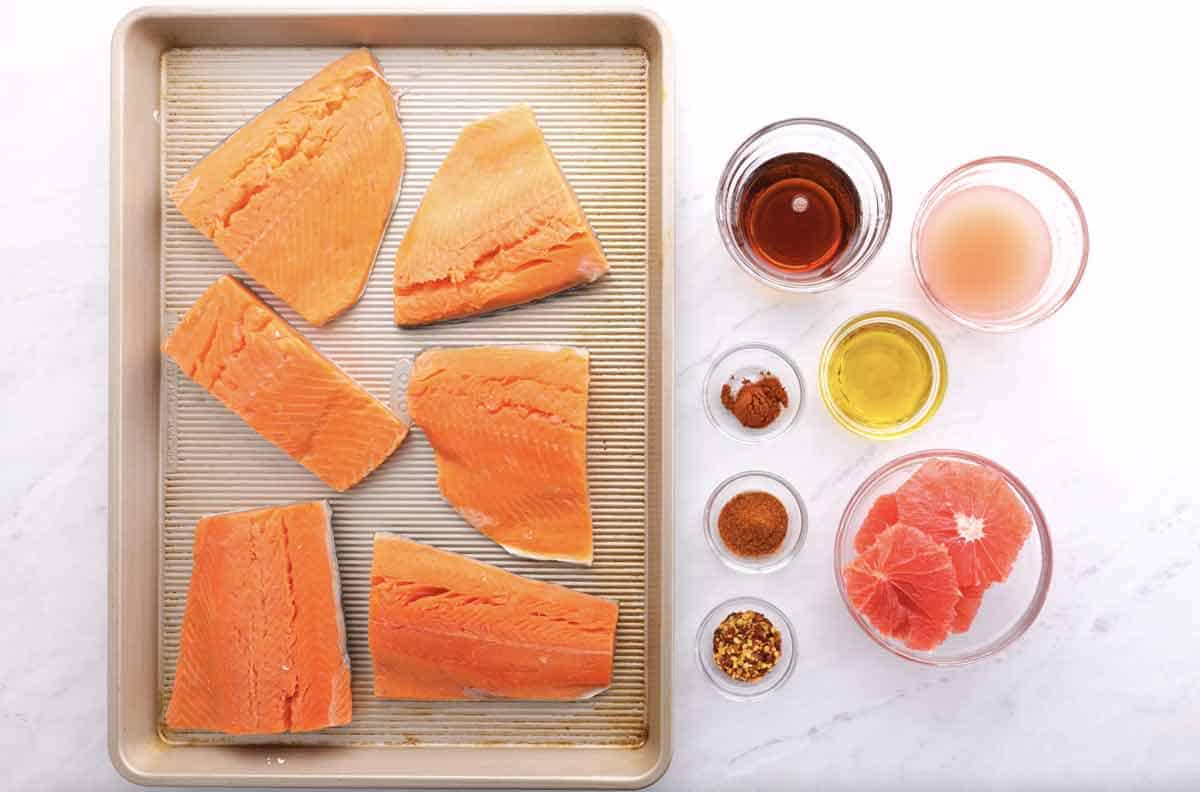 Salmon. Fresh salmon will give you the best flavor, but you can use frozen salmon too, just thaw it first.
Grapefruit. Fresh, sliced grapefruit or you can use canned sliced grapefruit to save time. Both are great options. In a pinch, you can even substitute the slices with an extra splash of grapefruit juice.
Maple syrup. I find real maple syrup has the best flavor but any maple flavored syrup works.
Chipotle pepper. This is powdered and you can find it with other seasonings if you don't already have some in your spice cabinet.
Smoked paprika. A little goes a long way with this one. Smoke paprika adds a subtle smoked flavor that is just so perfect with this spicy-sweet seafood dish.If you don't have smoked paprika, regular paprika works, it just won't have as much of that smokey flavor. (You'll get some smokiness from grilling)
Red pepper flakes. These add extra spice. You can adjust the level of spice depending on how much you add. Or, not a fan of spice? Leave them out all together.
Cooking oil. This prevents the salmon from sticking the the foil when cooking. Any high-heat tolerant oil works. You can also use butter instead of oil if you prefer.
★ How to Make this Recipe ★
For extra flavor, you can marinate your salmon before grilling but it's not necessary. You can still achieve a great taste adding the glaze right before you cook your salmon. So it's up to you and how much time you want to spend on this.
The full recipe and a quick how-to video are below, but here are the basic steps: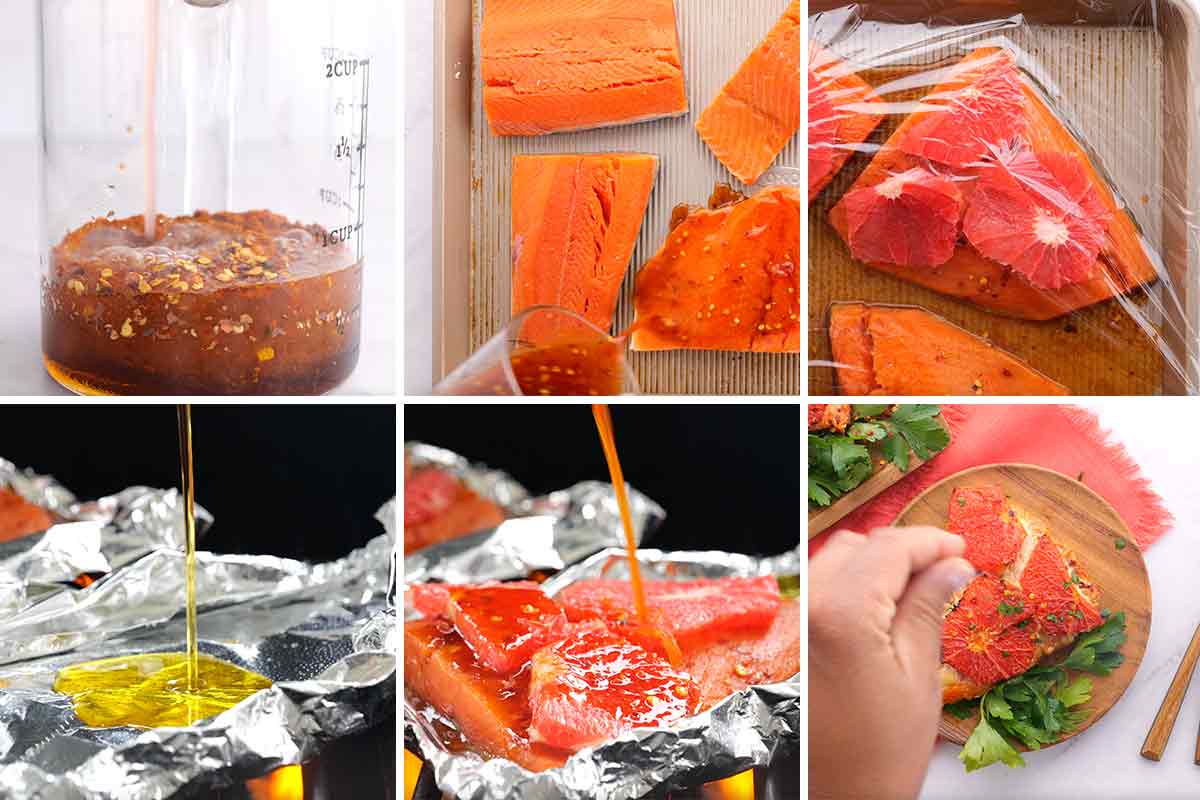 Mix together glaze/marinade ingredients.
Coat salmon with marinade.
Cover with plastic wrap and refrigerate.
Heat grill and add oil to foil packets.
Add salmon to foil and pour over leftover glaze.
Grill salmon, add garnish as desired, and serve!
Super easy! So much flavor!
★ Tips & FAQs ★
Marinating (or not)
If you decide to marinate, I find it's easy to just lay out the pieces of salmon on a baking sheet, brush on the marinade/glaze and cover the whole tray with plastic wrap.
Refrigerate until you're ready to grill. Then transfer each piece to a greased piece of foil before grilling.
If you do not have time to marinate, simply apply the maple-chipotle glaze and slices of grapefruit and grill.
You can baste the salmon when done with leftover juices.
What's the safe temperature to cook salmon?
This is not exactly black and white.
The FDA clearly recommends cooking salmon to a temperature of 145˚ however many chefs pref to cook to a temperature of 125˚ for a more rare finish. This produces a flakier and more moist texture.
So, if you're OK with the risks involved, you can cook salmon this way. Read more about what the FDA recommends
Now, there's another factor to cooking salmon to the correct temperature and that is whether the salmon is wild-caught or farm-raised.
What's the difference between wild caught salmon and farmed salmon?
Wild salmon is less fatty so it tends to taste more try if cooked too long. Therefore, wild salmon tastes best cooked to just 120˚. Again, you're assuming some risk doing this but as far as flavor, this is what's typical. For more details, see Cook's Illustrated.
What does Maple chipotle taste like?
Sweet and spicy is a classic combo that just works. So, all we're doing here is taking something sweet (maple syrup) and spicy (chipotle pepper) and adding some citrus (grapefruit) which does a great job of brightening seafood.
By grilling this salmon, we're adding a touch more of that smokey flavor.
The result is moist, flaky salmon that has a slight crisp and creaminess with subtly spice flavor that melts in your mouth. Sound good to you? It is!
The spicy-sweet combination works well because the sweetness really tones down the spice. So overall this dish is more on the mild side of the spiciness scale.
★ More Recipes You'll Love ★
Do you enjoy seafood?
I have lot of great recipes for you! Browse all my seafood recipes and be sure to Pin your favorites for later.
This easy, Maple Chipotle Salmon with Grapefruit recipe was featured on South Your Mouth!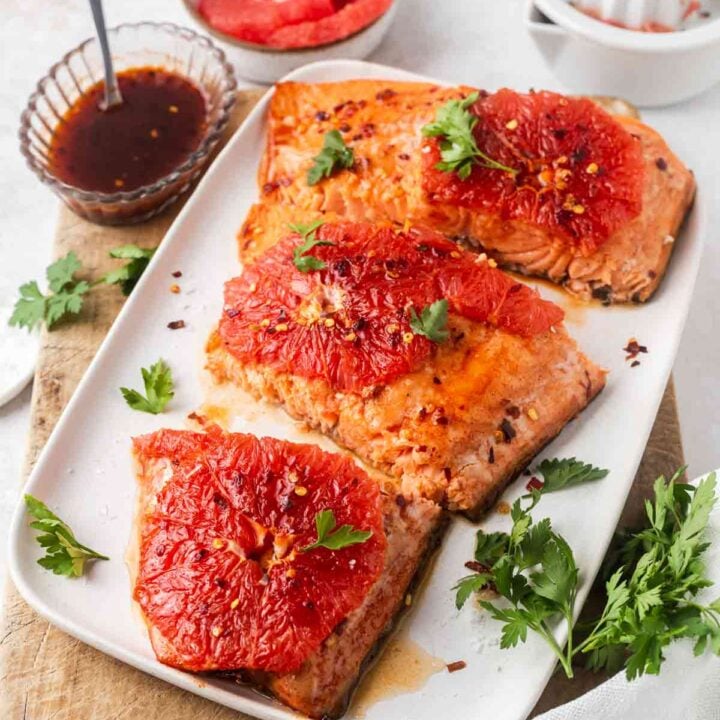 Maple Chipotle Salmon with Grapefruit
This delicious grilled salmon is made with a sweet and spicy maple-chipotle pepper glaze brightened with fresh grapefruit! Simple ingredients, easy to make! A new way to enjoy salmon that you're sure to love.
Read Comments
Print
Pin
Rate
Yield:
6 pieces of salmon
Ingredients
3

lbs

uncooked salmon

fresh or frozen and thawed

⅓

cup

maple syrup

½

teaspoon

chiptole pepper

(powdered)

1

tsp

smoked paprika

1

teaspoon

red pepper chili flakes

⅓

cup

grapefruit juice

(about 2 grapefruits squeezed)

1

grapefruit

peeled and sliced

2

tablespoon

cooking oil

or butter

sea salt

to taste
Instructions
Combine maple syrup, chipotle pepper, smoked paprika, red pepper chili flakes and grapefruit juice in bowl to create the marinade and glaze.

Lay out salmon evenly onto a baking sheet. Pour half the juice from the marinade over the salmon. Coat both top and bottom of salmon pieces with marinade using a brush.

Place grapefruit slices on top of salmon. Cover with plastic wrap and marinate for 4-8 hours in the fridge. Cover remaining marinade with plastic and refrigerate.

Heat oven or grill to 400°. Move salmon to a double layer of oiled or buttered foil. Top with remaining marinade. Wrap foil up around the sides of the salmon to prevent edges from burning/overcooking and to keep juices from leaking out.

Grill for approximately 9-15 minutes (cook time varies depending on thickness of salmon). Salmon is done as soon as temperature reach 125-145° in the thickest part.*

Sprinkle with sea salt to taste.
Notes
*The FDA recommends cooking salmon to a temperature of 145˚ however many chefs pref to cook to a temperature of 125˚ for a flakier and more moist texture.
Wild caught salmon, however, is typically cooked to a slightly lower temperature of 120˚ vs. farm-raised salmon. For more details, see above.
Nutrition Facts
Serving:
1
piece salmon
|
Calories:
439
kcal
|
Carbohydrates:
19
g
|
Protein:
46
g
|
Fat:
19
g
|
Saturated Fat:
3
g
|
Polyunsaturated Fat:
7
g
|
Monounsaturated Fat:
8
g
|
Trans Fat:
0.02
g
|
Cholesterol:
125
mg
|
Sodium:
108
mg
|
Potassium:
1244
mg
|
Fiber:
1
g
|
Sugar:
15
g
|
Vitamin A:
845
IU
|
Vitamin C:
17
mg
|
Calcium:
59
mg
|
Iron:
2
mg
Follow Mighty Mrs. for more easy recipes!
Find @MightyMrs on Pinterest