This post may contain affiliate links. As an affiliate, I earn a commission.
Jump down to Recipe
Where are my Boston Cream Cake lovers?
This easy, homemade Boston cream bundt cake, or as some call it, Boston Cream Pie, is going to rock your world!
So fancy, yet so easy, moist and delicious!
This heavenly pudding-filled bundt cake is topped with a 2-ingredient, 2-minute chocolate ganache you can make in the microwave. Not kidding! I told you this was easy. Yet homemade. See? This is what I do for you all.
Yellow Cake Mix and Vanilla Pudding
These are your two secret weapons for saving time.
Cake Mix: There are several options for yellow cake mix as I'm sure you know, even organic cake mixes. So choose your favorite. If you're not sure just pick one to start with and then have some fun experimenting. Make this again using a different brand and get to know your personal favorite. I can't personally recommend one because I usually just buy a random one, honestly. I have noticed that each cake brand does produce a different result, with unique flavor and texture. So I should start paying more attention. ? Really though, I don't think there's a bad choice.
Vanilla Pudding: You could use an instant pudding mix. But here's a secret. There's ready-made pudding sold in the snack aisle that's even easier. No prep required. Just peel off the lid and you're good to go. Either one works though if you prefer to mix the pudding yourself. Your choice.
How to Add Pudding to the Middle of Your Bundt Cake
Friends, there is absolutely no need to cut your beautiful bundt cake in half! Before you even flip the cake out of the bundt pan, just take the end of a spatula or use your finger, and poke a circular row of holes in the center of your cake. This is where your pudding will go! Nice right?
To dispense the pudding into the holes, use a piping bag or if you don't own one, cut the corner off of a plastic sandwich bag.
Just fill the bag with pudding, cut a small piece off the corner of the bag, and gently squeeze pudding out into each poked hole in the cake. I like to do two rounds of this to allow the pudding to settle in the hole the first time around. Then the second time, top it off so there's plenty of filling in each poked hole. Should look like this:
Then just loosen the edges of the cake with a small spatula and flip the cake onto a cake plate. Filling done. Next up, a layer of soft, smooth chocolate ganache… ?
Unbelievably Easy Homemade Chocolate Ganache
Ganache is such a fancy word. It sounds intimidating to make. But it's so easy. Even authentic chocolate ganache, without any shortcuts, is just two ingredients — chocolate and cream. Of course, I love my shortcuts, so for this recipe we microwave chocolate chips in small increments, stirring in between, and then whip in heavy cream. End result is a thick yet drippy chocolate topping that just looks so pretty and tastes amazing with the yellow cake. No double boiling or any of that jazz. It's simply not necessary.
Check out this video to see how to make this cake, step by step!
What type of chocolate chips taste best?
This is totally a judgement call. You can use milk chocolate chips, or semi-sweet chocolate chips. The semi-sweet chips will produce a more bitter, dark chocolate flavor, whereas milk chocolate chips taste more creamy and more like chocolate chip cookies. Since chocolate ganache has no added sugar, I recommend using milk chocolate which is sweeter. Or you can go half and half and use 1 cup milk chocolate chips and 1 cup semi-sweet chocolate chips. Or really any ratio you want that adds up to 2 cups total.
Finally, to top this off, we have whipped cream and maraschino cherries.
You can make your own whipped cream or use store bought. I do think there is a better flavor to homemade whipped cream, but there's so little of it, it doesn't really make a difference. It's more just for decoration. The thing is though, since you're already buying heavy cream to make the chocolate ganache, you might want to save yourself from having to buy a separate container of whipped cream and just literally whip up some. To do this, just take 1/4 cup heavy cream, add 1 tsp sugar and a pinch of salt. Whip until thick.
All you need is eight small dollops. I used a piping bag with a fancy tip to make these but you can use the plastic bag trick too.
Next, the literal cherry on top! You can skip these if you want, but they do add a fun pop of color. My tip here would be to just blot each cherry dry before placing it on top of the cake to remove extra juice. Then the cherry won't turn the whipped cream pink.
Leave the cherry stems on because they're fun! Ever tried to tie the stem of a cherry in a knot in your mouth (no hands!) Give it a try. It's supposed to make you a better kisser which makes this dessert especially romantic… think date night dessert or Valentine's Day. 😉
That's all there is to this cake!
Simple right? And personally, I think this cake tastes better than the ones you can buy at the bakery. Unless maybe you live in Boston. 🙂
Helpful Tools for Making this Boston Cream Bundt Cake:
Want more easy dessert ideas?
Don't miss these other popular recipes!
This easy recipe for Boston Cream Bundt Cake was featured on South Your Mouth and Meal Plan Monday!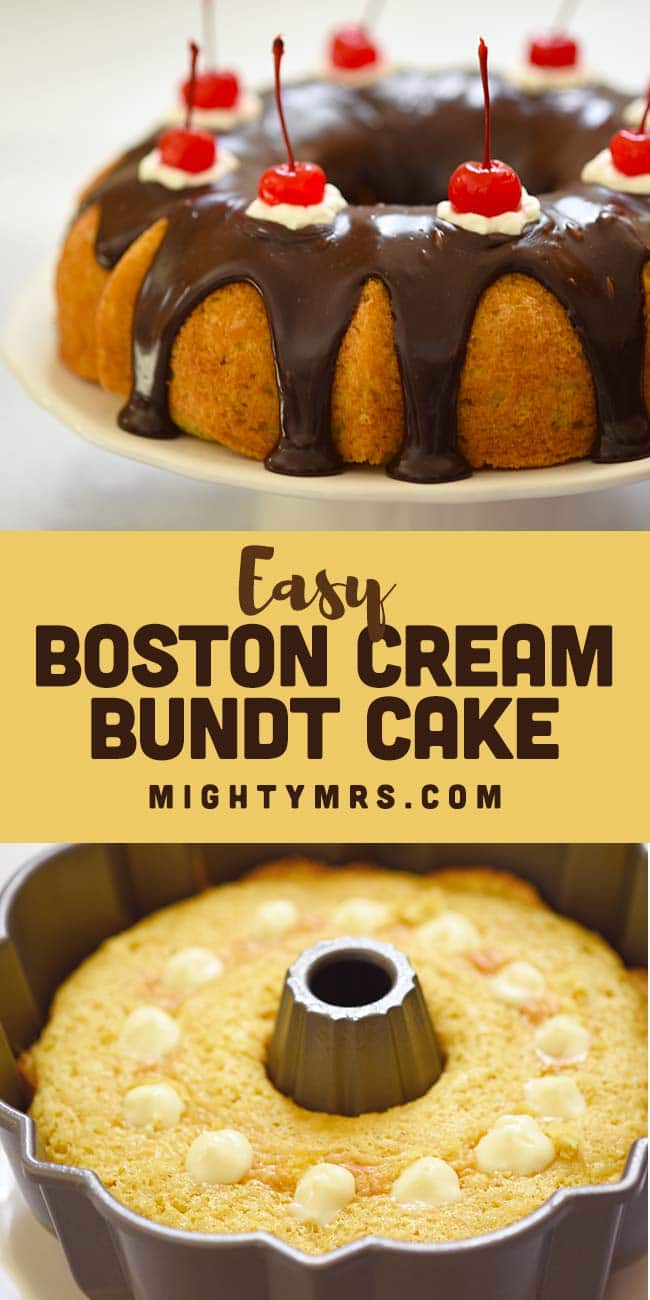 Ingredients
1

box yellow cake mix

3

eggs

1

cup

water

1/2

cup

cooking oil

2

cups

chocolate chips

1/2

cup

heavy cream

2

3.5oz vanilla pudding snack cups

8

tsp

whipped cream

8

marschino cherries

Baking spray

contains flour
Instructions
Prepare cake batter by mixing together cake mix, eggs, water and cooking oil until well blended—about 1 minute on low with a hand mixer. Pour batter into a bundt pan coated with baking spray or grease and sprinkle lightly with flour. Bake at 350˚for 25-35 minutes. Cook time varies by pan so when the top of the cake starts to firm up, insert a toothpick into the middle of the cake, AS SOON AS it comes out clean, remove the cake. Be sure not to overcook or cake will become dry. It will be nice and moist if you cook it just until it sets! Remove from oven and let cool for at least 10 minutes.

While cake is baking, add chocolate chips to a large glass bowl and microwave for 1 minute. Remove from microwave and stir until chips are evenly melted. Microwave for a couple more 15-second increments, stirring in between until chocolate it completely melted and smooth.

Add heavy cream to melted chocolate and stir. If the cream is cold, you'll need to reheat the chocolate with the cream to melt it again. Microwave in 15-second increments, stirring in between until chocolate is smooth and now creamy. Set aside.

Return to the bundt cake and while it's still in the pan, poke holes close together, along the middle of the cake, forming a circle.

Fill a piping bag or plastic sandwich bag (with corner cut) with vanilla pudding. Squeeze pudding into the poked holes in the cake until full.

Loosen edge of the cake from bundt pan with a small spatula. Place a cake plate upside down on the bundt pan, then gently flip the cake onto the plate.

Next, pour the chocolate ganache over the top of the cake to that it drips down the sides and middle evenly. (Make sure the cake has cooled or the chocolate may melt and become too thin)

Add 8 dollops of whipped cream to the top of the cake, spaced evenly apart. (Going from top to bottom, side to side helps space them.)

Finally add maraschino cherries on top of each dollop of whipped cream. (Blot cherries to remove extra juice first)