Butterfinger lovers everywhere: rejoice! You can now enjoy your favorite candy bar in the form of a cake. Specifically, a BUTTERFINGER BUNDT CAKE. 🤤
This Butterfinger bundt cake with cream cheese frosting will rock your world.
What do Halloween, football and Butterfinger have in common? You're about to take a bite and find out.
See fall Sundays in our house are spent cheering on the Browns. When the Browns appear on TV, it's a big deal. Living in the tri-state area, the Browns usually get the boot by the infamous Steelers or the Bills. Maybe since they won against the Ravens last week, the powers that be decided to put them on TV. I'm sure that's not actually how that works but I wanted to just squeeze in there that the Browns actually won and that I knew they played the Ravens last week.
Browns fans will understand.
So, while I was typing this, the Mr. just swooped by like he does whenever I'm at the computer which is sweet but I have to shoe him away because I don't like anyone reading my words until I'm all done! But he got away with reading the title of the post and of course he had a comment. "Browns Butterfinger cake?! Ok, yeah I get it. That's actually funny."
If you're a Browns fan or a fan of any other perpetually loosing team, then you get it.
So, yes. We are fans of an underdog but we love it and rally behind them anyway. I mainly enjoy our football watching days because it's a chance to relax at home with the family and an excuse to sit for awhile. I am usually tempted to do some laundry though as I watch because it's always ominously staring me down.
Yes, Butterfingers taste even better atop of a cake.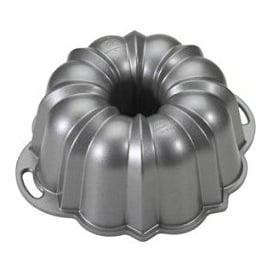 So let's talk a little about this cake. Butterfingers are my favorite. In crunch topping form — delish. On top of a buttery, moist vanilla cake with buttercream icing? Yes. I'll indulge.
This is super easy and does involve boxed cake mix because I happened to have some one hand. I really honestly love boxed cake mix. Is that such a sin? I think not. It's an amazing invention perfect for a lazy family football day.
Please for the love, check the size of your bundt pan.
You will need a bundt cake pan for this recipe. A BIG one. I recommend the Original Bundt Cake pan which is the one I have.
This recipe calls for a LARGE bundt pan so if you have a smaller one, then you WILL need to cut this recipe in half. Sadly I've had several reviews saying the cake overflowed their bundt pan so consider yourself warned. 😬
If you don't already have a bundt pan, I'll tell you why I like my Nordic bundt pan. It's thick and very durable and non-stick which is KEY.
I've tried the copper bundt pans and those are cute for hanging on your wall in an old school way, but please don't try to bake in them! They are not non-stick and baking spray isn't always enough to keep them from sticking.
The secret to getting your bundt cake out of the pan in one piece
One other tips for bundt cakes is to use a flour-based cooking spray like Baker's Joy.
It works much better to release you cake from the pan. If you don't have that handy, you can get the same effect with butter then lightly dust your pan with flour before you pour the batter in.
Where to find Butterfing crunch topping
P.S. You'll need two full sized Butterfingers bars or about eight snack sized Butterfingers. Make sure to raid you kids' candy bags accordingly. Or you can buy Butterfinger crumble in most stores in the baking aisle or on amazon. 😉
Got a sweet tooth? Check out my other desserts.
Browse all my dessert recipes.
Making this for a football party?
Check out my other popular football food recipes:
This Butterfinger bundt cake was featured on Recipes and Ramblings, South Your Mouth and Big Green House!