Raise your hand if you feel like most desserts never have enough icing…. Ok, put your hand down. You know you're right. I know you're right. We're all right about this yet no one is doing anything about it. So I'm doing it. I'm here to tell you that it's OK to double that frosting recipe. Lather it on thick. Indulge. YOLO.
Guys, I purchased my first bundt pan. I've been searching thrift stores for months for one, thinking these things would be a dime a dozen. Well, there were none. And they aren't ten cents. More to the tune of twenty plus dollars. Ugg. SO. I'm going to use the heck out of this thing. Especially after this first little test run was a home run!
I actually can't even believe that I made something this good to eat on the first try because normally there are a lot of just flat-out fails before I get something just right. Rarely ever do I experience that "beginner's luck" people talk about. Nope. Not me. It's usually on round 2-3-4 that things start to work for me. But this bundt cake. It's everything I imagined a bundt cake could be and so much more. It's moist, not overly sweat, has a bit of a healthy vibe with the oatmeal and apples, and has these chewy little sugary edges that are just amaze… If you're and edge-of-the-pan brownie kind of person like me, you'll enjoy these parts. If not, what is wrong with you anyway? 😉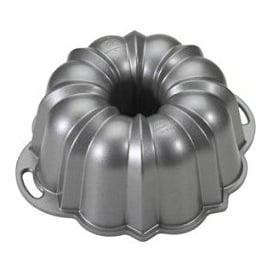 I can't really tell you much more about this because I'd be doing you the disservice of placing time between you and making this cake! I will leave you with a few tips about special tools you may want to make this.
First: a bundt pan. Maybe you'll have better luck thrifting one than I did. If not, there's always Amazon. I got a Nordic Ware brand because it felt more sturdy than other brands and it's non-stick — key for when it comes time to flip. There are other brands that offer some fun designs though. Check out all the bundt pans available on Amazon.
Next thing that's really helpful to have is an apple peeler. I have metal one and it does the job well, check out the selection of apple peelers on Amazon if you're wanting one.
Are you a cinnamon lover? Try my most-loved make-ahead breakfast casserole — Cinnamon Baked French Toast.