"Grandpa's green drink" is what we called this creme de menthe and brandy after-dinner drink. We grandkids knew not to bother the grown ups when grandpa sat down to relax and chat with his kids (our parents) while sipping his family-famous green drink.
I now know this mixed drink has a proper name, it's called a Stinger. You can find out more about the origins of the Stringer drink here. In most cases a stinger is made with white creme de menthe but for some reason my grandpa opted for the green creme de menthe. I have to admit, it always looked pretty cool and refreshing. He always prepared his green drink in a diamond-textured glass full of crushed ice. In fact, I remember when my grandparents upgraded to a fridge with a crushed ice maker built in. Grandpa no longer had to get out a separate ice grinder for his green drink. Must have been a satisfying day for him!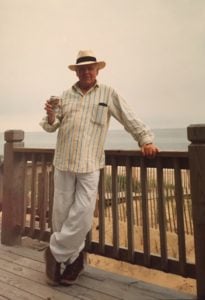 My grandpa was a hard-working man. He ran his own accounting business, was a dad to three children, exercised regularly by swimming, jumping rope or using his Nordic Track (remember those?), and maintained his own property grounds. He even built a large storage shed himself (I helped a little!) to store his tools. Funny enough though, that shed was outfitted with a mini fridge, a ceiling fan, a deck, and some LL Bean furniture. It quickly became grandpa's get-away and a playhouse for us grandkids. So where did his tools go? Well, he built a second shed for those.
Grandpa loved to laugh, praise God, sing "I love mountain music," and talk about the good old days. Some of his favorite quotes were "It's a beautiful day on Earth" and "Whatever you do, don't do it!" He ate peas with a butter knife just to make us grandkids laugh, wiped water away from his "leaking" painting of a lake hung above the fireplace, and loved to playfully pretend to give my grandma a boot to the behind in response to her whipping his butt with a dish towel! What a bunch of goofballs!
As you can see, I have a lot of fond memories of my grandpa and therefore of this iconic green drink. I'm happy to finally be sharing it, just in time for St. Patrick's day so that all you hard-working folks can try out this nostalgic cocktail too while you sit back and enjoy the fruits of your labor. In the words of my grandpa, "God bless, America!"
Need a set of cocktail glasses? Check out this set of diamond-patterned rocks glasses. Not exactly like grandpa's but pretty close and definitely dapper. 😉
**You must be 21 or older to enjoy this beverage. Please drink responsibly**