This post may contain affiliate links. As an affiliate, I earn a commission.
Jump down to Recipe
Hollandaise sauce. It's what makes breakfast more beautiful (and way more delicious). It's easier than you think to make homemade Hollandaise sauce from scratch. If you can use a whisk, you can make this sauce. Makes egg casseroles delicious!
Is homemade Hollandaise sauce hard to make?
Nope. It's not hard to make homemade Hollandaise sauce with the right technique. And there are several techniques you can use.
1. Traditional double boiling method – this is probably he most commonly accepted way to make Hollandiase sauce and what they teach you in culinary school.
2. Microwave – Yes you can make Hollandaise sauce in the microwave! See below for instructions.
3. Just use a sauce pan. This is how I do it. I have a double boiler, but it's more dishes to wash later.
So, you don't need a double boiler to make Hollandaise sauce?
Nope. You don't as long as you keep the heat low and you can stir continuously, you can make this in a sauce pan. or even the microwave if you heat and stir, heat and stir.
The microwave method gets a little tedious with all the stopping and starting so that's why I settled on the sauce pan method as my preferred way to make Hollandaise sauce. So that's what this recipe will show you.
The 3 keys to success when cooking stove top Hollandaise sauce.
1. Cooking over low heat. You want to cook this sauce slowly, over very low heat or the eggs will cook too fast and become chunky. You want the eggs to cook just enough for the sauce to thicken, but you don't to cook this egg-based sauce so long that it turns into scrambled eggs.

2. Whisk constantly. Don't stop whisking. Whisking does two things: 1.) It keep the eggs from clumping together. 2.) It allows you to feel the sauce thicken so you can tell when it's ready.

3. Do not overcook. As soon as the sauce starts to thicken, remove it from the heat. It's done. If you keep cooking it or keep it over heat, it will overcook and become too thick and more like scrambled eggs and no longer s sauce. Once you overcook the eggs in the sauce, there's no way to get them back to their original smooth and more liquid state.
Once you feel the sauce thicken as you are whisking, remove the sauce from heat, stir for another 30 seconds or so to release some heat so it doesn't continue cooking. Then use your Hollandaise sauce immediately. Or, keep a lid on it until ready to use so the top does not dry out and form a layer you'd need to skim off.
Check out this video showing how to make Hollandaise sauce using a sauce pan:
Don't forget these tips for success:
The main thing is, don't stop whisking. You have to keep stirring so your sauce doesn't get chunky.
You need to keep the heat low too. It can be tempting to crank the heat up higher to cook things faster but just be patient with this one. It only takes a couple minutes of whisking before the eggs yolks cook and the sauce starts to thicken.
Make sure you remove the pot of sauce completely from the heat, don't just turn off the burner or you can overcook the sauce.
Try the microwave version.
If you're feeling confident with your ability to make the stovetop version of this sauce, you might be ready to try the microwave shortcut.
Wait. You can really use the microwave to make this sauce? Yep. The mircowave has long been used to cook breakfast foods from eggs to bacon. So, yep, you really can actually make Hollandaise sauce entirely in the microwave.
All you have to do it combine the melted butter (so microwave the butter first by itself) with lemon juice, whisked eggs, warm water or milk and cayenne pepper in a glass bowl. Then microwave in 15 second increments, whisking in between. For about 30-45 seconds until it's thick.
Side note: You can also melt chocolate using this same method!
Hollandaise & Eggs Benedict
Be sure to try my Eggs Benedict Casserole topped with this sauce!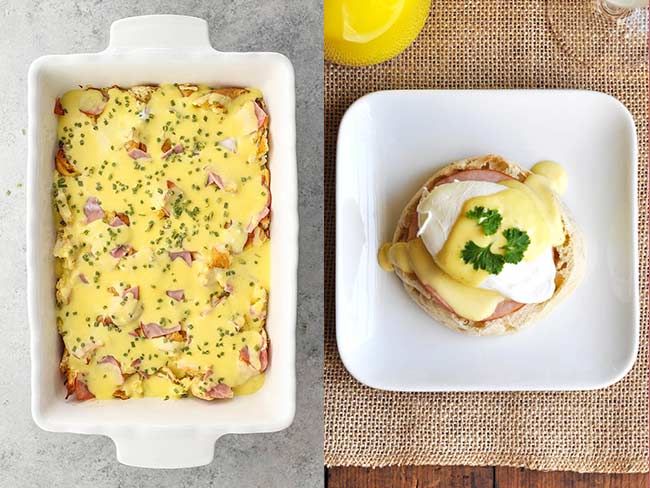 Or if the more traditional method is your style, check out my classic Eggs Benedict recipe.
Breakfast, the best meal of the day?
I could argue that it is! Browse all my breakfast recipes for more breakfast ideas.
Ingredients
1

stick butter

4

egg yolks

1

tbsp

freshly squeezed lemon juice

more or less to taste

2-3

tbsp

milk or half and half

Optional: dash cayenne pepper
Instructions
In a small pot over medium heat, melt the stick of butter.

Add egg yolks, lemon juice and milk or half and half to the melted butter and continually whisk for about 3-5 minutes or until sauce starts to get thick and frothy. Remove from heat.

Finally sprinkle and stir in cayenne pepper and serve immediately.