This Italian Sausage and Tortellini Soup recipe has spread like wildfire throughout my family!
It's full of flavor, hearty and so colorful! Everyone always raves about this soup whenever it's made. I just made a batch yesterday actually when my aunt and cousin were in town for a visit and it came out better than I've ever had it. The trick is finding a good brand of tortellini to suit your taste buds. Luckily, there are all sorts of choices — dry, frozen or fresh. Or heck, make your own tortellini if you have those kind of skills! You don't have to be Italian but I'm sure it helps. 😉
As are most of my recipes, this soup is so so so easy! So you might guess that I opt for the dry tortellini to keep it easy and to save freezer space. another trick is the sausage. You can choose Italian sausage or you can try other breakfast sausages. I really enjoy the sausage with thyme added, gives it a nice twist if you make this a lot and want to mix it up. As far as veggies go, feel free to add kale in with the spinach if you are like me and usually have a giant bag of it and don't know what to do with it all!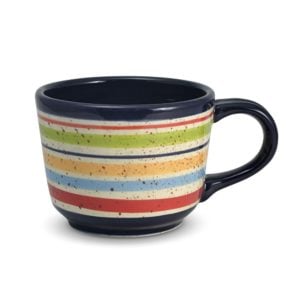 One last thing I want to mention is… the big soup mug. I just love my soups in a big warm mug on a cool day. Add in a soft blanket, some Netflix, the hubs and the kiddos and you have figured out my favorite way to spend and evening. So the mug in the photo above was purchased from The Christmas Tree Store but I found this cute striped one on Amazon in case you want to be soup mug friend. 🙂