I'm super excited to share this awesome weeknight dinner hack: how to make rotisserie chicken gravy from store bought rotisserie chicken drippings!
Yes, it's true. You can actually make a really delicious and creamy gravy from scratch using rotisserie chicken drippings!
Every rotisserie chicken has juices that make an excellent gravy!
Ever noticed the juices or gel that's in the bottom of the rotisserie chicken and in the tray when you pull out the chicken? If you're buying your rotisserie chicken fresh and warm, you'll be looking for the juices. Save all those juices and that's going to be the base for your gravy!
If your chicken has been chilled, then the drippings will be more gel-like and could be stuck to the bottom of the chicken itself. You're going to want to check both the chicken itself and the tray. Scrape all the gel into a bowl. That's the GOOD STUFF, buddy! This is the start of your gravy.
Add just a few other ingredients to your juices or gel, heat everything up in a pot, and BAM. You've got yourself a thick and creamy, flavorful gravy that's made from scratch yet only takes a short amount of time. I love to use this little gravy hack to whip up a homemade dinner in no time for weeknight dinners.
Never made gravy from scratch before? No problem. It's easy!
Until fairly recently, the Mr. was typically the gravy maker of the family. After 12 years of marriage and watching him make gravy from various meat drippings, I finally decided it was time for me to be a gravy-maker too. Turns out, it's pretty easy.
So if you've never made any kind of gravy, don't worry! It's not complicated. If you've made gravy many times before but never from a rotisserie chicken, then you're going to love how much time this saves vs. cooking your own whole chicken.
This is a great use for a leftover rotisserie chicken.

You can still make gravy even if you've picked over the meat of the chicken as long as you have some of the juices or gel left. I usually make this gravy to serve with the chicken, but sometimes we'll have a few slices of the chicken for another meal first and there is still enough chicken leftover for another meal for us. So, you can decide depending on the size of your family and how much you think everyone will eat, how much chicken you want to reserve and serve with this gravy.
Look how easy it is to make a yummy chicken and gravy!

Watch this step by step video showing you how to make this easy gravy:
Need a lot of gravy?

This recipe easily doubles or triples to feed a crowd. You can get away with doubling this recipe yet still use just one chicken if you add extra bullion.
Is this bone broth based gravy?

You're going to be using not just drippings, but the bones as well, so you'll enjoy the coveted health benefits of real bone broth. You can use your slow cooker to let your broth steep and get all the good stuff out the of the bones. You do not need to break the bones since bones are porous. You will need to give them time though. Ideally you'll want to let everything simmer for at least 2 hours.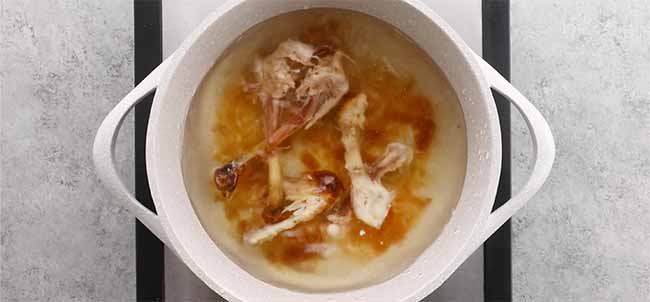 If you don't have that long, don't worry. You can still make an excellent tasting gravy, you just may not get all the nutrients out the bones. If you're short on time but you want to get similar nutrients as you would if you boiled your bones, check out powdered collagen. It's tasteless and you can add it to anything liquid so it'll mix right in with your gravy.
Can you roast the bones first for more flavor?

Yes, you can. Many people like to roast the bones before boiling them to make stock because they have more flavor and produce a darker colored stock. To roast your chicken bones, arrange the bones on a baking sheet and bake at 450˚for about 45 minutes or until bones are browned. You do not have to roast your bones. This is completely optional.
Chicken and Gravy Dinner Ideas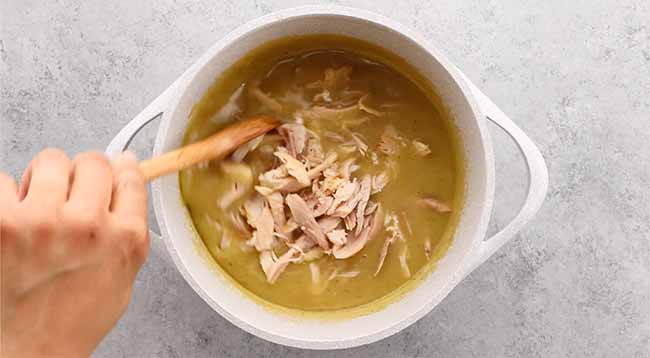 Try this chicken and gravy served over mashed potatoes with a side of candied carrots and better than Boston Market's creamed spinach!
Looking for more ideas? Browse all my easy dinner ideas and side dish recipes.
This recipe for rotisserie chicken gravy was featured on Mix It Up Monday, Thursday Favorite Things and The Country Cook!