Inspired by my all-time favorite sandwich from the local Whole Foods Co-op, the "California Melt," this veggie melt sandwich is my homemade version.
This post may contain affiliate links. As an affiliate, I earn a commission.
Jump down to Recipe
Inspired by my all-time favorite sandwich from the local Whole Foods Co-op, the "California Melt," this veggie melt sandwich is my homemade version.
I love this veggie melt sandwich and you will too!
I've lost track of how many sandwiches I've purchased from the Co-op, or exactly how many I've eaten to date. I do know for certain that my son is at least 10% made up of this sandwich because I was craving these like crazy person when I was pregnant with him.
Also don't really know the number of attempts I've made to replicate the recipe at home. I've literally been trying for six years. The reason I know that is because this is an old post I decided to go back and update. Original posting date: Dec 26, 2012. Apparently, I was hoping for a post-Christmas miracle.
Somewhere in here is a lesson in persistence and patience but I'll let you read into that. I just want to get to the point I'm trying to make and that's this: This is it. This is the sandwich. And it involves pesto sauce that you can make in five minutes. Because that's how I roll.
Meal prep? What's that. I'm more of a last-minute-meal kind of girl. So, I'm going to show you how to wing pesto sauce as well as create the most delicious veggie sandwich you've possibly ever had. Other than mayyyybe this open-faced grilled veggie sandwich.
This veggie melt sandwich is full of flavor and vitamins
This melty sandwich right here is packed full of superfoods as well as flavor from the oat-nut bread to the avocado pesto. That's right, I said avocado pesto. Did I forget to mention I put avocado in my 5-minute pesto sauce? Well, I do and I did. Also, there are microgreens. A new little infatuation I've developed ever since the local market opened up across the street and I can buy them on a whim.
I wanted to name this sandwich something other than California Melt since it's my own spin on the original and because the ingredients are so flipping good then need to be known up front.
Do you need a grill or anything special to make this veggie melt sandwich?
You really don't need anything super special to make this sandwich other than potentially a toaster oven to melt the cheese onto the bread. However you could use a grill or your oven.
No food processor required for the pesto. Minimal slicing involved, although there is some because we're dealing with veggies here. The cheese can be, really, whatever you have. I think Havarti cheese might be ideal but I used Colby-jack today and it was just fine and Provolone would also be good.
If you're looking to up your grilled cheese game, you've got to try this veggie melt!
Want more lunch ideas? Browse all my lunch recipes
Looking for vegetarian recipes? I've got those too! Browse all my vegetarian recipes
This veggie melt sandwich was featured on Inspire Me Monday!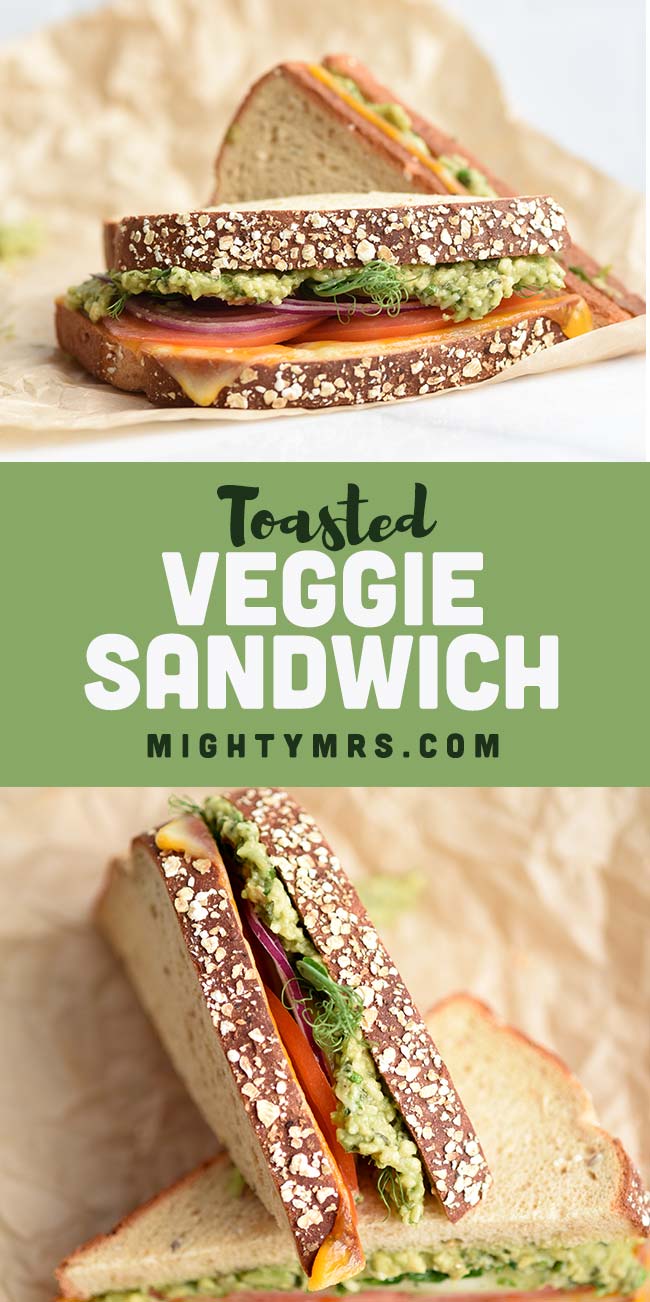 Ingredients
2

slices

whole grain bread

1 ½

slices

Havarti cheese

3

slices

cucumber

3

slices

tomato

1

artichoke heart

thinly sliced (optional)

2

thin slices of red onion

2

tablespoon

microgreens
MINUTE AVOCADO PESTO
1

tablespoon

shredded parmesan cheese

1

tablespoon

fresh parsley

¼

cup

fresh basil leaves

loosely packed

1-2

teaspoon

olive oil to taste

½

avocado

smashed

Squeeze of lemon juice

Dash of salt and pepper
Instructions
Top one slice of bread with Havarti cheese and toast both slices in a toaster oven.

To make the pesto sauce, finely chop basil, parsley, and Parmesan cheese using a knife. Stir in oil olive, salt and peper then the smashed avocado and lemon juice. Done!

Take the slice of toast with melted cheese and layer on cucumber, artichoke, tomato, and onion slices then top with microgreens.

Finish by spreading the avocado pesto sauce on the remaining slice of toast, then top off your sandwich. Cut into sailboats or trucks depending on your preference and enjoy! 😉
Nutrition Facts
Calories:
400
kcal
|
Carbohydrates:
18
g
|
Protein:
16
g
|
Fat:
32
g
|
Saturated Fat:
11
g
|
Polyunsaturated Fat:
3
g
|
Monounsaturated Fat:
16
g
|
Trans Fat:
1
g
|
Cholesterol:
41
mg
|
Sodium:
423
mg
|
Potassium:
828
mg
|
Fiber:
9
g
|
Sugar:
4
g
|
Vitamin A:
1876
IU
|
Vitamin C:
31
mg
|
Calcium:
358
mg
|
Iron:
2
mg
Follow Mighty Mrs. for more easy recipes!
Find @MightyMrs on Pinterest