This post may contain affiliate links. As an affiliate, I earn a commission.
Jump down to Recipe
This mircowavable Banana Chocolate Chip Minute Muffin will hit all the right taste buds.
Whether it's for a quick breakfast or for an afternoon snack, this recipe will satisfy a sweet tooth and fill a hungry belly without the guilt involved.
So easy even kids can make these healthy muffins!
This recipe is easy enough that big kids can even make it themselves with little effort. It's a much better choice than store-bought banana muffins and doesn't involve making an entire batch. Just a single serving that can be cooked using your microwave in exactly ONE minute!
Just five ingredients!
You only need a handful of ingredients to make these banana chocolate chip muffins. This recipe requires no eggs, oil or added sugar so it's super easy to make and healthy too! This is a great recipe idea for using up overly ripe bananas without going to the trouble of making a whole loaf of bread or a tray of muffins. Are we the only ones who always seems to buy too many bananas?
What chocolate chips are the healthiest?
Did you know chocolate is actually pretty healthy?! In general, dark chocolate that's at least 60% cacao is the healthiest type of chocolate for you. In fact, dark chocolate is allowed on many specialized diets in certain quantities. A very small portion of mini chocolate chips is called for in this banana chocolate chip minute muffin.
Therefore, if you want to use dark chocolate chips, the amount should be well within the parameters of most diets that allow it such as Keto. If you're dealing with picky eaters though, again, the amount is so small, that regular chocolate chips aren't going to change the nutritional value of these muffins all that much.
How to make homemade Bisquick.
Although Bisquick isn't overly processed like some mixes, Bisquick has released a Heart Smart version that is a healthier option I like to use. There's also the option of making your own homemade biscuit mix and it's super easy. This way, you can choose the type of flour you make the mixture with. Simply mix 3 cups of the flour you choose, 1 ½ Tablespoons baking powder, ½ Tablespoon salt, and 8 Tablespoons cold butter. Mix well and store in the fridge or use right away.
Personally, I like the convenience of the dry mixes since they store well in the cabinet but it's good to know how to make homemade Bisquick just in case you run out!
Kids love these healthy banana minute muffins!

I'm not the only one that absolutely loves this banana chocolate chip minute muffin recipe. My kids fell in love with them as well and request them all the time. I'm definitely okay with this because it's a much healthier snack or breakfast option than donut, pop tarts, chips, etc.
I almost want to fall over every time I see all the terrible ingredients in most of the quick breakfast options you find down the breakfast aisle. None of them are a truly good option and all of them are full of sugar and processed ingredients. My kids have learned to check the labels for sugar and junk ingredients. They actually get excited to find something that tastes good and is good for them now!
So super fast and easy to make that big kids can easily make these.

When my kids request these muffins, I help them pick out the ingredients, a microwaveable mug, and they do the rest! They enjoy mixing the ingredients and being in charge of the "cooking." It literally takes one minute to make in the microwave so that's pretty on par with their attention span right now, ha!
Of course, it's important to make sure the mug you use is microwave-safe since some can break if heated. I made the terrible mistake of not checking one day and my muffin ended up all over the microwave and I was down a mug. Yikes! Also, make sure your kids are old enough to know that the mug will get hot and to handle it with a pot holder or thick cotton dish towel.
Shop microwave safe mugs on Amazon.
Love minute muffins? Check out my healthy apple cinnamon minute muffin recipe too!
I have no doubt you'll enjoy this Banana Chocolate Chip Minute Muffin just as much as my family and I do. Enjoy!
This recipe for single serving Banana Chocolate Chip Minute Muffins was featured on Foodie Friday!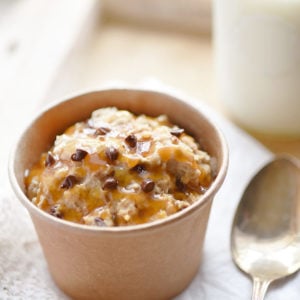 Banana Chocolate Chip Minute Muffins
This mircowaveable Banana Chocolate Chip Minute Muffin will hit all the right taste buds. Whether it's for a quick breakfast or for an afternoon snack, this recipe will satisfy a sweet tooth and fill a hungry belly without the guilt involved.
Read Comments
Print
Pin
Rate
Ingredients
3

tbsp

biscuit mix

½

of a banana

mashed

2

tbsp

instant oatmeal

1-2

tbsp

milk

1

tbsp

mini chocolate chips

2-3

tbsp

honey
Instructions
In a microwavable mug or cup, combine ingredients together until moistened.

Microwave for one minute on high power.

Let cool, top with honey if you'd like, and enjoy with a spoon!
Nutrition Facts
Calories:
491
kcal
|
Carbohydrates:
94
g
|
Protein:
7
g
|
Fat:
12
g
|
Saturated Fat:
4
g
|
Polyunsaturated Fat:
1
g
|
Monounsaturated Fat:
4
g
|
Trans Fat:
1
g
|
Cholesterol:
5
mg
|
Sodium:
585
mg
|
Potassium:
360
mg
|
Fiber:
4
g
|
Sugar:
57
g
|
Vitamin A:
97
IU
|
Vitamin C:
6
mg
|
Calcium:
124
mg
|
Iron:
2
mg
Want more easy recipe ideas?
Follow @MightyMrs on Pinterest