These Healthy Cinnamon Apple Minute Muffins are an awesome and easy snack recipe kids can make.
This post may contain affiliate links. As an affiliate, I earn a commission.
Jump down to Recipe
These Healthy Cinnamon Apple Minute Muffins are an awesome and easy snack recipe kids can make.
Big kids and teens will have fun making these easy muffins using just 4 basic ingredients. Applesauce, oatmeal, Bisquick and cinnamon sugar. Just mix and microwave for one minute. Kids gobble them up!
Are these healthy apple muffins?
I'd say so. Compared to the processed junk kids normally opt for when they're hungry, they are pretty darn nutritious.
Do these really only take one minute to cook?
Yep. You heard that right. They cook in ONE MINUTE using the microwave and they are light and puffy just like you'd expect a muffin to be.
Can you make these muffins in a mug?
This recipe is for an individual serving so these cook perfectly in a microwavable mug, ramekin or paper snack cups.
Do picky eaters actually eat these?
Guys, kids ACTUALLY love these. I have two very picky-eaters and both of them are hooked on these minute muffins.
Are these easy enough for kids to make themselves?
Obviously, you'll have to be the ultimate judge about whether you feel your child is equipped to handle using the microwave, reaching the mugs, getting hot things carefully out of the microwave, etc. But I can tell you that both my kids 7 and 9, do not have a problem making these. For younger kids, this could be a fun "let cook together" project to get them uses to measuring, stirring and using hot hands.
Are these just for kids?
Now, let's say you don't have kids. Well, you're still going to love these for your own dang self—for breakfast, as an afternoon snack or heck, if you're single and living that gypsy life, eat 'em for dinner!
Making these is extra easy.
Here's the break down: These use an applesauce cup for easy measuring, biscuit mix for easy rising, and oatmeal for extra texture flavor and health benefits. If you're over 30 then you're going to get excited about that extra fiber. Under 30, just be happy about the texture. Top these with cinnamon sugar and if you want to go wild, top your muffins with some icing too. That's all the added sugar you'll need however you could sneak in a little brown sugar into the mix IF you wanted but totally not necessary.
What makes these different than a regular muffin?
These are egg-free, oil-free and low in sugar. Yet, they are fluffy and moist just like a regular muffin! They really do taste fab for such a healthy treat. I think you're going to be pretty stoked when you take your first bite.
How do you eat these minute muffins?
So now that you know a little bit about how to make these and what to expect taste-wise, seems weird but you might be wondering exactly how to you eat these glorious one-minute mug muffins? Well, with a spoon. Or you can pop them out of the mug pretty easily and eat them just like a traditional muffin.
Browse my other recipes
Love cinnamon? Try my make-ahead Cinnamon Baked French Toast and Easy Cinnamon Pull Apart Bread. Great for feeding a crowd.
Want more recipes ideas for kids? Browse all my kid-friendly recipes.
These healthy cinnamon apple minute muffins were featured on Full Plate Thursday!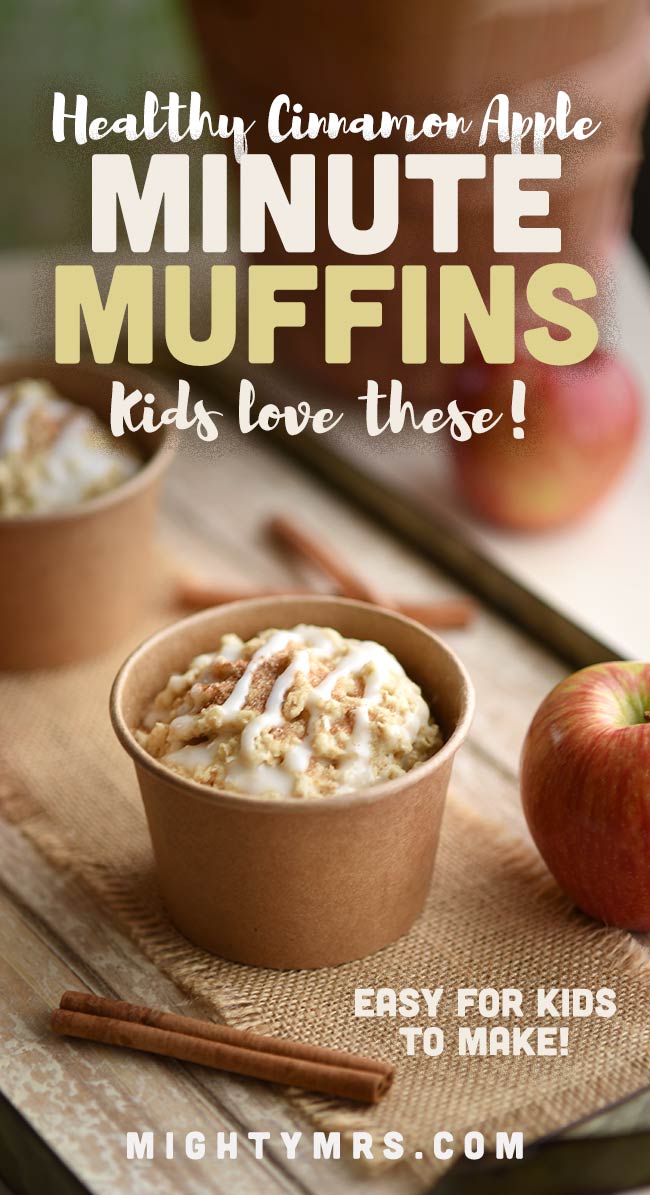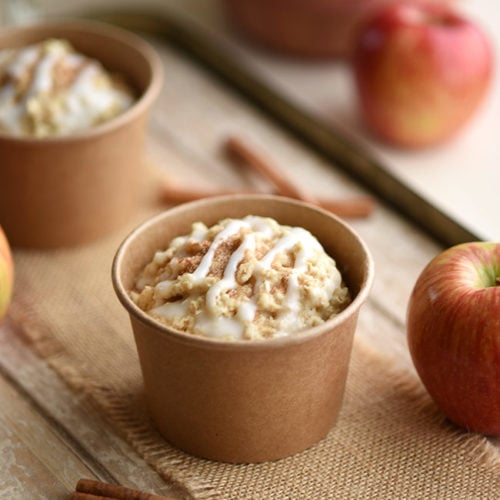 Healthy Cinnamon Apple Minute Muffins
These Healthy Cinnamon Apple Minute Muffins are an awesome and easy snack recipe kids can make.
Read Comments
Print
Pin
Rate
Ingredients
3

tablespoon

biscuit mix

2

oz

applesuace

half of an applesauce cup

2

tablespoon

instant oatmeal

Pinch

sea salt

optional

Cinnamon sugar to taste

Icing

optional
Instructions
Grab a microwavable mug.

Add biscuit mix, applesauce, oatmeal and sea salt (if desired).

Stir until thoroughly blended then microwave for 1 minute.

Carefully remove from microwave and top with cinnamon sugar and icing (optional by yummy!). Enjoy with a spoon.
Nutrition Facts
Calories:
250
kcal
|
Carbohydrates:
41
g
|
Protein:
5
g
|
Fat:
8
g
|
Saturated Fat:
2
g
|
Polyunsaturated Fat:
1
g
|
Monounsaturated Fat:
4
g
|
Cholesterol:
1
mg
|
Sodium:
568
mg
|
Potassium:
149
mg
|
Fiber:
3
g
|
Sugar:
11
g
|
Vitamin A:
18
IU
|
Vitamin C:
1
mg
|
Calcium:
87
mg
|
Iron:
2
mg
Follow Mighty Mrs. for more easy recipes!
Find @MightyMrs on Pinterest