This Caprese Salad with Chickpeas recipe is quick and easy! Made with tomatoes, mozzarella cheese, basil and balsamic vinaigrette dressing. An easy, healthy and delicious side dish!
This post may contain affiliate links. As an affiliate, I earn a commission.
Jump down to Recipe
This recipe for Caprese Salad with Chickpeas is quick, easy and so tasty!
Just 5 main ingredients plus salt and pepper to taste. Made with chickpeas, tomatoes, mozzarella cheese, fresh basil and balsamic vinegar. A perfect summer vegetable side dish!
There's not a lot to this recipe other than some chopping and selecting the best ingredients.
Here are a few tips...
Choose Colorful Grape Tomatoes
This is definitely not mandatory! But this dish is so simple, I like to take time picking out the best looking tomatoes for this salad. I find the multi-colored grape or cherry tomatoes look really pretty and colorful! Especially when you cut them in half and expose the seeds. They're truly beautiful and add to the experience of enjoying this simple summer side dish.
However, I'm also a fan of using up leftovers and using what you have on hand. So if you don't want to make a special trip to that store and you happen to have some leftover beefsteak tomatoes from grilling burgers that you need to use up or you have a couple of Roma tomatoes handy and you want to use those, go for it! The flavor, texture and look of this dish will vary slightly but really any tomato works and will still make a great dish.
Rinse Your Chickpeas
Depending on the brand of canned chickpeas you buy, they can come in a thick or thin juice. Either way, you're going to want to rinse that stuff away. If your chickpeas come in a thick syrupy juice, then you may need to rinse them a several times in cold water. I do this right in the can so I don't dirty up a dish or a strainer. Call me lazy.
To strain the chickpeas right in the can, use a can opener to open the lid most of the way leaving a small amount attached. Drain out the juices into the sink then carefully pry up the lid. Add water to the top. Press the lid back down and strain. Repeat until you're straining just water and not thick juice. I'm pretty sure my grandma taught me this trick or maybe it's just common sense? I figured it's worth mentioning.
Another thing worth mentioning is that some chickpeas will shed their shell when you add the vinegar. This not only looks kind yucky, it also can hurt your tummy since the shells can be hard to digest. If this happens, you may want to pick out those shells with clean hands of course, and toss them. It's a little tedious but should only take a few minutes to get the job done.
Use Fresh Mozzarella Cheese
You can get a ball of fresh mozzarella and slice it into bite sized chunks or you can just get the pearls and save yourself from cutting the cheese (had to, sorry!). Both work well. The key is choosing fresh mozzarella vs. shredded or block mozzarella cheese. Fresh mozzarella has a lighter, squishier texture and a bit more flavor.
Grow Your Own Basil
Did you know if you put a sprig of basil in a cup of water, after about 2 week it will grow roots?! I discovered this on accident recently. I had no idea you could propagate basil this way! It's very handy even if you just want to keep your basil fresh longer, and not have to store it in the fridge. Once it gets roots you can plant it a pot with dirt and let it grow. Give it a try!
Try these Extras add-ins...
If you make this often, try stirring in something next each time. Here are some ideas for optional add-ins: arugula, pasta, farro, corn, eggplant, white beans, avocado chunks and more. Get creative!
Serve with a Slotted Spoon
A simple tip, but serving this dish with a slotted spoon allows excess balsamic vinegar to drain away, leaving your plate cleaner and less of a chance of the vinegar creeping towards your other food getting it soggy. Need a slotted spoon? Shop them on Amazon.
Want more easy side dish ideas?
Browse all my side dish recipes
This quick and easy recipe for Caprese Salad with Chickpeas was featured on South Your Mouth!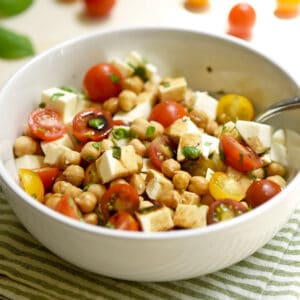 Caprese Salad with Chickpeas (5 Ingredients)
This Caprese Salad with Chickpeas recipe is quick and easy! Made with tomatoes, mozzarella cheese, basil and balsamic vinaigrette dressing. An easy, healthy and delicious side dish!
Read Comments
Print
Pin
Rate
Ingredients
16.5

oz

grape or cherry tomatoes

8

oz

Mozzarella pearls

¼

cup

fresh basil

chopped

14

oz

chickpeas

drained and rinsed

½

cup

balsamic vinaigrette

more or less to taste
Instructions
Cut tomatoes in half and add to a large bowl.

Drain and rinse chickpeas. Add chickpeas, mozzarella pearls, fresh chopped basil and balsamic vinegar to bowl and toss.

Season with salt and pepper to taste.

Serve immediately or chill in fridge. You may need to add extra vinegar right before serving if making this ahead. Vinegar tends to absorb as it sits and looses flavor.
Notes
You can brighten the look and taste of this dish by using a white balsamic vinegar based dressing. White balsamic vinegar has a slightly less sweet taste.
Nutrition Facts
Serving:
0.5
cup
|
Calories:
145
kcal
|
Carbohydrates:
11
g
|
Protein:
7
g
|
Fat:
9
g
|
Saturated Fat:
2
g
|
Polyunsaturated Fat:
0.4
g
|
Monounsaturated Fat:
0.2
g
|
Cholesterol:
7
mg
|
Sodium:
109
mg
|
Potassium:
182
mg
|
Fiber:
3
g
|
Sugar:
3
g
|
Vitamin A:
217
IU
|
Vitamin C:
9
mg
|
Calcium:
90
mg
|
Iron:
1
mg
Follow Mighty Mrs. for more easy recipes!
Find @MightyMrs on Pinterest