This shop has been compensated by Collective Bias, Inc. and its advertiser. All opinions are mine alone. #GiantEaglePerks #CollectiveBias

Guys, I'm excited to share with you some tips for saving TIME and MONEY on family road trips!
Since moving to Pennsylvania in 2009 (has it really been that long??), we've taken a take a LOT of road trips (with our kids) to see friends and family who still live in Maryland and Virginia. We pretty much have this road trip stuff down to a science. So, here I'm going to share with you my top 10 family road trip hacks for eliminating extra stops and saving money. Spoiler alert: Giant Eagle groceries + Fuel Perks for the win. For those located outside the NWPA area, there are still some great tips for you, so keep reading...
1. Take advantage of Fuel Perks.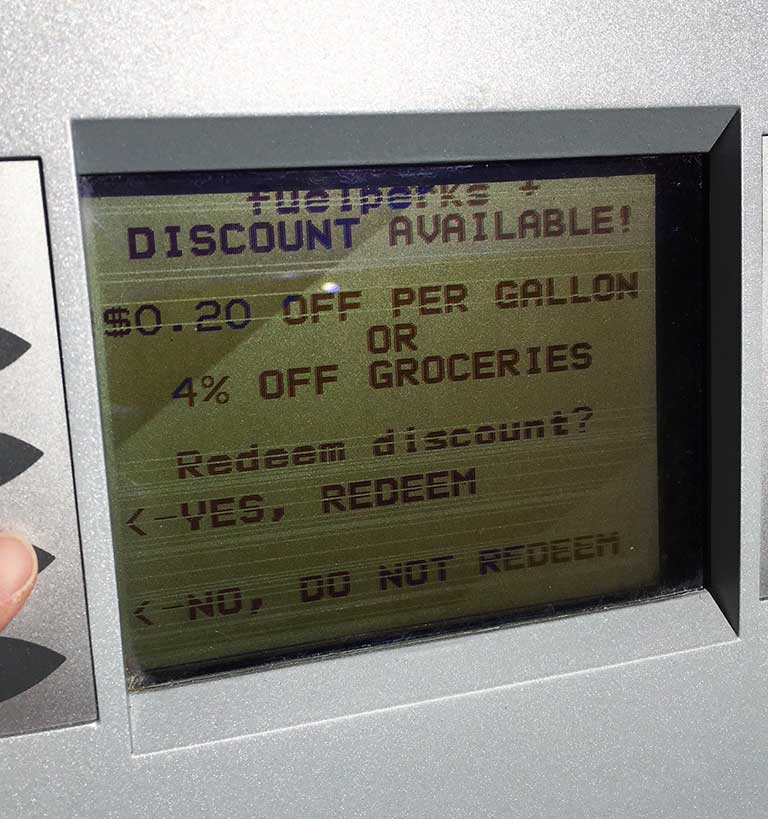 Here in northwestern PA, if you grocery shop at Giant Eagle and get gas at GetGo, you can save money on both groceries and gas with their Fuel Perks program. I like to use my perks on gas. Ideally, I'll head to GetGo when the tank is near empty to make the best use of the per-gallon discount. There are other programs like this one all over the country, but if you're in the NWPA tristate area, here's how the Fuel Perks program specific to Giant Eagle works: You earn perks when you buy groceries at Giant Eagle or gas at GetGo and you can redeem the perks to buy groceries or fuel. So since the savings go both ways, you get to choose. It's up to you if you want to get groceries first to earn perks and then use those to save on gas, or the other way around. (For 100 bonus perks, details about how the program works, and info about how much of a discount you can earn, click here.)
2. Shop where you earn perks.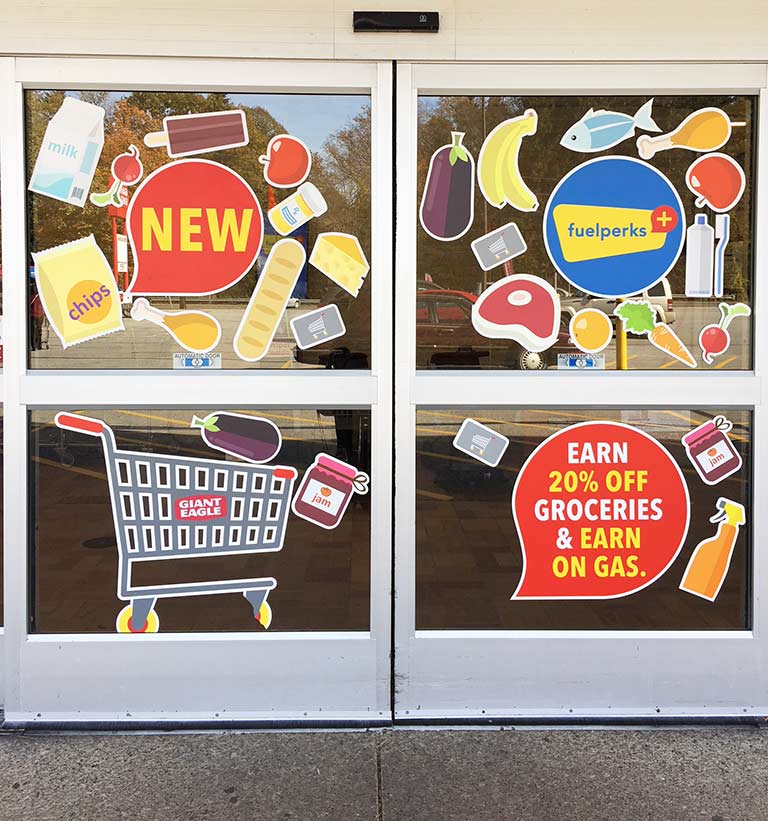 As I mentioned, you get perks when you grocery shop at Giant Eagle in our area and also when you buy fuel. Giant Eagle fuelperks = money saved on either gas or groceries. So make sure any shopping you need to do is at a place that offers perks! Got it? OK, good. Next are some must-have items to pick up in your pre-roadtrip shopping adventures that are going to save you time and money.
3. Snacks. Always pack snacks.

The Mr. likes to make fun of me because I'm always packing snacks. But when you're in the car 6+ hours, you're going to get hungry (or worse, hangry). You're not going to want to stop for food because no one wants the trip to take longer than it needs to. Also, road food is expensive and usually not very good for you. So, healthy snacks are one of the first things I pack. I try to cover the basics — grains, dairy, protein, veggies/fruits, and small bottles of fluids to keep us hydrated. I repeat small for minimal potty breaks. 😉
4. Start with a clean vehicle.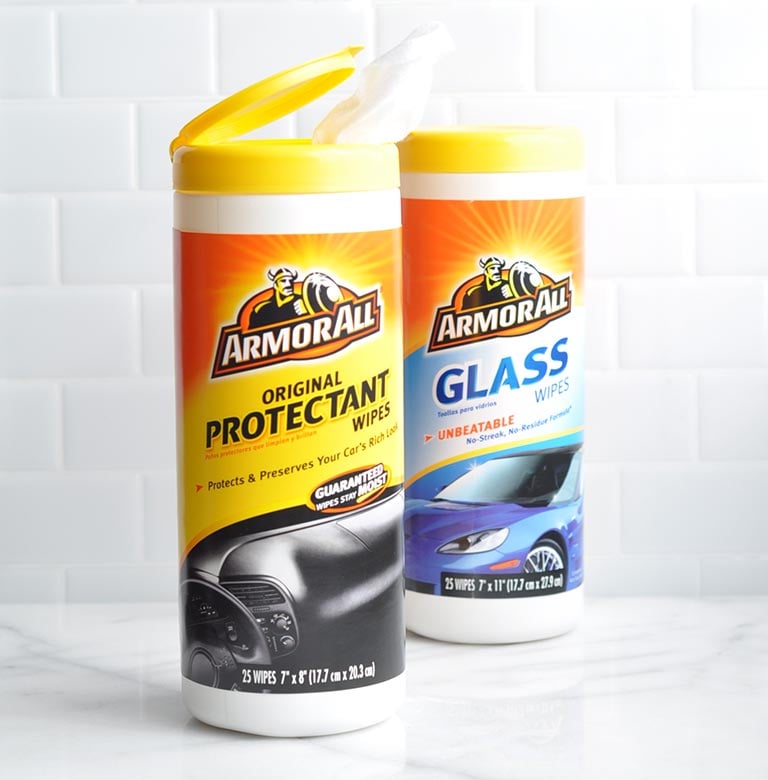 Inevitably, the car/van/truck will be all but destroyed by the time you arrive at your destination. However, if you start with a clean vehicle, you're going to feel better about being in it for so long, and it will (hopefully) encourage everyone in the vehicle to keep it tidy. You don't need to drop $75+ on a professional detailing though. A 10-minute trip to vacuum out the car (or I've even used a hand vac if we're short on time) and a quick wipe down will do just fine. I personally love cleaner wipes because they're quick and easy and you can store them in your vehicle to use as needed for smudged windows, dusty surfaces and spilled whatevers. Baby wipes work well to clean up spills but I've noticed they leave behind little white clumps everywhere so not the best choice if you're looking for that freshly cleaned look (but work in a pinch).
5. Designate a trash receptacle.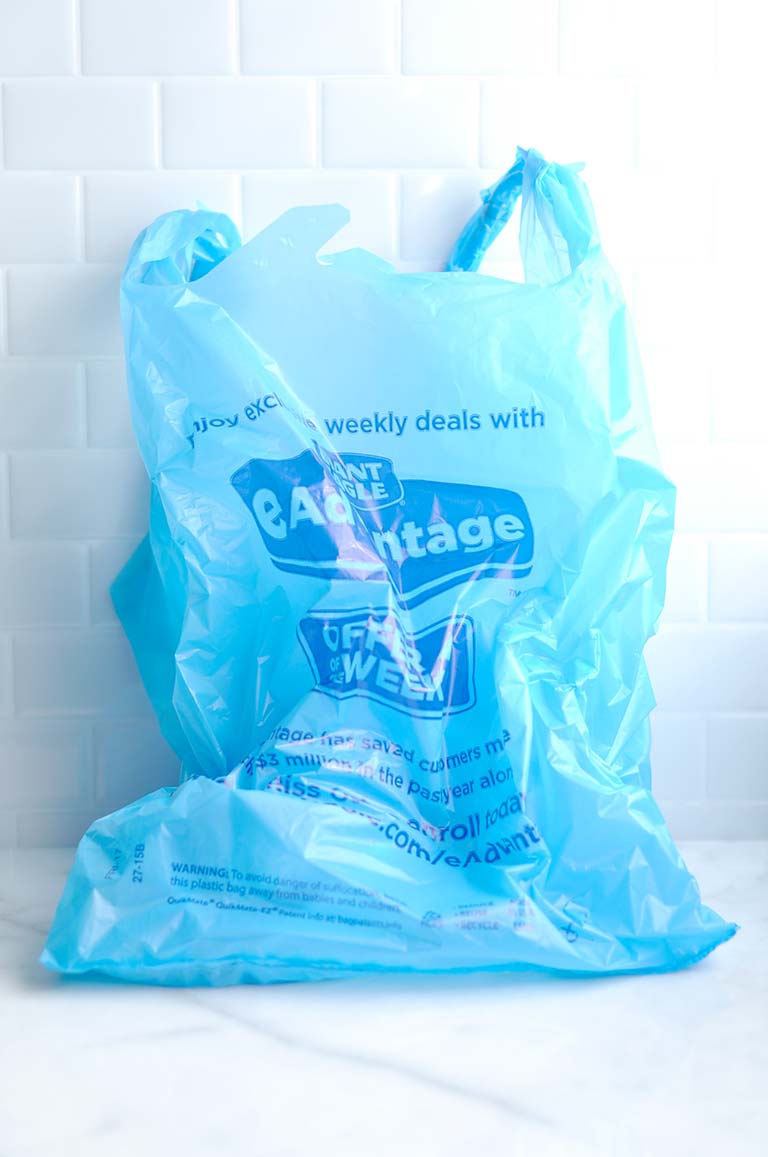 I feel like I sound like my 4th grade English teacher here but for the love of all things good, people, tie a plastic bag in a central place within the vehicle and have everyone put their trash in it straight away. This will save you from having to spend your precious vacation hours (gasp) cleaning. Use the time you're stuck in the car, to clean up. So all you have to do is tie up the bag(s) and drop them into a trash can when you arrive.
6. Keep napkins or tissues on hand.

If you look in my glove box, you will usually find a hodge-podge collection of napkins. However, when you cut down on fast food in an effort to be healthier, one of the consequences is not having access to free napkins. 😛 I've found these little packs of tissues are an awesome replacement. Everyone can have their own = no fighting (about tissues anyway). During cold season these are obviously a must but other uses include: spitting out gum, wiping up spills, aiding bloody noses, picking up bugs, padding blisters, bandaging wounds (just add tape!), making your own ear plugs (hey, desperate times call for desperate measures) and just, you get the point. These things will save you from having to pull over, take an exit, or otherwise slow your roll. Different colors are key so you can tell who's is who's (again, no fighting).
7. Ward off sickness.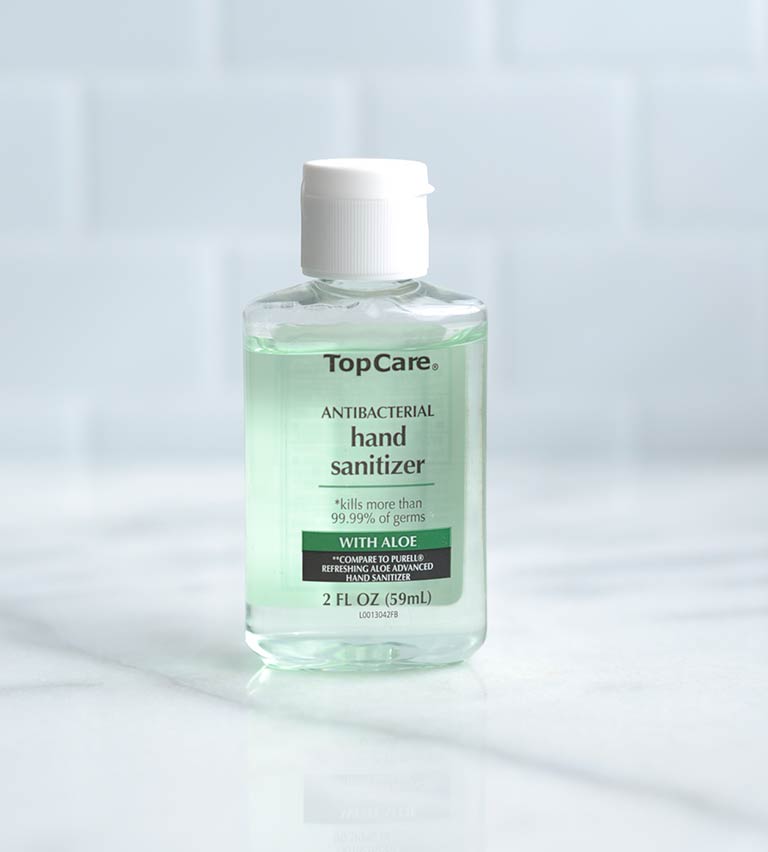 I'm 100% NOT a germaphobe. The 3-second rule is A-OK with me. However, I notice when we travel, someone seems to always catch something. Ugh. A vacation is so much less fun when you're spending it wiping runny noses, or in bed, or running to the store to buy all the cough and cold remedies. Not worth the risk. Just grab a mini bottle (or several if sharing causes fights!) of sanitizer and lather up. You can typically find these purse-sized bottles in the checkout line.
8. Grab up some gift cards.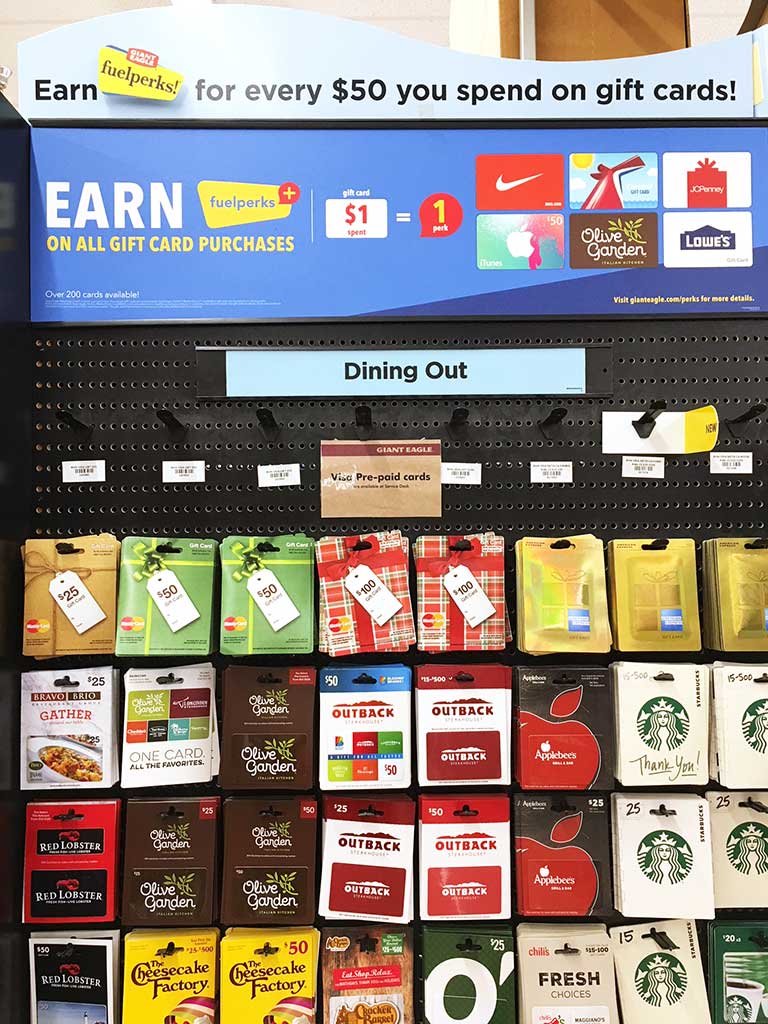 There are several reasons you will want to stock up on gift cards. First, you earn perks on gift cards at a $1 = 1 perk ratio at Giant Eagle. Second, if you're like me and you don't care to notify your credit card company that you're going out of town and they put a hold on your account, then you have no way to buy things. If that happens, you've got back up if you have a gift card. Third, you never know who's birthday you forgot (grab a generic card while you're at it!). Fourth, if you didn't forget anyone's birthday, congrats. You now have an excuse to go out to eat.
9. Avoid ATM surcharges: get cash at checkout.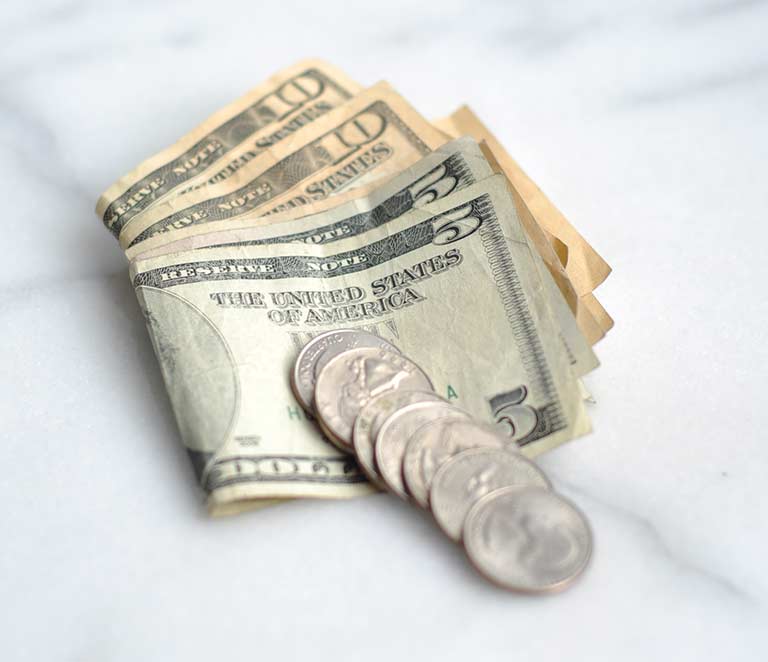 Don't forget to use the cash back option! You will inevitably need cash either for tolls, to pay someone back, enter into a friendly game of poker, or to bribe your children (not really, OK maybe). So avoid paying those annoying ATM fees on the road and get cash back when you pay for your groceries. Also, one less stop.
10. Treat yourself on the road.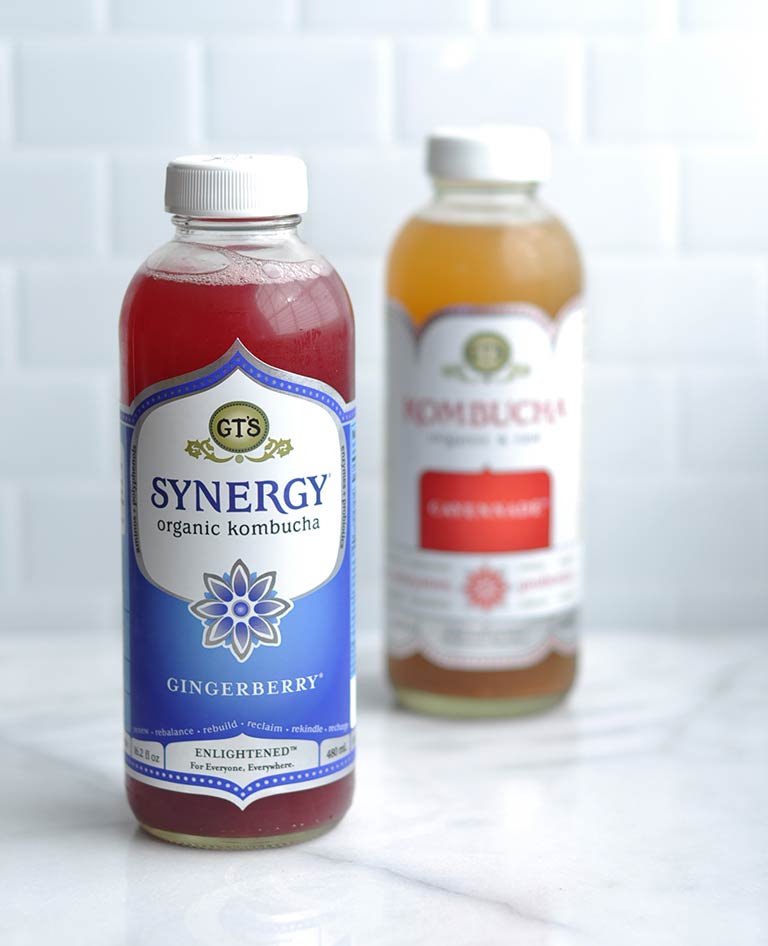 I love the 'buch. So, I grab a bottle for myself and the hubs for the road. It's a little reward that gets us through the boredom that is driving long distances. Whatever your pleasure. Guilty or not, go ahead and grab it. When you get to that long stretch of nothing but corn fields, indulge.