This post may contain affiliate links. As an affiliate, I earn a commission.
Jump down to Recipe
This recipe was developed in partnership with Smith's.
Here's an oldie but goodie! Franks and beans. A childhood favorite for many.
We're pairing up this classic duo with another tasty combo — macaroni and cheese, then adding a side of broccoli slaw for a complete easy family-friendly meal.
Franks and Beans with Homemade Mac and Cheese
Here's the secret to make this easy dish taste good for grown-ups too! Start with quality ingredients.
First, a good mac and cheese. You can opt for store bought to save time, but it's not too hard to make you own cheese sauce for a from-scratch taste. You can find my homemade macaroni and cheese recipe here. Or check the refrigerator, freezer or deli section of your grocery store for the good mac and cheese. I'm not against boxed mac and cheese, it's just not my favorite. If that's what your family likes, go for it! I personally really love the creaminess and flavor of homemade macaroni and cheese but here's a little secret… you can stir in a few slices of American cheese into the boxes stuff, and it makes it more creamy.
So, whatever your favorite kind of macaroni and cheese is, start with that.
Next, the best hot dogs you can find. Being local to Erie, PA means opting for Smith's hot dogs. Their hot dogs are made from a blend of fresh-cut pork and beef, seasoned with a signature spice blend and are slowly smoked over wood chips giving them a uniquely different flavor that's been a local favorite for years.
A good quality hot dog will mean better flavor overall for this dish.
Then there are the baked beans. You can opt for a quality can of baked beans with added flavors like maple, onion or extra spice if you like heat. Or you can add your own spin on a plain can of baked beans.
To add extra flavor to your canned baked beans, you can doctor them a bit with flavor-enhancers like mustard (or mustard powder), apple cider vinegar, bacon, brown sugar, sauteed onions and/or peppers.
Up to you here! I sometimes like to mix baked beans with another kind of bean to add some variety in texture and flavor. Try adding another type of soft bean like navy beans, butter beans, or cannellini beans. In this case, start with a smaller can of baked beans so your ratio of franks to beans balances out.
Finally, add a side of broccoli slaw. The cool tangy flavor of slaw is a perfect match for the sweet and subtly spicy flavor of the franks and beans. Slaw also pairs well with mac and cheese. So if everything gets mixed up on your plate, it's A-OK.
Get my recipe for simple homemade broccoli slaw dressing. Or you can opt to buy ready-made deli cole slaw to save time. Again, quality counts here so get the best tasting stuff you can get your hands on, or make your own.
Helpful Tools for Making this Recipe
• Pyrex Glassware
• Cast Iron Skillet
• Serving Spoons
Want more easy dinner ideas?
Browse all my dinner recipes here and pin your favorites!
Special thanks to Smith's!
Smith's, headquartered in Erie, PA has graciously allowed Mighty Mrs. to publish this recipe for frank and beans mac and cheese in order to inspire families with new ways to cook their prepared meats. You can show your gratitude and support by connecting with Smith's on Facebook: facebook.com/smithshotdogs and on Instagram: instagram.com/smithshotdogs. If you're located in the tri-state area, you can find Smith's meats at your local grocer or chain retailer. Visit Smith's website site for a complete list of locations.
This recipe for Franks and Beans with Mac and Cheese was featured on Menu Plan Monday!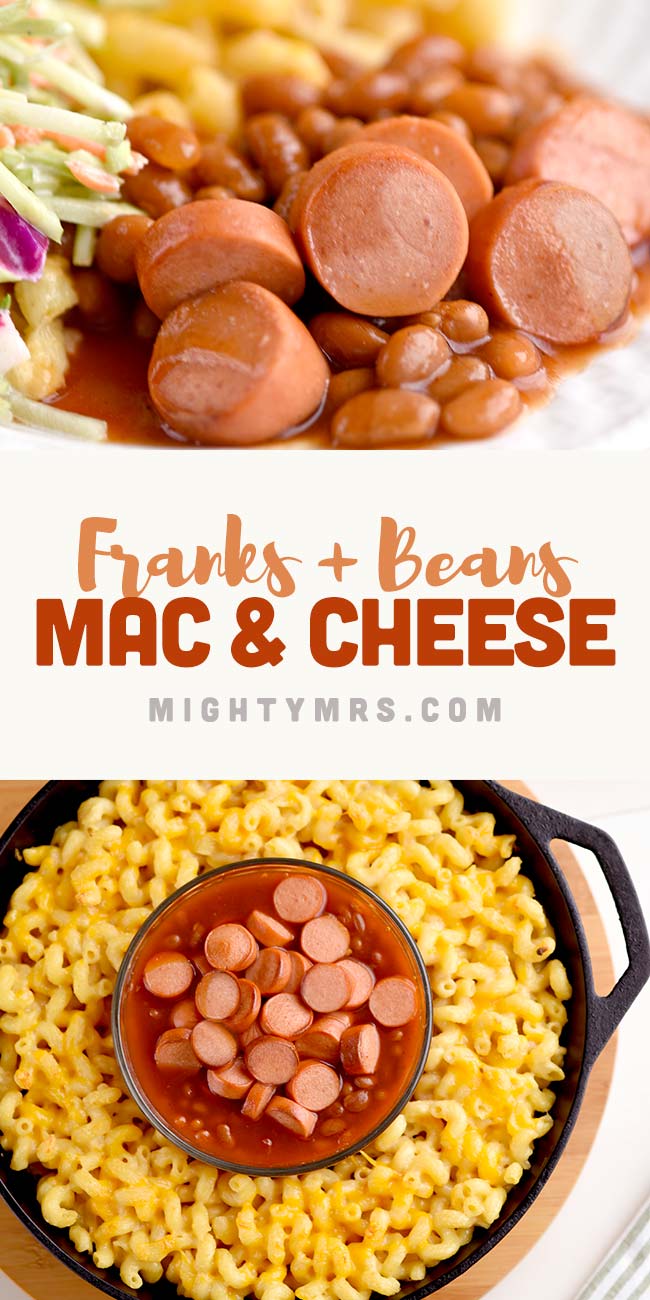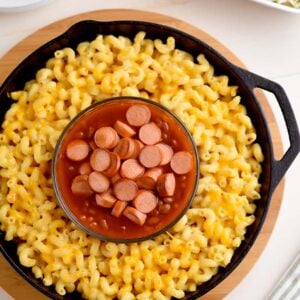 Franks and Beans with Mac and Cheese
An oldie but goodie! Franks and beans. We're pairing this up with another tasty combo — macaroni and cheese, then adding a side of broccoli slaw. An easy family-friendly meal.
Read Comments
Print
Pin
Rate
Ingredients
4

Smith's skinless or natural casing hot dogs

sliced

4

cups

macaroni and cheese

28

oz

barbecue baked beans

2

cups

broccoli slaw
Instructions
Cook/heat macaroni and cheese according to recipe or as directed on the package.

Take an oven safe bowl and place it in the middle of a large cast iron skillet or oven safe casserole dish. Fill the bowl with barbecue baked beans then top with Smith's hot dog slices.

Add warm macaroni and cheese around the franks and beans. Cover entire skillet with foil.

Bake at 400˚for 18-20 minutes or until hot dogs are sizzling.

Serve mac and cheese, beans, and franks hot with a side of broccoli slaw.
Nutrition Facts
Calories:
611
kcal
|
Carbohydrates:
81
g
|
Protein:
24
g
|
Fat:
21
g
|
Saturated Fat:
2
g
|
Polyunsaturated Fat:
1
g
|
Monounsaturated Fat:
2
g
|
Cholesterol:
14
mg
|
Sodium:
1424
mg
|
Potassium:
477
mg
|
Vitamin A:
151
IU
|
Vitamin C:
35
mg
|
Calcium:
254
mg
|
Iron:
4
mg
Want more easy recipe ideas?
Follow @MightyMrs on Pinterest