Homemade salsa just like the Mexican restaurant brings to your table with fresh chips!
This post may contain affiliate links. As an affiliate, I earn a commission.
Jump down to Recipe
"Do you need to seed tomatoes?" This is the question I was Googling after I looked down at my first batch ever of homemade salsa.
I had gotten a little excited about the fact that it's super easy to peel the skin off of tomatoes by shocking them. Way easier than I thought. I was on this, I-can't-wait-to-tell-the-world-how-easy-it-is-to-make-homemade-salsa high when all of a sudden I came crashing down. I saw tomato seeds dotted all up in my 100% fresh homemade salsa. Uggg. There was no getting them out. Were all of those random tomatoes I collected from people who lovingly GREW them for MONTHS just wasted? After I had just shocked and peeled and diced them? The thought of doing it again felt really hard all of a sudden.
So naturally, as I do in any kitchen (or life) crisis, I turned to Google. Tomato seeds can't be that bad, I thought. Why do we even take them out? I eat tomato seeds in other things like uh, fresh tomatoes, and it's FINE. Little pep talk to my self as I'm typing into the Google search bar on my phone. Deleting it 400 times because apparently my fingers are too large to hit those tiny letters despite upgrading to the iPhone 6 plus specifically for this reason. My frustration level was definitely rising and I was desperately hoping that tomato seeds in salsa was a perfectly acceptable thing in the world even though I've NEVER eaten salsa with seeds. Double uggg.
Then my results loaded. And I was shocked to find out that indeed, tomato seeds in salsa is a FINE thing and in FACT, may make the salsa taste BETTER. Proof: Read The Truth About Tomatoes.
Salvation, my friends. Sweet, sweet salvation! This is why I love Google. It tells me what I want to hear. So now, I'm here to tell you not only just how easy it is to make your own salsa from fresh tomato, but also that if you don't seed your tomatoes, it's going to be better than OK, it's going to taste better and be better for you than salsa without seeds. So in YOUR FACE tomato seed haters! Not really, I just needed to get my last bit of frustration out there.
So this recipe is a tribute to my dad. He loves to grow a variety of HOT peppers including ghost peppers to give this some serious heat. I love his salsa because it's really all about the peppers. I know not everyone loves super hot salsa so feel free to choose more mild peppers but it's the peppers that give this salsa recipe flavor. No spices.
Pro Salsa-making Tip: I use these plastic Mason jar caps instead of the metal rings that tend to rust. These plastic ones are cheap and are dishwashable.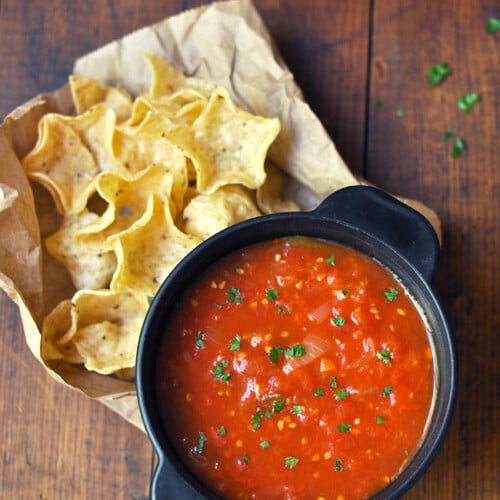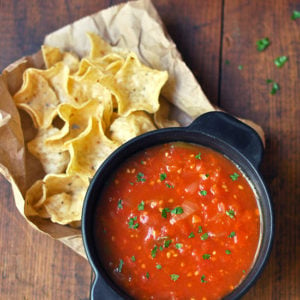 Homemade Salsa with Fresh Tomatoes
Homemade salsa just like the Mexican restaurant brings to your table with fresh chips!
Read Comments
Print
Pin
Rate
Ingredients
8

large

tomatoes

1

large

onion

2

jalapeño peppers

2

ghost pepper

2

banana peppers

1

teaspoon

salt

1-2

tablespoon

sugar to taste
Instructions
Bring a large pot of water to a boil. Then fill a large pitcher with water and ice.

Place 3-4 tomatoes in the pot of boiling water. After about 1 minute, remove them with a strainer or tongs and place them in the pitcher of ice water.

Remove tomatoes from ice water after about a minute. Skin will have separated from the meat of the tomato and will peel right off.

Remove all the skin and dice. At this point you may choose to seed the tomatoes or not. Simply cut away the seeds if you choose to remove them.

Place peeled and diced tomatoes in a new large pot and turn heat to medium-low. Repeat this process with the remainder of tomatoes.

Dice onion and add to the pot of tomatoes.

Dice jalapeo, banana and ghost peppers. (Use gloves if desired)

You may choose to leave the seeds of the peppers in if you like more heat. Removing the pepper seeds removes more heat.

Add diced peppers to pot of tomatoes.

Add salt and sugar and let simmer for about 15-25 minutes depending on how crunchy or soft you want your peppers and onions. Transfer to a quart-sized Mason jar and store in the fridge.
Notes
Spicy peppers contain oils that can stay on your hands even after you wash them If you later touch your eye or other sensitive body parts, this can cause discomfort. To avoid this, simply wear latex gloves while you handle the peppers.
Nutrition Facts
Calories:
49
kcal
|
Carbohydrates:
11
g
|
Protein:
2
g
|
Fat:
1
g
|
Saturated Fat:
1
g
|
Polyunsaturated Fat:
1
g
|
Monounsaturated Fat:
1
g
|
Sodium:
301
mg
|
Potassium:
482
mg
|
Fiber:
3
g
|
Sugar:
7
g
|
Vitamin A:
1586
IU
|
Vitamin C:
36
mg
|
Calcium:
24
mg
|
Iron:
1
mg
Follow Mighty Mrs. for more easy recipes!
Find @MightyMrs on Pinterest