This crustless meatza pizza is low carb and protein packed! A small amount of bread crumbs hold the slices together, no dough needed!
This post may contain affiliate links. As an affiliate, I earn a commission.
Jump down to Recipe
What is a meatza pie, you ask? Well, it's kind of like a pizza pie but, you know, meatier.
★ Why You'll Love this Recipe ★
This meatza pizza has no crust so it's great for anyone looking to cut carbs. It's also just a fun spin on traditional pizza so great if you're in the mood to try something new but not too far out of your comfort zone.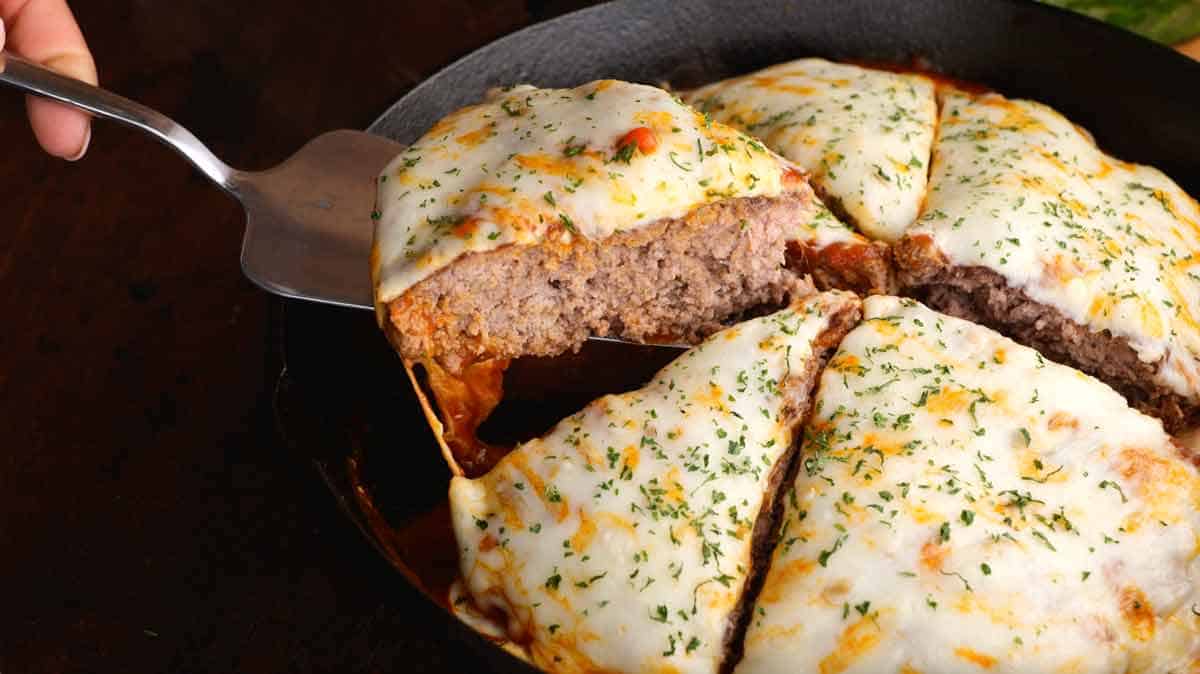 This meatza recipe is made with a layer of ground beef (plus optional Italian sausage) instead of crust. The meat is seasoned and a small amount of bread crumbs and eggs are added simply to hold the layer of beef together, similar to meatloaf.
Topped like a traditional pizza with sauce and cheese plus any of your favorite pizza toppings, this meatza is a crowd pleaser and can be customized just like a pizza.
★ Ingredients You'll Need ★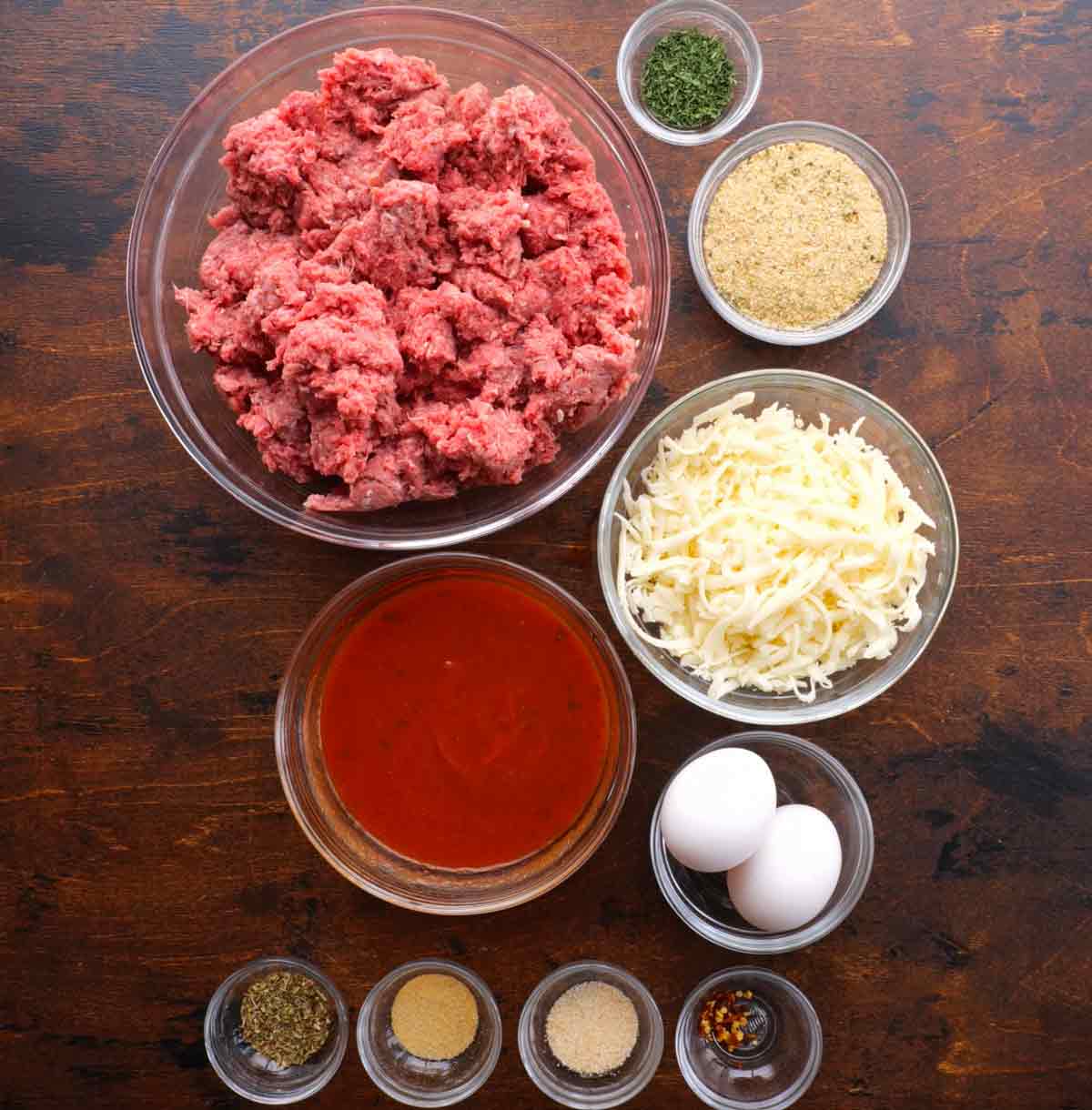 Ground beef. You can substitute some or all for leaner ground turkey if you'd like. You can also lighten this up byt choosing a lean blend of ground beef like 93% lean. Substituting half or less Italian sausage adds really nice flavor as well.
Eggs. These are simple a binder.
Italian bread crumbs. Use gluten free bread crumbs to lower carbs
Garlic and onion powder. This seasons your meat.
Dried basil and parsley. You can use fresh or dried.
Pizza sauce. I love Rao's brand. It's pricey but tastes amazing. Ragu makes an affordable and yummy pizza sauce as well.
Mozzarella cheese. Shredded works best. You can add other cheeses to layer on extra flavor. Asiago, Parmesan, and Romano are all good choices and are typical Italian cheeses. You can include shredded cheddar as another option which adds a nice color as well as a sharpness to the flavor.
Optional toppings: sliced pepperoni, mushrooms, peppers, diced tomatoes, black olives... anything you'd put on a pizza!
★ How to Make this Recipe ★
This meatza is simple to prep and can be made in a cast iron skillet, casserole dish or on a baking sheet depending on what you have available.
Here's are the basic steps involved: (full recipe can be found below)
Combine meat(s) and seasoning with eggs and breadcrumbs.
Press meat mixture into your pan to form the meat "crust" layer.
Bake.
Remove from oven (carefully).
Top with sauce, cheese and other toppings as desired.
Bake again.
Remove from oven, slice and serve!
That's all there is to it! Simple and delicious!
★ Tips & FAQs ★
Is a Meatza pie a new thing?
Nope! This has been around awhile. This "meatza" recipe was inspired by my archives of vintage recipes. I found this gem of a recipe titled "Burger-Pizza" nestled in a 23-page mini cookbook put out by Hunts.
The cookbook was not marked with a date since it's technically an ad and not a published book, but it looks to be from the 1950s era with one-liners like "Men, particularly, like its hearty flavor."
I do believe this would make a pretty great and funny Father's Day dinner though, don't you think?
A Meatza? Who's ever heard of a Meatza?
An Italian meat-pie-of-sorts has been on my list of recipes to make and share for some time. I originally became acquainted with the idea of layering ground beef into the makings of a traditional pizza on the short-lived cooking show Nigella.
The show was hosted by English bombshell Nigella Lawson who had a way with Italian recipes. I loved her simple recipes and the way she effortlessly prepared her dishes with such passion! Great show, too bad they never aired any more seasons past the first one.
What kind of meat is in a "meatza?"
You can use any kind of ground meat so if you want to lighten things up, I'd recommend a mixture of half turkey, half beef.
If you're after that "hearty flavor," you could add in some Italian sausage.
You could also use ground chicken. Pretty much any meat will work here! If you opt to use chicken, make sure to cook it to the safe internal temperature of of 165˚ which you can check with a meat thermometer.
Freezer Friendly
This meatza freezes well so you can make a couple at a time and freeze one or give one away. For best results prepare the meat crust and freeze that separately from the sauce and cheese. Wrap it tightly in plastic and freeze the meat crust before cooking it.
The cheese can be frozen in a sandwich bag and unopened sauce can be stores at room temperature.
When you're ready to prepare, unwrap the meat crust and place it in the oven. Let the pan heat up with the oven. Add 3-5 minute to the bake time as needed to accommodate defrosting. Then apply sauce and cheese, return to oven as directed in the recipe below.
Note: glass baking dishes can shatter with a sudden change in temperature so allow frozen dish to defrost some or slowly heat the dish with the oven if using glass.
What's the best dish to use to make this?
I think the meatza looks best in a pie pan or cast iron skillet. You can slice it like a pizza, but if you don't own a pie pan or oven-safe skillet, you could easily make this in a small, square casserole dish.
Could you possibly make this meatza vegetarian??
I haven't tried but I know there are a lot of faux meat products and recipes out there using beans, nuts, soy and/or tofu. If you give it a try, let me know!
What toppings could you put on a meatza pie?
You can top your meatza with anything you'd put on a pizza! Vegetables like peppers, onions and spinach are always good choices. You could also add mushrooms, pepperoni, sausage, or chicken.
My personal favorite toppings, inspired by our local pizza shop, are black olives and artichokes. Try adding a few drizzles of pesto sauce, a sprinkle of sea salt or a dusting a herbs.
I also really love hawiann pizza toppings — pineapple and ham. Just like a regular pizza, the topping possibilities for a meatza are limitless!
★ More Recipes You'll Love ★
Easy Beef Recipes
If you're looking for something new to do with ground beef or beef chunks, check out all my beef recipes! Be sure to Pin your favorites for later.
Love this meatza pie recipe? Then I think you might just love my Taco Pasta Bake too! It's made with ground beef and always gets rave reviews!
This Meatza Pie recipe was featured on Meal Plan Monday and South Your Mouth!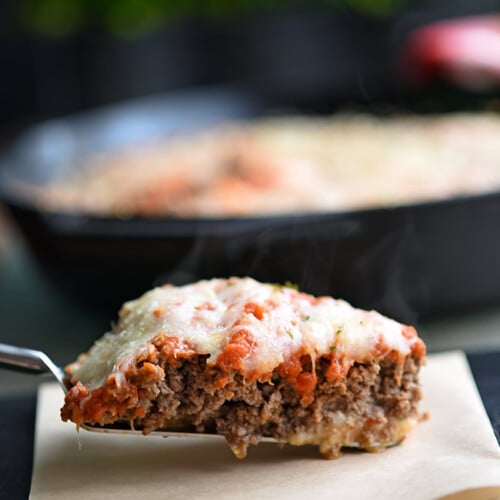 Meatza Pie (Crustless Low Carb Pizza!)
This crustless meatza pizza is low carb and protein packed! A small amount of bread crumbs hold the slices together, no dough needed!
Read Comments
Print
Pin
Rate
Ingredients
2

lbs

ground meat

beef, turkey and/or Italian sausage

2

eggs

¼

cup

Italian bread crumbs

use gluten free bread crumbs for even lower carbs

½

teaspoon

Italian seasoning

½

teaspoon

garlic powder

½

teaspoon

onion powder

1

teaspoon

parsley flakes

Pinch

red pepper flakes

1

cup

pizza sauce

more or less to taste

1

cup

mozzarella cheese
Instructions
Combine eggs, bread crumbs, Italian seasoning, garlic powder, onion powder, parsley, and red pepper flakes with ground meat.

Layer meat mixture into a cast iron skillet and press to make flat.

Bake at 400˚ for 35-45 minutes or until meat is fully cooked.

Carefully remove the hot skillet with meat from oven and drain excess fat if desired by gently tilting the skillet over the sink. Be careful to not touch the skillet and don't over-tilt so that the meat falls out!

Next layer on pizza sauce and mozzarella cheese and any toppings you'd like! Return to oven and bake an additional 10-12 minutes or until cheese has melted.
Notes
If using lean ground meat, you may want to lightly grease you pan to prevent the layer of meat from sticking.
The size pan you use may vary which affect the thickness of the meat. This will affect cook time. Cook your meat to your desired and safe internal temperature. This varies by the type of meat you use. Use a meat thermometer if needed to determine when your meat crust is done and ready to be layered with sauce and cheese. Keep in mind, meat will continue to cook a bit more once its returned to the oven with sauce and cheese.
Nutrition Facts
Calories:
492
kcal
|
Carbohydrates:
7
g
|
Protein:
33
g
|
Fat:
36
g
|
Saturated Fat:
15
g
|
Polyunsaturated Fat:
1
g
|
Monounsaturated Fat:
15
g
|
Trans Fat:
2
g
|
Cholesterol:
177
mg
|
Sodium:
520
mg
|
Potassium:
597
mg
|
Fiber:
1
g
|
Sugar:
2
g
|
Vitamin A:
395
IU
|
Vitamin C:
3
mg
|
Calcium:
148
mg
|
Iron:
4
mg
Follow Mighty Mrs. for more easy recipes!
Find @MightyMrs on Pinterest