This pierogi soup with kielbasa will liven up your dinner rotation! Made with hard apple cider beer broth, peppers and red onion. Easy and delicious!
This post may contain affiliate links. As an affiliate, I earn a commission.
Jump down to Recipe
A nice warm bowl of this pierogi soup with kielbasa will surely liven up your dinner rotation!
What's in this Kielbasa Pierogi soup?
Made with Angry Orchard hard apple cider beer broth, kielbasa, any flavor of pierogies, plus sauteed red onion and bell peppers, this soup is so simple to make yet full of flavor! We'll make a very simple microwave roux to thicken the broth.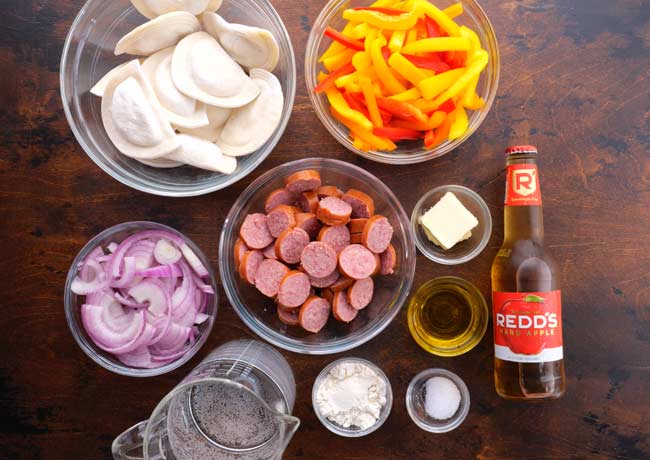 Make it a meal.
Pair this pierogi soup with a side salad and some buttered toast for dinner or pack it up and enjoy it for lunch.
This Pierogi Soup with Kielbasa is light yet filling.
The beer broth here is key. Since we have some heavy hitters like the potato stuffed pierogies and very flavorful and rich kielbasa, I wanted a very simple and light broth with a hint of tang.
So, while there is a small amount of thickener (I use a simple roux you can make in the microwave with butter + flour) the broth is still very thin yet has just enough body to coat and stick to the ingredients of this soup for perfect bites every time.
Choose regular or mini pierogies.
Mini pierogis are going to be a little easier to eat and perhaps even make this feel more soup-like. However, the full sizes pierogies work just fine, you only need to put in a little work while you eat to portion out your bites. The pierogies will be soft and easily with a fork or spoon. The large pierogies are kind of unexpected which I think is fun but if you're not feeling it, go for the mini ones.
I do believe the large pierogies come in more flavors though. So that may be the deciding factor for you.
Slice your kielbaba or opt for kielbasa bites.
Depending on where you live, you may or may not have a variety of kielbasa sizes available to you.
Since we are pretty close to the Midwest where kielbasa is very popular, we have bite-sized kielbasa options that are so cute and work perfectly with this soup. No cutting necessary. However, you can also use link kielbasa. All you have to do is slice them into rounds.
Kielbasa is almost always precooked so you just need to heat it up along with the other ingredients of this soup.
So the broth is basically beer.
Yup. Kielbasa and beer go together like peas and carrots. Kielbasa is naturally a bit fatty and flavorful and some of that goodness seeps out into the broth as well. So a simple beer based broth is truly all you need.
Now, another Midwest known fact is the kielbasa also goes really well with apples. Apple sauerkraut, kielbasa and homemade spaetzle is a popular dish enjoyed on New Years day. So borrowing from that, I opted to use Angry Orchard hard apple cider as my "beer" or choice. The apple adds a touch a sweetness which plays really nicely with the peppers and onions and balances out the saltiness of the kielbasas. I think you're going to like it!
If you'd rather go for another type or flavor of beer, go for it. You can really change up the taste of this soup depending on what beer you choose. So have some fun and experiment to find what you like best. Or be lazy and just use up whatever you have in your fridge. There are no right or wrongs here. Even non-alcoholic beer works or you could use apple cider vinegar (I'd recommend watering it down though so it's stronger than beer. Maybe just use half the amount the recipe calls for, then add extra water)
Want to enhance the flavor of the broth further? Try adding a little bit of vegetable or chicken bullion to taste.
Choose any flavor pierogies.
The original cheddar flavor is awesome with this soup but you really can't go wrong with any of the other flavors of pierogies available. Again, try them all! See which you like best.
A one-pot dinner!
When you use a dutch oven, everything can be made in just one pot. Sauté the onions and peppers then add the rest of the ingredients. Easy! And just one pot to clean.
Need one of these awesome pots? Shop dutch ovens on Amazon
Make this a kid-friendly meal.
To make this into a kid-friendly, deconstruct it. Cut and set aside some extra raw peppers, spoon out some warm kielbasa (rinse it off if you must) and serve some pierogies plain, heated up in the microwave.
Want more easy and delicious soup ideas?
This easy Pierogi Soup with Kielbasa was featured on Sweet Little Blue Bird and Mrs. Happy Homemaker!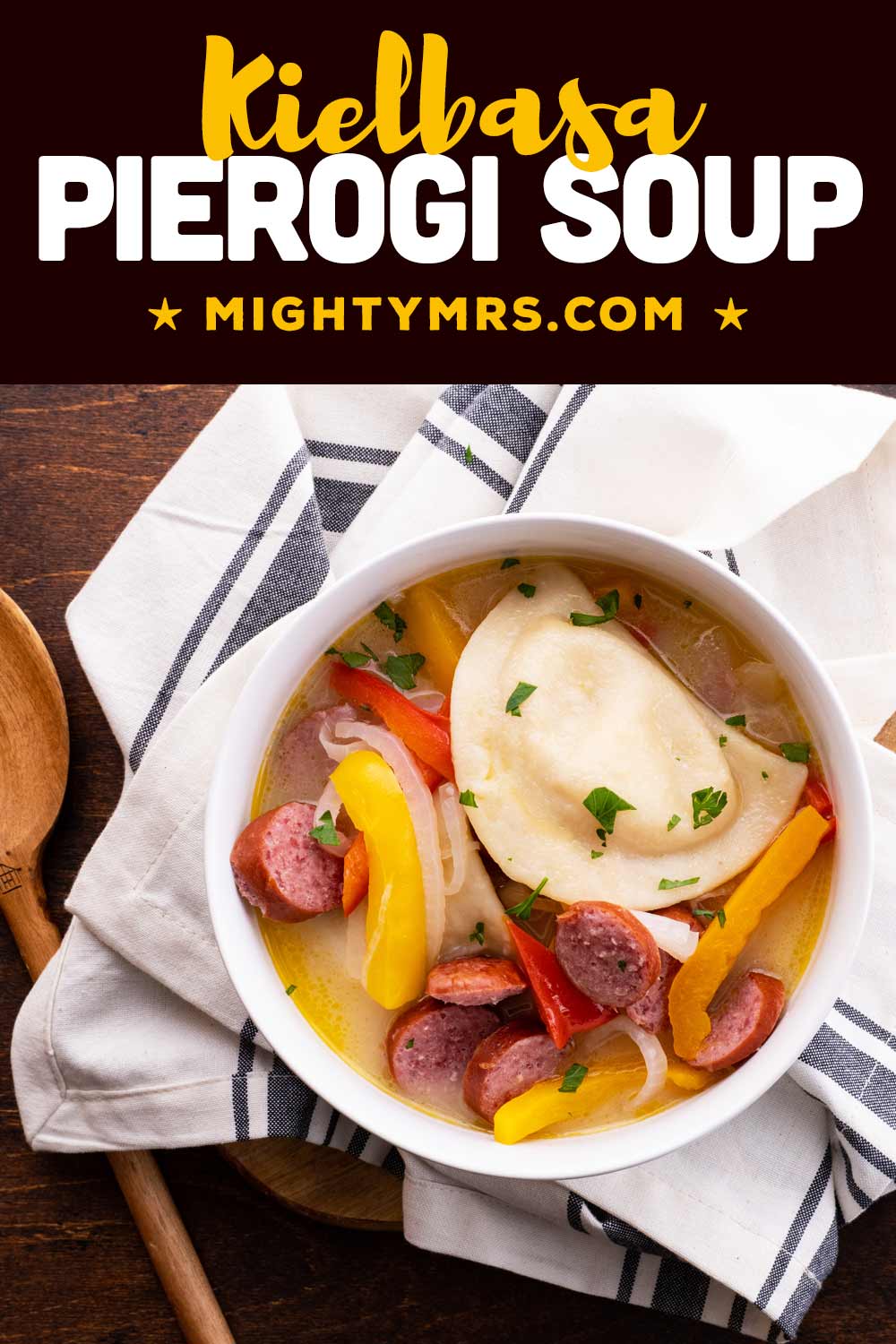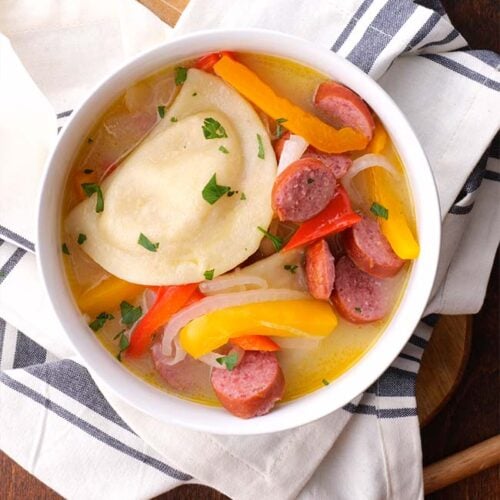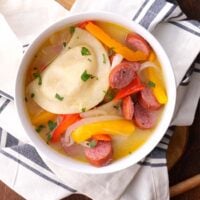 Pierogi Soup with Kielbasa
This pierogi soup with kielbasa will liven up your dinner rotation! Made with hard apple cider beer broth, peppers and red onion. Easy and delicious!
Read Comments
Print
Pin
Rate
Ingredients
12

frozen pierogies

12

oz

Kielbasa bites

or sliced Kielbasa

2

tablespoon

olive oil

3

bell peppers

red, yellow, orange, seeded and sliced

1

red onion

thinly sliced

12

oz

apple hard cider

or use any beer

3

cups

water

½

teaspoon

salt

2

tablespoon

butter

2

tablespoon

flour

Parsley for garnish
Instructions
In a dutch oven, saute sliced peppers and red onion in olive oil over medium heat for about 4-5 minutes or until onions are translucent, stirring frequently.

Add entire bottle of hard cider (or beer). Then fill up the beer bottle twice to add the water (that's 3 cups!). Bring to a boil.

Add frozen pierogies and kielbasa. Boil over medium for about 15 minutes.

In a small container (I use a ramekin) microwave butter and flour for 30 seconds. (Be sure to cover to prevent splattering) Carefully remove from microwave and stir until well blended. Microwave for 30-45 more seconds until bubbly when removed. This is your roux and will thicken the broth. Scrape into pot of soup. Bring to a boil and stir to combine.

Remove from heat then serve. Garnish with parsley if you want to be fancy.
Nutrition Facts
Calories:
623
kcal
|
Carbohydrates:
39
g
|
Protein:
18
g
|
Fat:
42
g
|
Saturated Fat:
14
g
|
Polyunsaturated Fat:
4
g
|
Monounsaturated Fat:
18
g
|
Trans Fat:
1
g
|
Cholesterol:
77
mg
|
Sodium:
1381
mg
|
Potassium:
459
mg
|
Fiber:
4
g
|
Sugar:
8
g
|
Vitamin A:
2970
IU
|
Vitamin C:
123
mg
|
Calcium:
55
mg
|
Iron:
3
mg
Follow Mighty Mrs. for more easy recipes!
Find @MightyMrs on Pinterest