These warm and delicious jalapeño cheddar cheese grits were inspired by a recent trip to a trendy new restaurant in Maryland.
Trending in Maryland: Jalapenõ Cheddar Cheese Grits!

Our family of four traveled down south to spend New Year's visiting my dad's side of the family this year. For New Year's Eve, we all roamed around the streets of downtown Annapolis, my hometown. It was literally a walk down memory lane as we walked past my old elementary school, my mom's old travel agency, and several of the places the Mr. and I went on dates in our 20s.
The New Year's Eve activities included the same magic show I remember seeing when I was little and it seemed to be just as fascinating to my own kids as it was to me. After the show we walked around and took in all the things I remembered about home.
Oh, Maryland. You have such great food!
The smell of the Chesapeake Bay was the same and the smells of fresh seafood drifted out of some of the same and some new restaurants along the harbor.
We ended up eating crab cakes among other goodies at the kid-friendly Buddy's Crabs and Ribs, which did not disappoint.
By the way, check out my REAL Maryland crab cake recipe and my family's favorite crab dip.
However, it wasn't crabs or even seafood this trip that I was inspired by. It was a simple side dish. The simple, cheesy jalapeño grits that came with our main entry were really a unexpected treat!
Cheesy Jalapeno Grits – A Hidden Gem of a Side Dish

My new favorite side dish was discovered New Year's day when our whole family headed to a place only the locals would likely know, Severna Park. There's a great little new restaurant there with a hip name of course, Park Tavern. I fell in love with their cheesy jalapeño grits as well as their cast iron serving ware.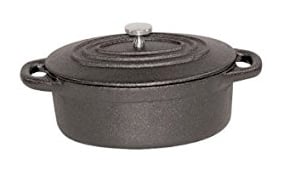 As soon as we returned home to PA, not only was I determined to recreate the kickin' grits side dish, I was on a mission to find some individually sized cast iron pots to serve them in.
Of course, Amazon had them. <– Um, what don't they have?
Keep it simple (stupid).

While my first attempts at researching recipes and recreating these grits was absolutely awful (nixed onions, garlic and chicken broth), I finally learned to keep it simple and landed on this delightfully easy recipe.
Good reminder for future recipe recreation: Start simple and you can always add flavor. You can't take flavor away. 😉
Want some more side dish ideas?

Browse all my side dish recipes.
These cheesy jalapeño grits were featured on Full Plate Thursday!