This post may contain affiliate links. As an affiliate, I earn a commission.
Jump down to Recipe
This Chicken Wonton Bowl was inspired by Applebee's Chicken Wonton Tacos.
Chicken Wonton Tacos, made into a bowl.
The flavor of this dish tastes much the same as the popular tacos served at Applebees. Saucy stir fried chicken over slaw, then layered with another creamy, spicy, Sriracha-based sauce and finally topped off with crispy wonton strips, instead of stuffed into a wonton taco shell.
It's just easier, really. But also, you control the amount of carbs with how many wonton strips you choose to use.
What ingredients are needed to make these Chicken Wonton Taco Bowls?
You need a few base ingredients plus a couple optional ingredients. Super simple.
Here's everything you need: cooked chicken (use ground chicken, grilled, rotisserie or any kind of cooked and shredded chicken), cooking oil, cole slaw mix, stir fry sauce, sesame oil, mayonnaise, wonton strips, Sriracha, and then optional lime wedges and cilantro for garnish and added flavor.
That's it!
Ground chicken or any kind of chicken!
You can really use any kind of chicken here. I use ground chicken because it's the texture you typically expect to find in taco meat. It cooks quickly and easily.
Say you don't have ground chicken. That's OK. You can substitute any kind of chicken. You could cook and shred chicken, chop it up, or start with a plain rotisserie chicken.
Applebee's tacos are made with grilled chicken. If you enjoy that added flavor you get from grilling, go ahead and grill chicken breasts or thighs, shred them, and then use that in place of ground chicken.
Try it different ways and see what you like best!
Two Sauces = Big Flavor
Not one but two sauces. It might seem excessive. But it's worth it! This recipe is very simple but is full of flavor because of the sauces. You wouldn't really enjoy a salad as much without dressing would you? Same deal.
Since each sauce adds a layer of flavor, you want to be sure you have all the ingredients needed to make both sauces.
When choosing a chili sauce, you can opt for more savory garlic chili sauce, or if you want to add a touch of sweetness, you can opt for sweet chili sauce. Your choice! And if you can't decide, you could absolutely add both.
15-Minute Dinner
Yes. Really and truly. Cook the chicken, stir up the sauces. Put everything in a bowl and BAM. Dinner is done.
When you're looking for a healthy, lower carb dinner that doesn't take forever to prep—this fits the bill!
Watch how to make this recipe.
And see for yourself how easy this is. It's pretty incredible.
Love a good bowl dinner?
Trendy bowl dinners tend to be healthy and easy to make. If you're into this trend, it might be worth investing in a pretty new set of bowls! Shop dinner bowl sets on Amazon
Be sure to check out my popular Bang Bang Shimp Roll Bowl recipe too.
Want even more easy dinner ideas?
This Chicken Wonton Bowl recipe was featured on the Weekend Potluck!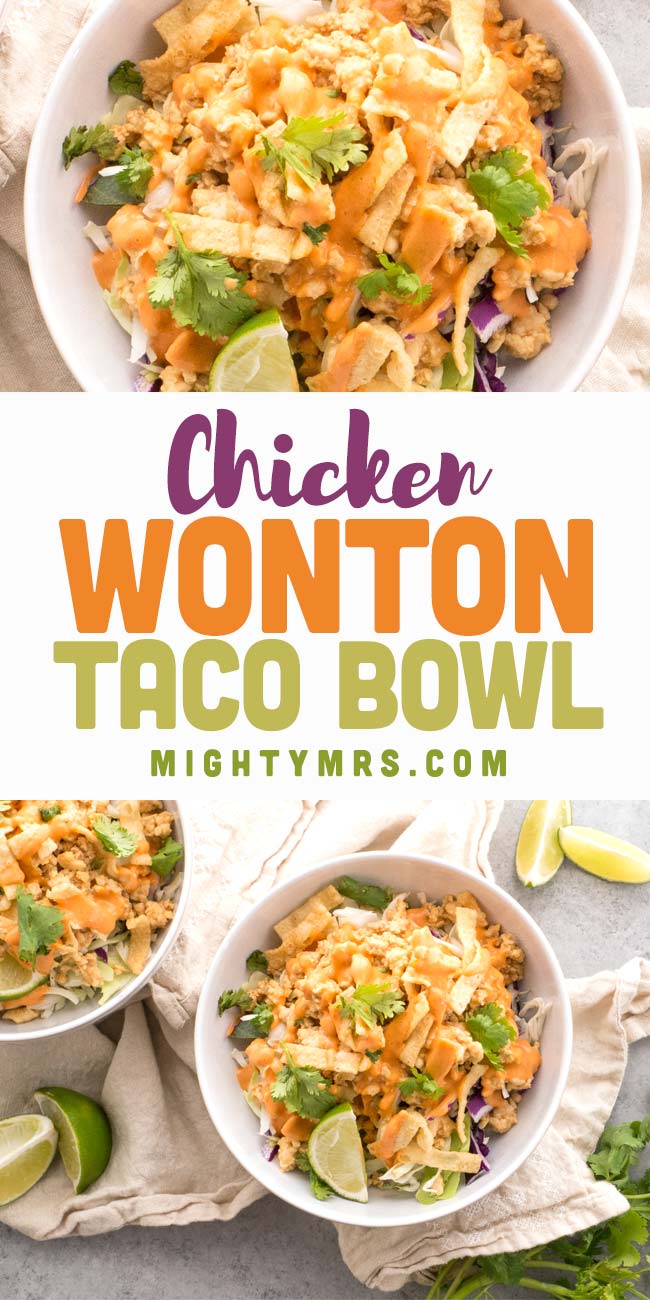 Ingredients
2

lb

ground chicken

1

tbsp

cooking oil

1

16oz bag tri-colored slaw mix

1

cup

stir fry sauce

1

tbsp

sweet chili sauce

1

tbsp

sesame oil

2

tbsp

mayonnaise

1-2

cups

Wonton strips

as desired

SPICY FINISHING SAUCE

2

tbsp

mayonnaise

2

tbsp

Sriracha

use more or less to adjust level of spicy heat

OPTIONAL

4

lime wedges

Fresh cilantro for garnish
Instructions
In a medium-sized bowl, mix together stir fry sauce, sweet chili sauce, sesame oil and mayonnaise until blended.

Next, heat cooking oil in a skillet over medium-high heat then add ground chicken. Stir frequently while breaking apart until thoroughly cooked, about 5 minutes. Remove from heat.

Scrape stir fry sauce from bowl into the skillet with the chicken. Toss to coat.

Using the empty sauce bowl, prepare sauce #2 by stirring together Sriracha sauce and mayonnaise until blended.

Divide slaw mix among 4 serving bowls. Layer saucy chicken on top then wonton strips. Finally, drizzle spicy sauce on top with a spoon or with a piping bag.

Garnish with a slice of lime and a sprig of fresh cilantro if desired. (Optional)