This post may contain affiliate links. As an affiliate, I earn a commission.
Jump down to Recipe
If you're looking for a recipe to make Aldi's chickpea salad at home then you're in the right place! This homemade recipe tastes EXACTLY like the real deal.
You can of course save yourself a little time by picking up the salad at Aldis, but you'll save some money and be able to make a big batch if you make this yourself.
Aldi's Chickpea Salad Ingredients
The main ingredients in this chickpea edamame salad (or dip depending on how you want to enjoy this) are:
Edamame, Chickpeas, Carrots, Dried cranberries, and bell peppers (red and green).
This crazy combination of flavors really works! But what brings everything together is the dressing. A mix of oil, vinegar, fresh lemon juice and herbs.
The herby dressing marinates the ingredients and brings all the flavors together beautifully. The best part is, you don't need to let this marinate for any set amount of time. You can enjoy this salad immediately after you make it or chill it for later. It stores well in the fridge.
A Healthy Dip Appetizer, Lunch or Vegetarian Side Dish
You're probably going to want to make a big batch of this power salad because you can enjoy it multiple ways. You can: enjoy this as a dip with tortilla chips, add this medly to your salad, serve it as a side dish with dinner, or pack it up for a healthy lunch.
This salad keeps well thanks to the preserving powers of vinegar and oil. You can store this in the fridge for up to a week.
This healthy chickpea salad recipe couldn't be easier!
Okay, well it actually could be easier. I mean you could just buy it at Aldi's but you only get a tiny package and it's pretty expensive. And the nearest Aldi's might be a bit of a drive away. So, homemade it is for me anyway!
The hardest part might be collecting all the herbs to make up the dressing. If you don't collect herbs like it's your job (like me!) then you could instead use a bottled Italian dressing and then add cumin. You could try other dressings too if you want to mix it up and give this recipe a re-fresh after you've had it a few times.
You can use frozen, canned or fresh edamame.
There's not a big difference in taste no matter which type you choose to go with. So, go for what's most convenient for you. If you can only find frozen edamame in shells, just cook the edamame and then pop it out of the shells. It only takes a few extra minutes.
What's the best way to store this chickpea edamame salad?
I prefer to store this salad, and almost all my dips and leftovers, in wide-mouth Mason jars. They are inexpensive and hold up well. You don't need to worry about plastic chemicals (when re-heating certain dishes) seeping into your food, ruining the container or messing with the flavor of your recipe. I do use plastic dishwasher-safe lids since the metal ones tend to get rusty after awhile.
Shop Mason Jars with Plastic Lids on Amazon
Want more healthy recipe ideas?
Check out these healthy yet delicious recipes:
This easy chickpea edamame salad recipe was featured on Meatless Monday!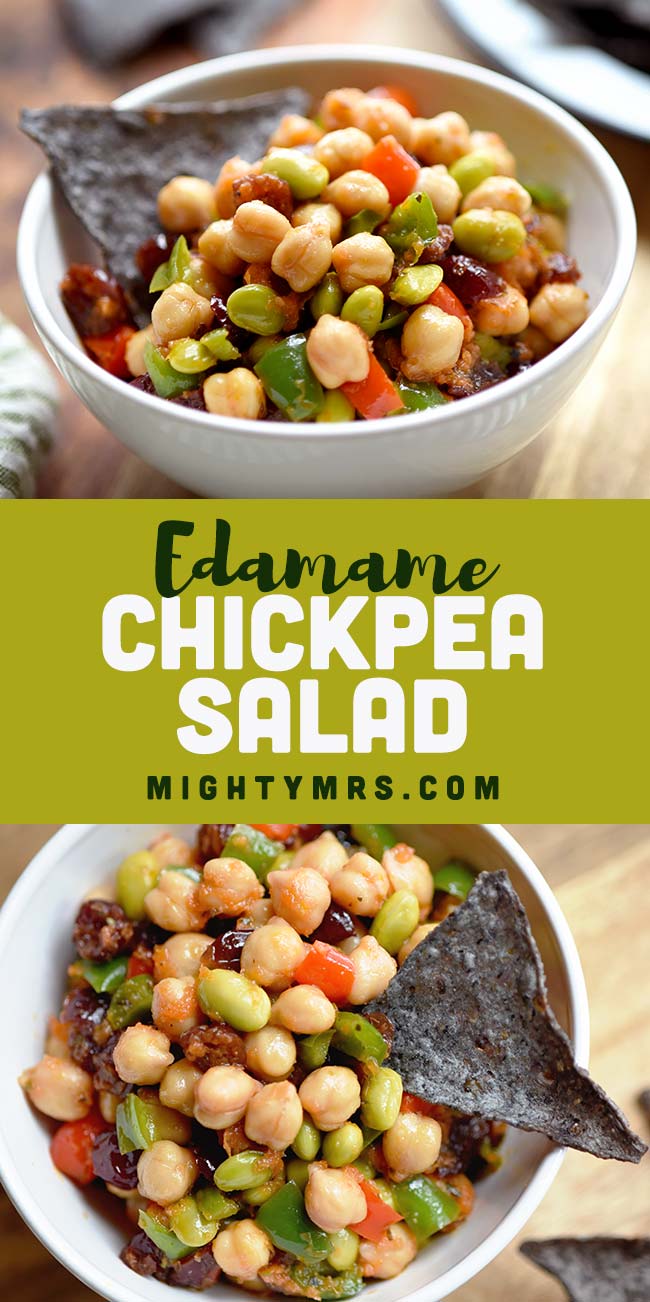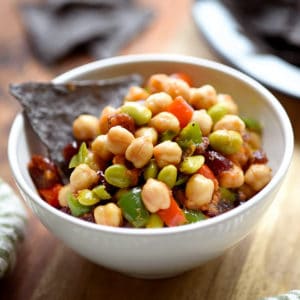 Ingredients
1

15oz chickpeas, drained

2

cups

shelled edamame

1

large carrot

shredded

1/4

cup

dried cranberries

1/2

red bell pepper

chopped

1/2

green bell pepper

chopped

1/4

tsp

sea salt

1/4

cup

grape seed or olive oil

1/4

cup

white vinegar

1/4

tsp

garlic powder

1/4

tsp

Italian seasoning

oregano, basil, marjoram, thyme, rosemary or more to taste

Black pepper and cumin to taste
Instructions
In a large bowl, toss together: chickpeas, edamame, shredded carrot, cranberries, bell peppers, salt, oil, vinegar and herbs.

Serve immediately or store for later. Enjoy with a spoon or as a dip with tortilla chips.