You're going to love these grilled stuffed Giant Marconi pepper!
Giant Marconi peppers are ripe for stuffing because they're so large! If you've grown some this year in your garden, or received some from a friend's garden and you're wondering what do do with them, stuffing and then grilling them is a great option.
Garden fresh!
A garden is such a beautiful thing! I love so many things about them. From watching a tiny seed grow into the freshest produce you'll ever get your hands on, to the sharing of the harvest among friends and family. I'm lucky to have friends and family who share their harvest with me. I have just enough room for a few herbs, one tomato plant and an attempt at a potted pumpkin plant. We'll see how that goes… lemme just say I'm real glad October is a ways off still.
What does a Giant Marconi pepper taste like?
One of the most fun things for me about gardening, as you can imagine, is figuring out what to do with the random varieties of veggies that come my way. Specifically the peppers. There are SO many kinds of peppers! In fact, I'd never even heard of Giant Marconi peppers until just this year.
After a bit of research and taste-testing I learned that they are typically peppers you stuff and they are deemed a sweet pepper. To me, they don't really taste sweet though, they do have a very mild flavor like an earthier bell pepper and they are a little bit bitter.
Goat cheese adds a punch of flavor
When I saw a few recipe ideas that incorporated goat cheese with Giant Marconis, I thought that would be a good match. The rich creaminess of goat cheese goes well with their mild and slightly bitter flavor.
So I got to stuffing and then fired up the grill. Since a few of my grape tomatoes had just ripened I threw some of those on the grill along with the peppers. They turned out to be a great little topper for the stuffed peppers.
This recipe is easy! Even if you're never stuffed peppers before.
This recipe is super simple and tasty is a great go-to if you have these giant guys growing in your garden this year and aren't sure what to do with them or are looking to try something different.
Some special tool can help make grilling vegetables easier.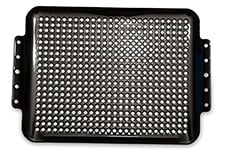 If you grilled vegetables, then you may as well get yourself a non-stick grill topper for grilling veggies.
I tried to be cheap and just use a ton of spray butter and put the veggies straight on the grill and you can imagine how well that worked.
Do yourself a favor, splurge on a grill pan. Your life will get a bit easier when you do, especially this time of year when there are so many fresh veggies available and grilling them is a wonderful way to give them flavor without adding calories.
Love grilled vegetables?
Check out my marinated grilled vegetable sandwich and my stuffed jalapeño poppers wrapped in bacon. Both are delicious!