Sun-dried tomatoes bump up the flavor in these classic jalapeno poppers.
This post may contain affiliate links. As an affiliate, I earn a commission.
Jump down to Recipe
I'd venture to say that anyone who likes spice, loves a good bacon-wrapped jalepeño popper. But why eat a good jalapeno popper when you can eat a BOMB jalepeño popper? Amiright?
These jalapeño popper are bomb!
So, what makes these a particular jalepeño poppers so different, so special, so BOMB? The short answer is: sun-dried tomatoes.
The science of flavor
But there's a long answer and it gets a little scientific. Are you ready? Because you should be. Good food is a science. And art of course too but there is a true science to flavor and once you unlock a few little flavor secrets your world as a home cook is going to open up like a little ray of sunshine peaking through two fluffy clouds. Sound interesting? I thought so! I can't be the only food nerd out there. ?
The Flavor Chart
I found this this sweet little flavor profiles chart over at CookingSmarts.com. I really like how it shows the science behind flavor profile combinations in a simple way. Check it out (click to enlarge):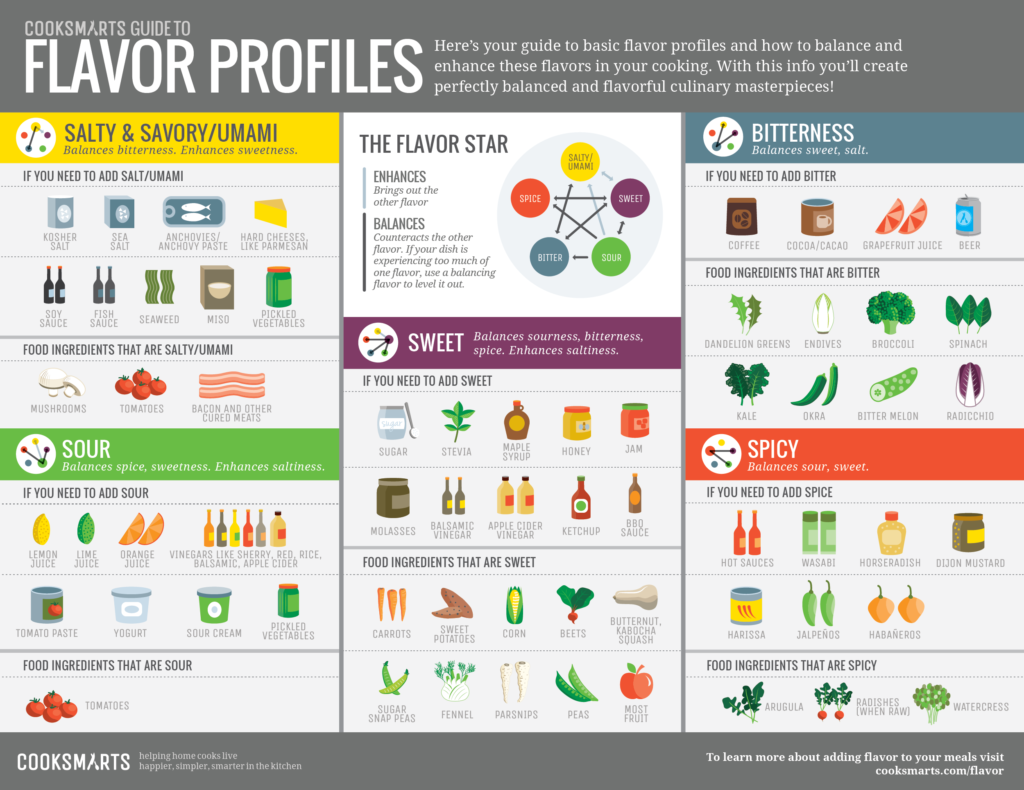 Breaking down flavor combinations
It's simple but it's also kind of complex. So let's break it down a little and relate it to this recipe for jalepeño poppers.
Looking at the chart, you might notice is that tomatoes are rare in that they appear in two different flavor profiles — savory/umami and also under sour. Tomatoes also naturally contain sugar so you could potentially say they fit into three of the profiles. Obviously tomatoes are not as sweet as other fruits and veggies but they do offer enough sugar to add in that extra layer of flavor.
So by simply adding this one ingredient, you get a whole bunch of flavor! It's likely why you see tomatoes in so many delicious things from pizza to salads to soups. Its savory qualities add to the flavor without the need to add more salt. So the tomatoes intensify both the flavor and saltiness of the bacon without actually having to add any salt.
Spice without the sting!
Another factor at play here is the molecular bonds. I told you this was going to get sciencey. The protein in cream cheese actually breaks the bond that forms between the spicy oil and your nerve receptors. So you get the flavor from the spice without the sting. Pretty slick.
Things to think about
So next time you're cooking with jalapenos or something spicy, think about what you might be able to add that is milk based. And next time you want to add some flavor to a an otherwise boring dish, try throwing in some type of tomatoes.
If you love these jalepeño poppers as much as we do, please leave me a review and tell us what you liked about them or who you enjoyed them with. We'd love to hear your feedback!
Other recipes you might like:
These bacon-wrapped jalapeño poppers were featured on Hearth and Soul!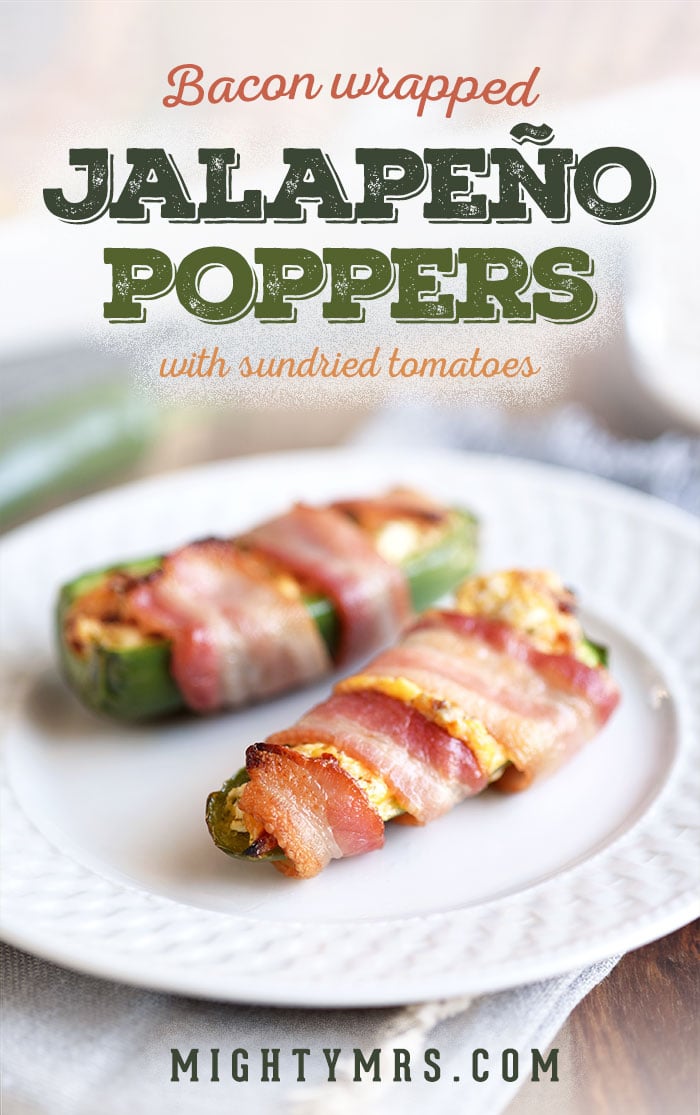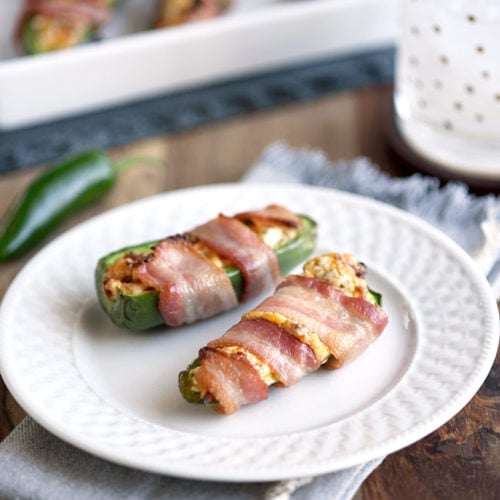 Jalepeño Poppers with Sun-dried Tomatoes
Sun-dried tomatoes bump up the flavor in these classic jalapeno poppers.
Read Comments
Print
Pin
Rate
Yield:
6 jalapeno poppers
Ingredients
3

jalapeno peppers

4

oz

cream cheese

¼

cup

shredded cheddar cheese

1

tablespoon

sun-dried tomatoes in oil

1

teaspoon

oregano

6

slices

of bacon
Instructions
In a bowl, mix together cream cheese, cheddar cheese, sun-dried tomatoes and oregano to form a paste.

Cut jalapeño peppers in half, long ways so they are shaped like a boat. Remove seeds and stem.

Microwave bacon slices for 30 seconds to pre-cook them.

Stuff jalapeños with cream cheese mixture then wrap each with a slice of bacon.

Place jalapenos on a wire cookie rack on top of a cookie sheet or grill rack for best results.

Bake or grill at 450˚ for 12-15 minutes or until peppers are tender and bacon is crispy.
Nutrition Facts
Calories:
184
kcal
|
Carbohydrates:
2
g
|
Protein:
5
g
|
Fat:
17
g
|
Saturated Fat:
8
g
|
Polyunsaturated Fat:
2
g
|
Monounsaturated Fat:
6
g
|
Trans Fat:
1
g
|
Cholesterol:
40
mg
|
Sodium:
242
mg
|
Potassium:
134
mg
|
Fiber:
1
g
|
Sugar:
1
g
|
Vitamin A:
422
IU
|
Vitamin C:
11
mg
|
Calcium:
61
mg
|
Iron:
1
mg
Follow Mighty Mrs. for more easy recipes!
Find @MightyMrs on Pinterest