These oven-baked ham and cheese Hawaiian roll sliders are a family favorite snack. Made with Havarti cheese and black forest ham. Perfect football party food or holiday appetizer.
This post may contain affiliate links. As an affiliate, I earn a commission.
Jump down to Recipe
These little oven baked ham and cheese Hawaiian roll sliders are a family favorite. I mean. What's not to like?
With their buttery sweet Hawaiian buns, topped with a crispy onion-poppy seeds sauce. Then baked until the Havarti cheese gets the perfect amount of melty. Nommmm.
Good Weekend Food
They're great for weekend brunch. Nothing fancy. Just make them and enjoy them as a hearty breakfast-lunch combination deal so you can consolidate meals and get more done with your day off, while staying fueled.
This simple and quick recipe is best for feeding a crowd breakfast or brunch, or for enjoying on the weekends or even Christmas morning. Enjoyed by thousands of Pinterest users, this is a must-try recipe!
Ingredients You'll Need
You need just 3 main ingredients plus a 5-ingredient homemade, seasoned buttery sauce that tops these roll so that they bake to a delicious crisp.
Here's everything you'll need: savory Hawaiian rolls, black forest ham, Havarti cheese, butter, poppy seeds, onion powder, Worcestershire sauce, and Dijon mustard.
The secret is in the sauce.
The secret sauce though is what will make you want to eat the entire tray of these delectable little ham and cheese sandwiches. The sauce is just three ingredients mixed together with a little melted butter and it will rock your world.
Want to know what they are? Oh, alright. I'll tell you. 😉 Worcestershire sauce, onions and Dijon mustard. That's IT. Together these friendly condiments are a happy family of tastiness.
Watch how easy it is to make these sliders.
Here's how to make these ham and cheese sliders, step by step. It's simple, really!
Which Hawaiian rolls are best to use with this recipe?
When you go to the store you'll notice two flavors of Hawaiian rolls — savory butter and original sweet. I've tried using both to make these ham and cheese sliders. Both are good!
However, I personally like the savory butter flavor a little better. The original sweet rolls along with the sweetness of the ham can be just a little too much sweetness for me.
However, try them both and see what you like best! I always say, there's no right or wrong way to do things. So take time to experiment and see what you and your family like best.
Can these sliders be made ahead?
Yes, you can prep the sliders ahead of time then bake them right before you're ready to eat. They make an excellent brunch for a small crowd or to bring them to a friends house as a snack.
Tips for making these ham and cheese sliders, perfectly on the first try:
• Don't separate your rolls. Cut them in half as a big block. It's much easier and will save you time!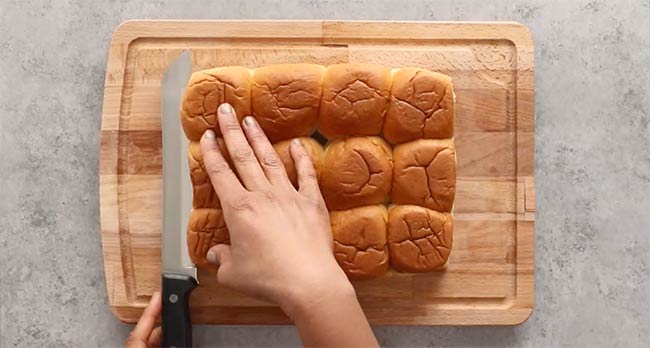 • Fold ham slices in quarters to add texture to your bite:
• Make sure to cover these with foil before you put them in the oven to back and then carefully uncover them for just the last 3-5 minutes to lightly brown and crisp them. Less time for less crispy and brown, more time for more crispy and brown.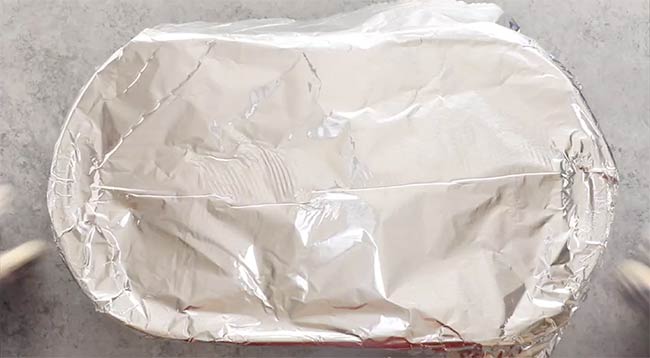 Like my baking dish?
Did you notice my cute, glass baking dish? I just love this dish! It's one of my favorite Pioneer Woman pieces. Yes, I have multiple pieces of her collection. I opened the flood gate and I'm really having to refrain from purchasing ALL of the Pioneer Woman's cookware. Gah!
This casserole dish specifically is my favorite because it's a little smaller than a typical baking dish and it has really pretty glass bead work on the outside. I use it a lot for breakfast casseroles and sheet cakes and of course these slides.
Also, a package of Hawaiian rolls fits perfectly so its perfect for making this recipe.
Want some more recipe ideas?
Browse all my recipes and pin the ones you love for later!
Love all things ham and cheese?
Hey, I can't blame you. It's a can't-go-wrong combo.
Here are all my other recipes incorporating ham and cheese:
• Ham and Cheese Quiche
• Cheesy Ham and Potato Soup
• Cajun Ham and Cheese Biscuits
• Easy Ham and Cheese Croissant Melts – My breakfast most mornings!
Get monthly recipe inspiration! Sign up for my email newsletter.
I typically send out an email once a month with seasonal recipe ideas. The sign up box is at the bottom of this page. When you sign up, I'll also send you a copy of the printable meal planner and grocery list I use.
Here's what people are saying about these Hawaiian ham and cheese sliders:
"These are my absolute fav!"
"I could literally eat a dozen"
"Delicious!"
"This couldn't be easier or more delicious!!"
"Best use of leftover ham!"

This is one of my most popular recipes! Want to see more?
Check out my other popular recipes:
Browse and pin these popular Pinterest recipes here!
These ham and cheese Hawaiian roll sliders were featured on Pretty Little Monday, South Your Mouth and Big Green House!

Ham and Cheese Hawaiian Roll Sliders
These oven-baked ham and cheese Hawaiian roll sliders are a family favorite snack. Made with Havarti cheese and black forest ham. Perfect football party food or holiday appetizer.
Read Comments
Print
Pin
Rate
Ingredients
1

package

Hawaiian Rolls (Savory Butter or Orignal Sweet)

12 count

½

lb

sliced baked ham

6

slices

Havarti cheese

¼

cup

butter

½

tsp

poppy seeds

½

tsp

Worcestershire sauce

½

tsp

onion powder

½

tsp

dijon mustard
Instructions
Without separating the rolls, slice the Hawaiian rolls in half. Place the bottom half of the rolls in a 9x12 baking pan.

Layer on sliced ham then cheese then the tops of the rolls.

In a glass bowl, microwave the butter for about 30 second or until melted. Stir in poppy seeds, Worcestershire sauce, onion powder and Dijon mustard.

Brush butter mixture over top of rolls.

Loosely cover pan with foil and bake at 350˚ for about 18-20 minutes or until cheese is melted. Remove foil the last 3-5 minutes of baking to slightly brown and crisp the tops of the rolls.
Nutrition Facts
Ham and Cheese Hawaiian Roll Sliders
Amount per Serving
% Daily Value*
* Percent Daily Values are based on a 2000 calorie diet.