Ironically, as I post this recipe for delicious pumpkin bundt cake smothered in cream cheese icing, I'm going to tell you that I've started calorie counting.
Or maybe it's not that ironic. See, to me counting calories is the best way to train my brain to eat what I need. I don't feel like giving up all the treats you love to stay fit is necessary. I think it's all about moderation. I'm trying to take a minute to realize, OK, a small slice of pumpkin bundt cake is going to be about 200 calories. Then I can have one slice and that's it. SHARE the rest. So really I'm becoming better at sharing too. 🙂 So as far as counting calories, I think it's really simple and for me that works. I don't tend to stick with things that are complicated. After doing some research, here's what I've learned:
To loose weight, take:
Your Goal Weight x 10 = Daily Calorie Intake
To maintain your weight, take:
Your Weight x 13 = Daily Calorie Intake
So even if you're not trying to loose weight, I think counting calories is a healthy habit.
Here's my deal: I'm trying to loose a few pounds. I'm getting older (almost 35!) and my metabolism is starting to slow down a bit more and so I'm trying to start this before things get out of control. I'm 5′ 4″ and my goal weight is 120. I choose that number because I felt less lumpy and like my clothes fit well at that weight. I have a small frame and I do a medium amount of daily activity but I do have a desk job.
You may want to choose your goal weight on what feels right considering your height, your frame size, your job, your level of daily activity, your age, and consider any of factors you think may affect your food intake. Obviously, I'm not a doctor or even a nutritionist so I'm telling you this based on what works for me. I really can't guarantee if it will work for you but I feel like no matter what it's a healthy habit and worth trying!
I'm also a fan of the 80/20 rule. Ever heard of it? It's pretty simple and easy to remember and follow. 80% of the time you eat low-calorie nutritious foods. 20% of the time… you satisfy your cravings. So it gives you room to "cheat" a little but then the calorie counting keeps you on track.
Ever tried either one? Let me know how it worked for you.
You might be excited to know that this pumpkin bundt cake does have some nutritional value. Pumpkin puree is actually pretty rich in vitamins and the cream cheese icing offers a bit of calcium and protein. So as far as cakes go, this one is on the safer side. 😉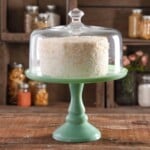 Side note: Do you just love my mint green vintage cake stand?? It was one of those things I just had to have. That color. Is it mint? Jade? Don't know, don't care just love it. Let me give you one tip though. If you are really into bundt cakes and love this cake stand as much as I do, I'd recommend going with a small bundt cake mold since the glass top is not very tall. Or choose a cake stand with a large glass top and a diameter that matches your bundt pan.
This pumpkin bundt cake is an adaptation of Libby's pumpkin roll recipe.
This recipe was featured on Mix it up Monday!