This post may contain affiliate links. As an affiliate, I earn a commission.
Jump down to Recipe
Looking for a light and tasty appetizer that's also super easy to make? These tuna pickle boats are going to rock your world.
Low Carb Appetizer or Lunch
These tuna salad pickle boats make an awesome low-carb snack, appetizer or lunch. Or even a light dinner.
You can use baby pickles or full size pickles depending how you want to enjoy or serve these tuna salad filled pickle boats. When making these as an appetizer, I use whole baby dill pickles, cut in half and scraped out. However if you're looking to make these as more of a low carb sandwich to enjoy for lunch or even dinner, then the full sized pickles would work really well for that.
All you need is 5 ingredients!
If you've got tuna, mayo (or Greek yogurt), sugar or honey, dill pickles and red onion then you're good to go!

Ready to eat in just 10 minutes!
These tuna pickle boats are super easy to make. You need just five ingredients — white chunk tuna fish, mayo (or you could use Greek yogurt if you prefer), sugar or honey (optional), dill pickles and red onion. You can add pepper too if you'd like.
I find the sugar or honey adds just a touch of sweetness that balances out the salty/vinegar taste of the pickles really nicely however, it's totally fine to leave it out if you're cutting sugar or sweetener out of your diet. This makes these keto friendly as well.
How to Assemble these Tuna Pickle Boats
Stir up the tuna salad ingredients, scrape out the pickles and chop up the inside to put in with the tuna salad and then fill up each pickle skin with the tuna salad. Chill or serve right away. Easy and super yummy!
Drain, drain, drain.
The only real trick to this recipe is to make sure you drain the tuna and dry off the pickles really well so these tuna pickle boats don't end up too juicy.
To do drain the tuna, open the can then leave the lid in place to press and squeeze out all the extra liquid.
Next, when you slice the pickles in half, you want to dry them off a little. Just soak up any extra pickle juice with a paper towel.
Try chicken instead of tuna.
Not a huge tuna lover or want to try something different? You can use cooked and shredded chicken to make a chicken salad filling instead of tuna. A great way to use up leftover chicken, or pick up a rotisserie chicken and use that to save time.
Counting carbs?
Pickles, tuna, mayo and onion are all naturally low in carbs. So by nature of the ingredients, this is a low carb snack since no crackers, bread crumbs or pasta are involved in this recipe.
However this recipe does call for sugar or honey to enhance the flavor. As I mentioned, you can just leave the sweetener out all together and you will instantly lower the carbs. You'll still get great flavor, it'll just taste a bit more salty, no biggie.
If you're not counting carbs, go ahead and add that spoonful or sugar (or honey!)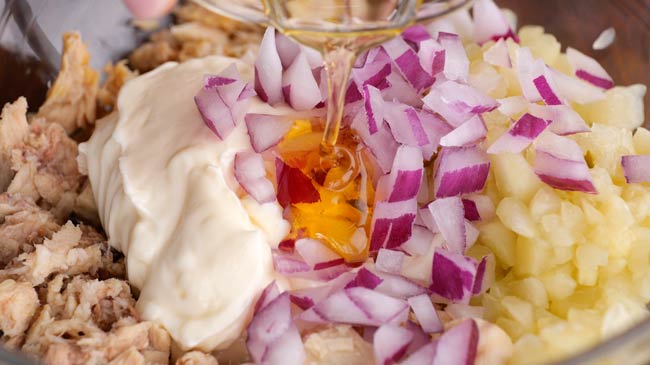 Take these tuna pickle boats for lunch.
These tuna pickle boats travel well especially after they've been chilled for a bit. The tuna salad tends to stick to the pickles after these have been in the fridge for awhile. Because you're working with pickles, as long as you pick a good brand of pickles to start with, then the pickles stay nice and crunchy!
Whether you're using full sized whole pickles or the baby ones, both can be made ahead and chilled in the fridge until you're ready to serve.
Serving these as an appetizer?
Browse serving platters on Amazon
Want more easy snack ideas?
This easy recipe for tuna salad pickle boats was featured on South Your Mouth!
Tuna Pickle Boats
These fun tuna pickle boats are easy to make. Just 5 ingredients! A yummy low carb snack that's perfect for game days.
Read Comments
Print
Pin
Rate
Ingredients
6

whole

baby dill pickles

or 2 large whole pickles

5

oz

chunk white tuna

¼

cup

mayonnaise

¼

cup

diced red onion

1

tsp

sugar or honey
Instructions
Cut whole pickles in half from end to end, lengthwise. Using a spoon or paring knife, cut or scrape out the inside of each side of the pickle to create a boat shape with the remaining pickle skin.

Chop up the scraped out insides and place them in a mixing bowl. Using a paper towel, soak up any extra juices from the pickle boats and chopped inside pieces.

Thoroughly drain tuna and add to bowl. Press with a fork to chop up large chunks. Add mayonnaise, red onion, chopped pickle, and sugar or honey (optional) and mix well to form the tuna salad.

Spoon tuna salad into each pickle boat. Chill and serve or serve immediately.
Notes
Be sure to drain the tuna well and pat the chopped pickles dry. This will help make sure these stuffed pickles aren't too juicy.
Nutrition Facts
Calories:
93
kcal
|
Carbohydrates:
2
g
|
Protein:
5
g
|
Fat:
7
g
|
Saturated Fat:
1
g
|
Polyunsaturated Fat:
4
g
|
Monounsaturated Fat:
2
g
|
Trans Fat:
1
g
|
Cholesterol:
12
mg
|
Sodium:
442
mg
|
Potassium:
88
mg
|
Fiber:
1
g
|
Sugar:
2
g
|
Vitamin A:
87
IU
|
Vitamin C:
1
mg
|
Calcium:
22
mg
|
Iron:
1
mg
Want more easy recipe ideas?
Follow @MightyMrs on Pinterest