This post may contain affiliate links. As an affiliate, I earn a commission.
Jump down to Recipe
In the mood for something new? Try these Indian-spiced Potato and Cauliflower Pockets!
I'm not calling these samosas.
Even though, that's pretty close to what they are. I feel it would be slightly blasphemous to do so for a few reasons. Samosas are a traditional Indian food that's typically made with peas and potatoes.
Here we have cauliflower and potatoes. Samosas are also typically fried, these are baked. And most unconventional of all, they are bundled up in a puff pastry crust and stamped out using my fun new pocket maker.
These Indian-spiced Potato and Cauliflower Pockets are Americanized Indian Food
While definitely Indian-spiced and inspired, they are not authentic samosas or a dish you'll ever find on a menu. The filling of these pockets is actually closer to aloo gobi. A dish, I learn to make via YouTube plus years of eating Indian food with my sister's family. For more about that and for the aloo gobi recipe, go here.
These veggie pockets make a great appetizer, lunch or light dinner.
These pockets may not be authentic Indian cuisine, but they are damn delicious. You can go ahead and make fun of me for what I'm about to tell you but you will understand when you make these yourself… I actually ate these for breakfast lunch and dinner the day of this shoot. They're that good. And soooo easy to make! And so different and so so so good.
Try dipping them or drizzling them with mint chutney!
Last thing I want to mention is the chutney. I somehow had all the ingredients on hand to throw together my own cilantro-mint chutney. I grabbed the recipe for that here. B
I was a little short on cilantro so you'll see in the photos my chutney looks purple-ish red and usually mint chutney is green. It tasted good though. I would probably try a different recipe next time, one with yogurt in it so it's creamier and probably would use a white onion. The red was a little too much for me.
But honestly, the jarred stuff is delicious and easy too. You can typically find jarred chutney at many grocery stores or on Amazon.
Want to try some of my other Indian-inspired dishes?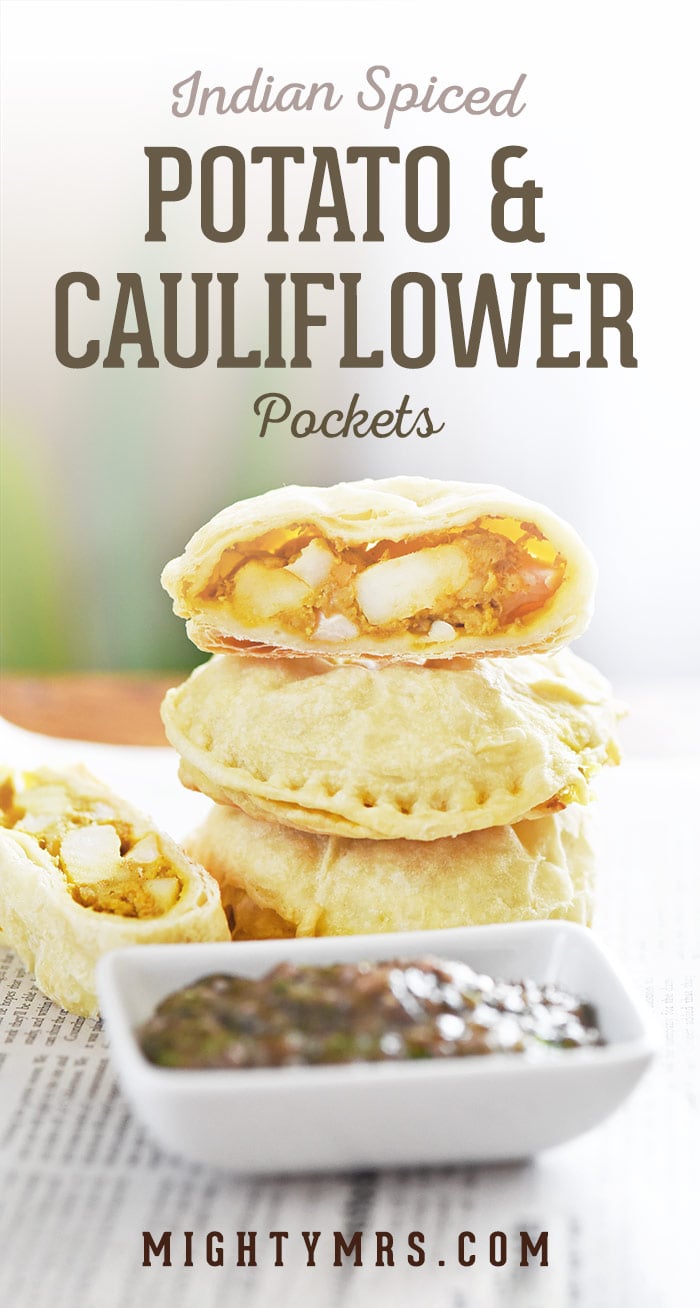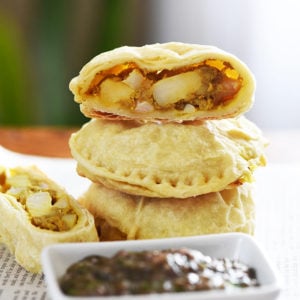 Indian-spiced Potato and Cauliflower Pockets
While definitely Indian-spiced and inspired, they are not authentic samosas or a dish you'll ever find on a menu. This filling is remniscent of aloo gobi.
Read Comments
Print
Pin
Rate
Ingredients
1 ½

cups

aloo gobi

get the recipe here

2

packages

puff pastry

Mint chutney
Instructions
Spoon prepared, heated aloo gobi onto 1/3 of the puff pastry sheet. Take another 1/3 and place on top. Using a pocket maker or simply using a knife, cut out 2 pockets. Crimp the edges with your fingers or a wet fork if you're not using a pocket maker. Use remaining 1/3 sheet of puff pastry to stamp out 1 more pocket. Repeat for the next package of puff pastry.

Bake at 350˚ for 15 minutes. Serve warm with a side of mint chutney for dipping.
Nutrition Facts
Calories:
906
kcal
|
Carbohydrates:
75
g
|
Protein:
12
g
|
Fat:
62
g
|
Saturated Fat:
16
g
|
Polyunsaturated Fat:
8
g
|
Monounsaturated Fat:
35
g
|
Sodium:
414
mg
|
Potassium:
174
mg
|
Fiber:
3
g
|
Sugar:
2
g
|
Vitamin A:
2
IU
|
Vitamin C:
12
mg
|
Calcium:
22
mg
|
Iron:
4
mg
Want more easy recipe ideas?
Follow @MightyMrs on Pinterest