Jello fish bowls! A super fun edible craft idea that isn't too difficult to pull off with the right materials. Kids will love to help make and of course, eat these!
This post may contain affiliate links. As an affiliate, I earn a commission.
Jump down to Recipe
Jello fish bowls! A super fun edible craft idea that isn't too difficult to pull off with the right materials. Kids will love to help make and of course, eat these!
*Please note, these are a little tricky to pull off. Check out my Tips for Success section and watch the how-to video below to be sure you nail this on the first try!*
A fun way to celebrate lots of different occasions!
These Jello fish bowls are a super fun edible craft or party treat! All you need is Nerds, Jello and colorful Swedish fish or any type of aquatic gummy creature. 🙂 You can make these to celebrate Dr. Seuss week to go with the book "One Fish, Two Fish."
You could also makes little edible aquariums for shark week (use gummy sharks)! These would be perfect for an under-the-sea themed birthday party or a summer pool party.
Heck, you can make them just because they're so cute and yummy too!

Or to save for a rainy day...
We made these as something to do on a rainy day. My kiddos (7 & 9) were old enough to pull off crafting these fish bowl themselves, with just a little guidance.
I helped them assemble the materials, went over the instructions and made sure they had a way to heat up the water without touching a hot surface. I had them use our glass measuring cup with a handle so they could easily measure and heat all in one. Then they used a oven mitt to lift and carefully pour. If you have young kids, maybe you'd want to do this part. I'll leave that up to you. 😉
Where to find "fishbowls"
Rather than go out and buy an actual mini fish bowl for this project, see if you can find something you already have that's glass. We had some short juice glasses that worked just fine.
If all you have is a tall glass, then you can go for a "deep sea" look. Get creative! I'm just not big on crafts that require you to go out and buy a bunch of one-time-use materials. So, see if you can use what you got and make it work.
Now, if you're making these for a kid's shark-themed birthday party or a baby shower, then maybe you'd splurge and get mini fish bowls. In that case these could serve as a decoration as well as dessert so it might be worth the expense.
You can find little fish bowls pretty cheap on Amazon. (Shop mini fish bowls here). You could also use stemless wine glasses or clear plastic cups.
Adjust the recipe as needed to fit your bowls
Keep in mind you may need to use a larger amount of blue Jello and Nerds depending on the size container you use. The recipe below makes each serving about 5oz.
Here's what else you'll need.
There are a few special ingredients you'll need to make these Jello fish bowls:
Tips for Success - PLEASE READ for best result!
Cooling down the Jello mix will help prevent Nerds from bleeding color but you still may experience the color of the Nerds bleeding into the Jello some.
If some of your Nerds float to the top, gently push them down until they sink or if they are being stubborn, just scoop them out.
If you are after a picture perfect end result, you can add the Nerds in at the end. So leave the Nerds out, fill your glass fish bowls ¾ full with just the Jello mixture and let the Jello set. Then, using a knife or small spatula, loosen the Jello from the edges and pop the Jello out. Add Nerds to the bottom of the glass bowl and replace the molded Jello on top of the layer of Nerds. Using a glass that is wider at the top than the bottom is key to this though so a traditional fish shaped bowl doesn't work well for this method.
Berry blue Jello is dark blue in color. If you want a lighter, more transparent blue color, then I recommend using yellow lemon Jello and adding a very small drop of blue food coloring to the mix. This will give you Caribbean blue colored "water."
Make these immediately before serving. Unfortunately these are NOT a make-ahead treat. The longer these sit, the more the Nerds will bleed and the gummy fish will become soggy.
If serving for a party, I would suggest timing this so that the Jello sets right before you're ready to eat them and then add the fish right before you serve them. If serving at a kids birthday party, you could even have the kids add their own fish to the top.
Watch how to make this recipe, step by step:
Want more edible ideas?
If you like these jello fish bowls, then I think you'll also like my Oreo Dirt Dessert recipe!
Be sure to also check out all my kid-friendly recipes! As well as my most popular recipes:
These jello fish bowls were featured on Wow Me Wednesday and South Your Mouth!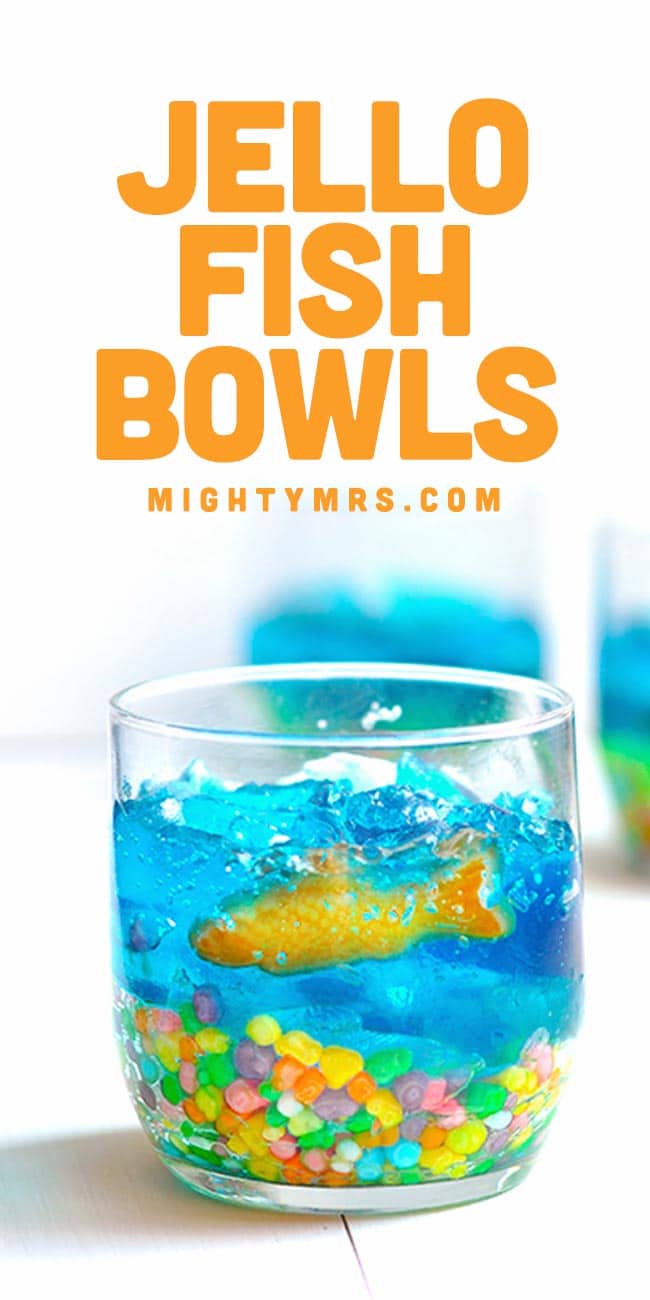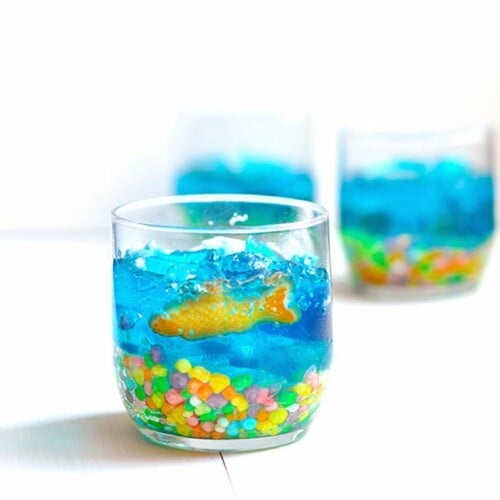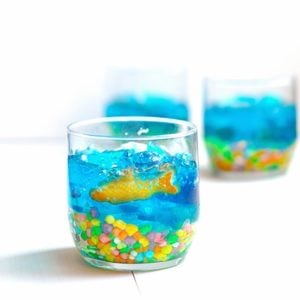 Mini Jello Fish Bowls
Jello fish bowls! A super fun edible craft idea that isn't too difficult to pull off with the right materials. Kids will love to help make and of course, eat these!
Read Comments
Print
Pin
Rate
Ingredients
3

oz

blue jello

See notes in post above to achieve lighter blue color

2

cups

water

1

cup

Nerds

8

gummy fish

4

small

drinking glasses
Instructions
Add gelatin powder to a pitcher.

Heat 1 cup of water in the microwave just until it comes to a boil (about 2 minutes).

Carefully add hot water to gelatin mix and stir until dissolved. Then stir in 1 cup of very cold water. Put pitcher in fridge to cool down for at least 15 minutes while you prepare the glass bowls. (Don't skip the step of cooling down the Jello mixture as using hot or even warm mixture can melt the Nerds).

Scoop ¼ cup of Nerds into each glass.

Next, gently pour the cooled gelatin mixture into each glass.

Move glasses to the fridge (loosely cover if you want) and refrigerate for 90 minutes or until gelatin has set.

Using a butter knife, cut two slits in the top of the gelatin, each near the edge on opposite sides of the glass. This is where you'll add your fish. Make each slit just long enough for one fish. Add a fish to each and press down as far as you want it to go below the surface or you can set the fish right on top so they're more visible. If you mess up the top, don't worry! No ocean has a perfectly smooth surface.

Serve immediately for best results.
Notes
Make sure you wait for the Jello to cool before you pour it over the nerds or the Nerds will lose color and can melt.

Nutrition Facts
Calories:
306
kcal
|
Carbohydrates:
77
g
|
Protein:
3
g
|
Sodium:
113
mg
|
Potassium:
1
mg
|
Sugar:
64
g
|
Calcium:
4
mg
|
Iron:
1
mg
Follow Mighty Mrs. for more easy recipes!
Find @MightyMrs on Pinterest