This easy recipe starts with pizza dough, then add pepperoni, mozzarella cheese and any other pizza toppings you like. Then roll it up and bake. Serve with sauce for an easy dinner or appetizer.
This post may contain affiliate links. As an affiliate, I earn a commission.
Jump down to Recipe
Looking for weeknight dinner idea that are easy and make you and your kids happy? These pepperoni roll up are just the thing!
Kids are picky eaters. Plain and simple.
You know how kids don't like to eat anything you put in front of them? I mean, even if they told you just yesterday that it's their favorite thing in the whole world. You put it in front of them today and... they don't like it.
After complaining about this to a fellow mom for probably the umpteenth time, she gave me a little tip she probably read on Pinterest. Here was her tip: If include your kid in the preparation of the food they're more likely to want to eat it. In theory this sounded good but I was skeptical.
Get your kids involved in the cooking process. It works like magic!
It really does work! Like really, for real, actually, literally works. I couldn't believe it and you might not believe it either but just try it.
And actually, these pepperoni rolls ups are perfect recipe to test this theory. Let your kids put their own ingredients in their roll up and they will anxious await its arrival from the oven to their plate, and —wait for it — will gleefully scarf it down. It's pretty darn near a miracle.
The best part about these pepperoni rolls...
The real beauty of this recipe though? These babies are so fancy looking! So fancy in fact, you could and should dress them up with some homemade sauce and fresh basil and serve them for date night or a dinner party. No one will know or care they took 10 minutes to prep. Because, deliciousness.
Put the sauce on the side.
The Vermouth sauce. That's the fancy part that will make this something you actually want to eat. Put it on the side and kids can dry dipping their roll up in it if they want. Don't worry, the Vermouth cooks out.
Offer a variety of ingredients.
If you have picky eater, all you can do is offer. I pull out everything in the fridge that could possible be rolled into these dough pinwheels and I offer it up. From cheese to roasted red peppers to any meats I might have on hand. Anything you'd put on a pizza works. I let the kids make their own versions even if it's a cheese-only roll up because eventually maybe one day they will expand their horizons.
Easy Clean Up

If the kids get a little heavy handed with the cheese and you don't want to have to scrape crusted cheese from you baking sheet, use silicone baking sheets. The silicon sheets just wipe clean. Plus, the crusty cheesy is like the best part! So you want that to slide right off with the roll ups which happens nicely with the silicon.
Need more ideas?

Browse all my kid-friendly recipes
Browse all my easy dinner recipes
These pepperoni rolls were featured on Full Plate Thursday!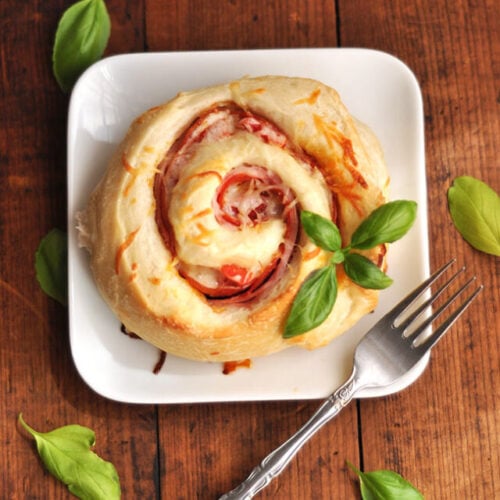 Pepperoni Roll Ups
This easy recipe starts with pizza dough, then add pepperoni, mozzarella cheese and any other pizza toppings you like. Then roll it up and bake. Serve with sauce for an easy dinner or appetizer.
Read Comments
Print
Pin
Rate
Yield:
4 pepperoni roll ups
Ingredients
16

oz

pizza dough

4

oz

sliced pepperoni

about 40 slices

1

cup

shredded mozzarella cheese

13

oz

pizza or marinara sauce

for dipping

2

tablespoon

olive oil
Optional Ingredients
¼

cup

sliced ham or salami

¼

cup

roasted red peppers
Instructions
Thaw pizza dough as needed, according to package. Slice dough into 4 parts. Flatten the dough until you have a long strips of dough about 3" wide by 8" long.

Add pepperoni to each strip, overlapping them slightly.

Layer ham, salami, and/or roasted red peppers if desired.

Add mozzarella cheese to each.

Roll up dough. Some cheese may fall out when you roll the dough. Just sprinkle it on top.

Place onto cookie sheet greased with olive oil then brush dough lightly with olive oil.

Bake at 350˚for 15-20 minutes or until rolls are golden brown in color and center of each roll is no longer doughy.
Notes
Cook time may vary depending on what ingredients you use to stuff the roll ups. Bake until center of roll is no longer doughy.
Nutrition Facts
Serving:
1
roll up
|
Calories:
591
kcal
|
Carbohydrates:
60
g
|
Protein:
22
g
|
Fat:
30
g
|
Saturated Fat:
11
g
|
Polyunsaturated Fat:
3
g
|
Monounsaturated Fat:
13
g
|
Trans Fat:
0.5
g
|
Cholesterol:
50
mg
|
Sodium:
2000
mg
|
Potassium:
385
mg
|
Fiber:
3
g
|
Sugar:
11
g
|
Vitamin A:
634
IU
|
Vitamin C:
11
mg
|
Calcium:
163
mg
|
Iron:
5
mg
Follow Mighty Mrs. for more easy recipes!
Find @MightyMrs on Pinterest