This post may contain affiliate links. As an affiliate, I earn a commission.
Jump down to Recipe
Get ready to ditch jarred slaw dressing because you can actually make your own homemade broccoli slaw dressing with just mayonnaise, vinegar and sugar plus some salt and pepper. This dressing is perfect to add to a broccoli slaw or traditional coleslaw mix.
Is making a homemade slaw dressing really that simple?
Yep. This simple slaw dressing is really all you need to bring out the natural flavors of the vegetables. I bet if you knew it was that easy, you would have started making your own a long time ago! The best part is you are in control of how much mayo, vinegar and sugar you add. So if you want to lighten any of those ingredients, you can.
What ingredients are needed to make this broccoli slaw recipe?
This homemade broccoli slaw dressing is really easy and makes a tasty broccoli slaw when paired with a bagged broccoli slaw mix.
All you need to make creamy homemade slaw dressing is: mayonnaise, white vinegar, sugar, salt and pepper.
However, my secret-weapon ingredients to add flavor to the bagged slaw mix is to add in diced bell pepper and sweet vidalia onion. The flavor the bell pepper and sweet onion bring, goes really well with the dressing and slaw mix and gives this broccoli slaw an awesome and more complex flavor that I think you'll really love.
These extra veggies pair well with both the broccoli slaw mix as well as the traditional cole slaw mix.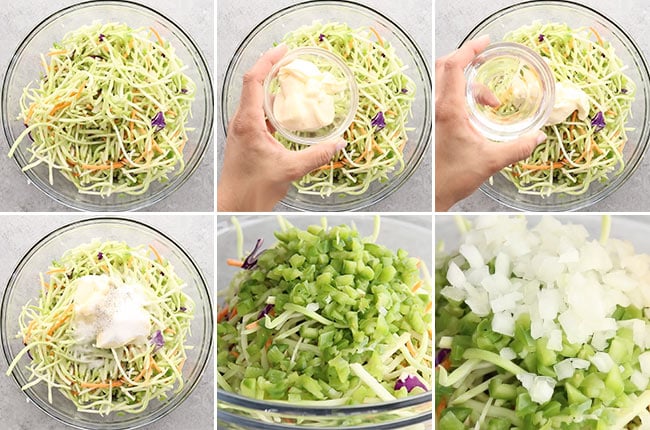 What makes this homemade broccoli slaw dressing taste so good?
The natural flavor of the vegetables is brought out by the creaminess of the dressing. Mayonnaise adds a bit of fat into the mix and, fun fact, one of the reasons fat tastes so good is that, in effects helps things "stick" to your tongue longer so you can really savor the flavors. We use just a touch of may o to get that effect without making this slaw tastes overly saturated.
The vinegar helps brighten the taste of the veggies and add tang much the same way salad dressing does to a traditional salad.
The added veggies, as I mentioned, also add a depth a flavor.
Watch step-by-step how to make this:
New to broccoli slaw? You may be wondering what vegetables are in a broccoli slaw mix.
If you're buying a ready-made mix, which is fine, you can expect to find a healthy blend of shredded broccoli, carrots and red cabbage.
You can also use this dressing on traditional coleslaw which is typically a mix of red cabbage, green cabbage and carrot.
What foods go well with broccoli slaw?
My favorite way to eat broccoli slaw or coleslaw is with seasoned or waffle fries. I take my fries and dip them in the coleslaw and oh my goodness… my mouth is seriously watering right now just typing this. You just gotta try it. It's kinda like the fries dipped in a chocolate milkshake thing but ever so slightly more healthy.
For dinner, try pairing this slaw with my baked macaroni and cheese, some grilled 3-2-1 Ribs, or for weeknights try it with my barbecue pork cornbread skillet. Mmmm mmm!!
Is this broccoli slaw runny, creamy, or what?
All slaws are not equal and I've met quite a few people who are very picky about their slaws! I prefer a light, less creamy slaw so that what you'll get with this recipe. You can adjust the mayo and vinegar ratios to your liking without messing things up. That's the beauty of homemade. It can be tweaked to your exact taste buds. So if this is your first time making homemade slaw dressing, try making a small batch and see what you think. Adjust for the full recipe as you see fit. You can also adjust the sugar to make it more or less sweet.
Try a different texture.
Another option for this slaw is to food process the broccoli slaw mix along with the pepper and onion and then add the dressing. This gives the slaw an entirely new texture. Everything is finely chopped. I like to do this to change things up or if I'm planning to use the slaw as a topping, like on top of a pulled pork sandwich.
This homemade broccoli slaw dressing was featured on Wine'd Down Wednesday and South Your Mouth!

You might also like these popular recipes!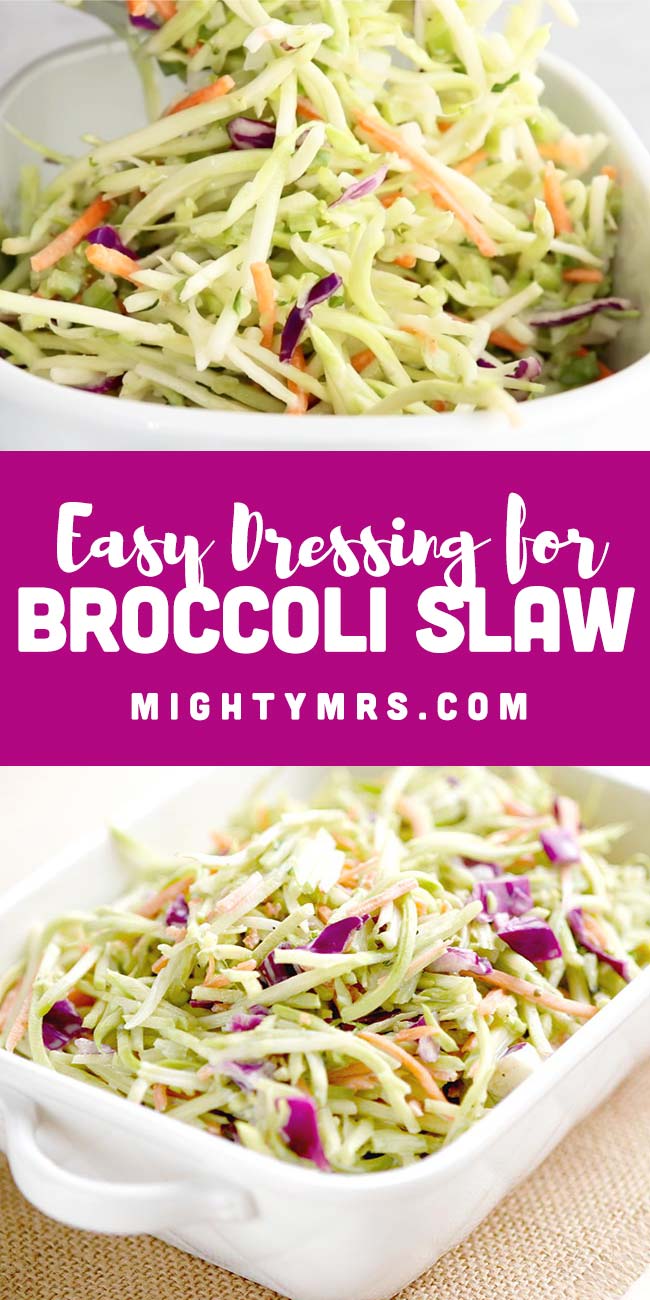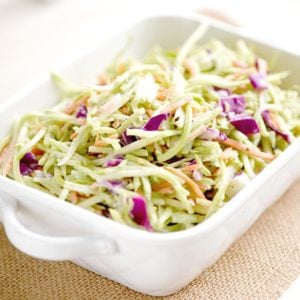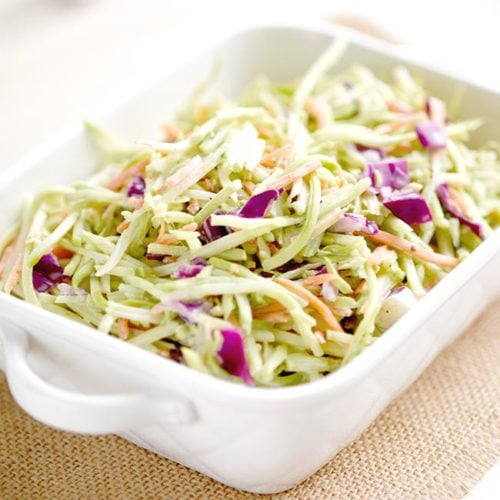 Ingredients
1

16oz bag broccoli slaw mix (red cabbage, carrots and broccoli)

1

green pepper

finely chopped

1/4

of a sweet vidalia onion

finely chopped

DRESSING

1/4

cup

mayonnaise

1/4

cup

vinegar

adjust to your liking

1/4

cup

sugar

adjust to your liking

Salt & pepper to taste
Instructions
Remove seeds from green pepper. Finely chop green pepper and onions using a food processor or by hand then toss with broccoli slaw mix.

Stir in mayonnaise, vinegar, sugar, salt and pepper. Chill for at least an hour, ideally overnight so flavors have time to marinate together. Toss then serve!