One of the benefits of working from home is having access to a full kitchen to make delicious lunches. I've also definitely saved money not eating out as much and I have more time to try new things. A win-win when you're a solopreneur food blogger.
What you might not know though, is that I'm not 100% solo in all this. The Mr. is actually arguably a better cook than I am. He's always been able to whip up some really gourmet quality dishes by just grabbing things on the fly and throwing them together. It's something I've always admired because I'm more of a recipe follower. Only recently have I started to gain the confidence to build an entire dish on my own without starting from some sort of recipe. It's taken me years to build up that knowledge bank of spice and ingredient combinations. As I see it, you can go to culinary school, watch a ton of cooking shows, or you can just jump in and start cooking.
Learning on the fly has always been my preferred method. It can be really frustrating when you're in the thick of it, but when you get to a point where you can look back and see how far you've come, it's pretty gratifying. Selfishly, that's something this recipe blog does for me. It allows me to literally look back and see the progress I've made as a cook, a photographer and a writer.
Hubs on the other hand is more methodical about learning and doing. He does his research, prepares his materials, and then goes. His method is slower, but involves a lot less stress since he's confident and ready when he gets to the "do" stage. I don't think either way is right or wrong, just different.
So, this recipe is brought to you by Aaron, his methodically acquired culinary skills and love for kielbasa. Sweet potatoes because healthier ingredients make healthier meals. Simple as that.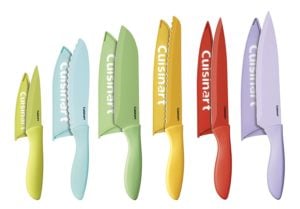 Pro tip: When cooking a hash, it's ideal to have all the ingredients be in small chunks and be the same size so that you can get all the flavors in a single bite. I can also recommend using a ceramic knife. I love mine because food doesn't stick to it! Makes chopping much faster when things are rolling off the cutting board! Found this cute set on Amazon if you need one.
More about learning: I'd love it if you checked out my recent interview on the Learn Grow Earn podcast where I talk about my philosophy on learning and how important that is as an entrepreneur.