Sometimes a mason jar will screw into your blender base! That means one fewer dish to wash.
This post may contain affiliate links. As an affiliate, I earn a commission.
Jump down to Recipe
I'm about to blow up your morning breakfast routine. In a good way. This strawberry-banana smoothie can be made and enjoyed in the same Mason jar.
Mason Jar + Blender
If you're anything like me, you're not a fan of dishes. As in cleaning them. I will resort to paper plates, cutting my food with a fork, and storing my leftovers in re-heatable glass Mason jars in order to avoid unnecessary dishes. So when I learned that a Mason jar actually screws onto many different types of blenders, I was beyond excited!
Oster Blender
You might be wondering which brands of blender works with the Ball Mason jar. I'm not sure of all of them but I can tell you that my blender was a perfect match. I have a cheap, but glass pitcher blender. I love glass. It's toxin free and it holds up in the dishwasher. Which I'm sure you can gather is a requirement for all things that need cleaning because hand washing is not my friend.
Anyway, I have this simple Oster blender in white and it's been great. I had a more expensive blender but the rubber bottom basically melted and they no longer sold replacement parts so I had to throw it out. Sad day. But it was a happy day when I found a much cheaper alternative and an even happier day when I discovered I could screw off the bottom of the glass pitcher, and attach the blade to a regular-mouth mason jar! Seriously, so happy.
Mason Jar To-Go
You guys may have seen my Camping Sangria floating around Pinterest. Buzzfeed even deemed it "genius" which did boost my ego and traffic to this blog quite a bit. So ever since I've been trying to think about what else a Mason jar can do. The possibilities are endless but I feel like this little blender trick is in its own right, genius. Somebody somewhere with excellent foresight and planning skills, thought about this little match and made it happen. It does beg the question though… which came first? The Blender? Or the Mason jar? Hmmmm…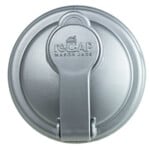 Mason Jar Lids
There's one last piece to this glorious Mason Jar Blender Smoothie puzzle and that's the cap. Another gem of genius dreamed up by a very smart local lady who also loves Mason jars, the benefits of cooking with glass and the art of re-purposing things… And this gem is the reCap. A lid for your mason jar that turns it into a drinkable cup.
Mason Jar Blender Smoothies
So there you have it. Mason jar blender smoothies for a healthy, on-the-go breakfast win. 1 blender. 1 Mason jar w/ cap and you're ready to go. Scroll through the photos to see how to attach the blender base to your Mason jar. Check out one of my other favorite smoothie combos, the Sweet Peach Smoothie.
Want more easy meals ideas?
Mason Jar Blender Smoothies
Sometimes a mason jar will screw into your blender base! That means one fewer dish to wash.
Read Comments
Print
Pin
Rate
Ingredients
1

banana

sliced

1

cup

frozen strawberries

½

cup

Greek yogurt

1

tbsp

agave nectar

Sprinkle of chia seeds

optional
Instructions
Fill regular-mouth mason jar with frozen strawberries, sliced banana, Greek yogurt, agave nectar and chia seeds.

Remove the base of your blender's pitcher that holds the blade. Screw the base + blade, onto the top of your Mason jar. If it comes apart in pieces like mine, place the blade on top of the jar first then screw on the outer ring. (Make sure the rubber ring is in place between the glass jar and the blade to prevent leakage. Most likely the rubber ring will be stuck to the blade assembly.

Set the Mason jar now with blade assembly attached, onto the base of the blender securely. Give it a whirl until smoothie is, uh, smooth! You may need to pulse it a bit.

Unscrew the blade top from the mason jar when done. Screw on your

reCap lid

and you're ready to roll.
Nutrition Facts
Mason Jar Blender Smoothies
Amount per Serving
% Daily Value*
* Percent Daily Values are based on a 2000 calorie diet.