This homemade, old fashioned vegetable beef soup going to take you way back in so many good, wholesome ways.
Grandma would be proud of this vegetable soup
First, I don't know about your grandma, but mine made a mean pot roast. I don't know if it was because crockpots weren't invented until 1940, or if she just liked the way the oven warmed up the house and made it smell divine, but she always roasted her beef in the oven as far as I can remember. Peeking through the oven window to see what I could make out was one of my favorite things to do.
So this recipe, and pretty much anything involving large chunks of beef, always remind me of my grandma. My grandma and my own crockpot actually. Guess that's one way we are different. I love to stuff whatever-will-fit into my crockpot, set it and forget it for a few hours.
This vegetable beef soup maybe be old fashioned but it's is easy to make.
This vegetable beef soup is made from scratch but it's very easy to make. Do you remember the mixed veggies that your mom made you eat when you were 10? Well they're back. And your adult-self will love how they add to the health and flavor factor of this soup.
Throw in a diced potato (and serve with a side of garlic bread for good measure) and we are talking a full homemade meal, with very minimal effort.
By the way — frozen dough is my favorite cheat for quick and easy fresh baked bread.
Watch this recipe being made, step by step.
This method calls for sauting and then slow cooking but there are other ways to prep using a dutch oven or Instapot also. See below for more details.
You can make this using one pot using a dutch oven or an Instapot, or you can use a combination of a skillet and a pot or slow cooker. There's no right or wrong method, just choose what fits your lifestyle or your day best.
Want to make this vegetable beef soup in a dutch oven?
I love my dutch oven because you can saute and cook in the same pot. Perfect for recipes like soups and roasts. It's kinda like an old school Instapot, without the pressure cooking feature.
Here's the dutch oven I have and use frequently: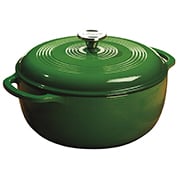 Want to make this vegetable beef soup in a slow cooker?
A slow cooker is ideal for the kind of days where you have a little time in the morning to get a jump start on dinner, saving time later in the day. You can prep and add all your ingredients and then set it to cook while you go to work or run errands, then come back to a ready-made meal.
Make sure if you are purchasing a crockpot, to go for one that has a timer built in that switches to keep warm when you want it to. This prevents overcooking if you plan to be gone longer than the cook time. Check out this one. if you're in the market for your first slow cooker or looking to upgrade.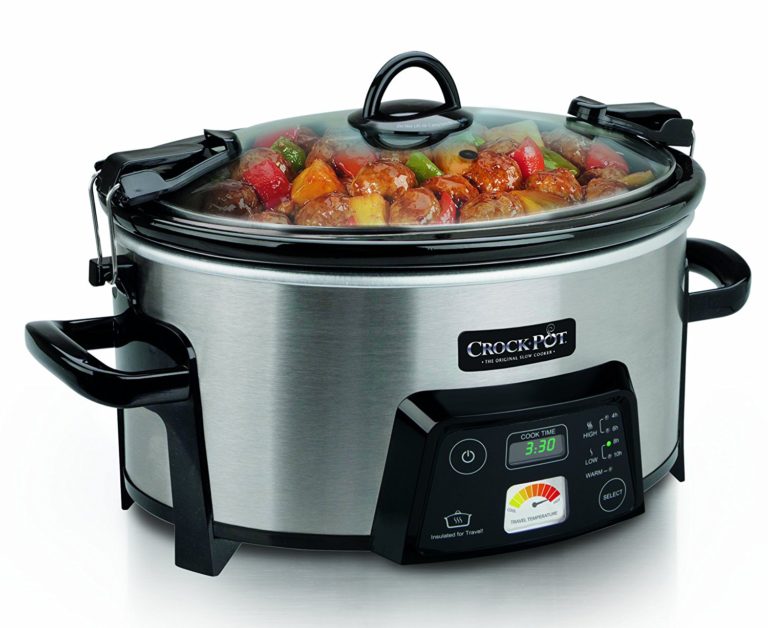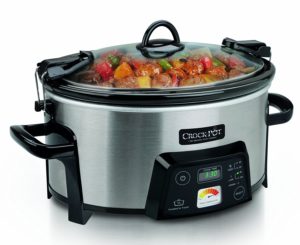 Can this soup be made in an Instapot?
Yep! The nice thing about an Instapot is you can saute everything in the same pot. You'll need to use this setting to sear your meat and saute the onions then you can use the Instapot to heat the remaining ingredients and broth quickly. This method is ideal if you don't have a chunk of time wait for things to slow cook.
Don't own an Instapot?
You can shop Instapots on Amazon and get one fast!
What kind of beef do you use for beef vegetable soup?
I like to use stew meat that's already cubed. You can typically find this at the grocery store. Ground beef though, also works really well with this recipe.
If you're looking for a delicious and natural option, you may want to try grass-fed beef. I recently have become a fan after purchasing a grass-fed steak at the new market that opened up in town. To me, grass-fed beef is more rich in flavor while ironically being less fatty (typically).
Is grass-fed beef better for you?
In addition to the flavor, there are also some health benefits to eating grass-fed beef. So I guess what this means is, I'm coming around to the idea of being pickier about my meats. I'm not saying I am going to pass up a sale on meats at the grocery store because I'm a 100%-organic-local-grass-fed-meat person now.
Meat delivery. It's a thing! And it's pretty cool.
Update: we recently subscribed to ButcherBox. So we get a box of assorted, organic meat about once a month. It's a little bit pricier than shopping the grocery store but it's really convenient for us since we're so busy all the time. It just also takes the thought out of shopping for meat. So whatever I get, I try to come up with something new to make with it. I let the Mr. decide what to put in each order and it's a surprise when I open it.
Check out Butcher Box.
If you've been wanting to try grass-fed meat but you can't easily get it where you live, then I'd recommend checking out ButcherBox.
The fact that they deliver right to your door which when it's snowing, raining, or really hot outside is pretty awesome! Their meats are antibiotic and hormone-free, they're lean and they have a great flavor.
Love homemade soup for dinner?
Check out my other easy soup recipes!
Stay inspired to try new recipes
Sign up for my seasonal newsletter and get new recipes ideas that are just right for every time of the year. When you sign up you also get my free printable meal planner.
Be sure to also check out my most popular recipes on Pinterest
Browse and pin these popular Pinterest recipes!
This old fashioned vegetable beef soup was featured on Full Plate Thursdays, Menu Plan Monday, Big Green House, and South Your Mouth!