This puff pastry blueberry pie is so simple and delicious. You'll love how the puff pastry adds a light and fluffy texture to an otherwise dense and rich pie. It's kind of perfect.
Pick your own blueberries!
Blueberry picking season is upon us and can I just tell you that my first-ever time picking blueberries happened a few days ago?! Really, it was all an effort to keep my kids occupied while they were not at camp last week that we decided to go blueberry picking. I think I may have been more excited than my kids to be honest but we all ended up having a great time.
What to make with all those fresh picked blueberries?
The fields were marked so that you could choose between sweet or tart berries and we were allowed to sample as we went. We got back to the small barn to check out with a mix of both. I was pleasantly surprised to find our whole blueberry excursion only cost about $6! So we headed home thinking about what to make. Blueberry pancakes? Blueberry muffins? We had SO many blueberries though, we decided on a blueberry pie.
So grab your straw hat, go full America and head to your nearest blueberry farm. Pick some blueberries until your heart's content then come back to this super easy recipe. Top your pie with Greek yogurt and a mint leaf and it's the perfect last-weeks-of-summer treat. 🙂
Use a pie crust for the bottom, puff pastry top
Since a trip to the store was not going to happen after running around the hot, sunny fields, I grabbed what I had available for crust — puffed pastry. I think it was one of those Bob Ross happy accidents because the puff pastry really made the pie so different and delicious!
An easy way to make your pie pretty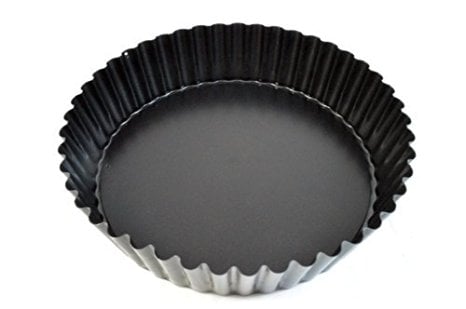 If you get lazy from time to time like I do, and you don't care to take the time to perfectly crimp the edges of your pie, here's an easy solution. Get a fluted pie pan. The edges of the pan itself are fluted (scalloped) and so it makes the pie look way fancier without having to do any actual work yourself. Genius? I think so!
If you love blueberries, check out my homemade blueberry pop tarts (the kind made with real fruit!).