This post may contain affiliate links. As an affiliate, I earn a commission.
Jump down to Recipe
Shepherd's Pie – a traditional Irish dinner loved by just about everyone and is easy to bring to your dinner table.
Shepherd's Pie Made Healthy
You can lighten up this classic dish by cutting fat without cutting all the flavor. My favorite way to do this is by using a blend of ground turkey and ground beef. I do this a lot when I make classic Italian dishes and it works really well because there are so many other flavors going on, you don't focus on the meat itself when you're tasting it. I usually do half and half ratio.
Go full beef or full turkey.
The ratio of beef to turkey is totally up to you. If you want more traditional beef flavor and don't mind a few extra calories, then go ahead and make this with just beef. Want an ultra light version of this Shepherd's Pie? Go ahead and use all turkey.
Try other meats too.
You can also use cubed steak or even lamb if you want to add a more sophisticated flavor to this dish. Experiment and see what you like best.
Masher Potatoes – Homemade or Instant?
Listen, I love mashed potatoes and I love short cuts. Almost equally. So this is a really tough question for me to weigh in on. However, I do have a definitive opinion on this subject. Homemade mashed potatoes are better. Hands down. There are somethings you can short cut without loosing a lot of flavor but mashed potatoes isn't one of those. In my opinion.
Now, if you're a fan of boxed mashed potatoes, or you just don't have the kind of time it takes to peel, cook and whip all those potatoes into shape, I get it. Not judging. Do the boxed! But if you're asking me what's better, I'm going to say homemade every time.
Homemade Gravy
This recipe calls for canned gravy but often times I will make this with homemade gravy. I like to use leftover juices from pot roast as gravy. You can also make a quick homemade gravy using beef broth + a roux to thicken it and some added beef bouillon. I also like to add a splash of wine to my gravy to give it more flavor. You can use dry red wine, marsala wine, cooking wine or even a bit of red wine vinegar. I've also used a little bit of whiskey!
What kind of potatoes work best?
It's all about flavor here so I prefer red potatoes. They are a bit more time consuming to peel since they are so small but worth it! You can also use gold or white potatoes. Any potatoes work, so choose your favorite or use what you have readily available.
Potato Upgrades
The fun of this recipe is that you can flavor your potatoes and give this dish a whole new spin. You can certainly stick with classic mashed potatoes but stir in some cheddar cheese and you'll get cheddar potatoes, use sour cream and chives whipped potatoes for a burst of extra flavor or try mashed sweet potatoes!
If you're making Shepherd's Pie for the first time, I would go with regular mashed potatoes. Then experiment with other flavors the more times you make this recipe.
For cheesy potatoes, try any type of cheese! Just stir the cheese into the potatoes after you mash them. The cheese will melt when you bake this whole dish. Mmmmm….
Veggie Upgrades
Traditional Shepherd's Pie recipes call for peas and carrots but you can substitute any veggies you want. Or add extras. Veggies I think taste great in this dish are: corn, spinach, celery, bell peppers, yellow beans, broccoli, zucchini, squash, asparagus and/or parsnips. Basically, any combination of vegetables you love!
What to serve with Shepherd's Pie
What I love about this dish is it truly covers all the food groups. So you really don't need to serve anything with it. It's a complete meal in itself. However, if you want to be a bit extra, you can serve with a side salad, fresh baked bread and butter, and an Irish beer!
To Freeze the Shepherd's Pie
Instead of baking you can freeze this pie. To reheat from frozen, bake covered at 350˚for about 35-40 minutes. Remove foil about for last 10 minutes of baking to achieve a golden brown crust on top. *If freezing in a glass baking pan, be careful to slowly heat up the baking dish along with the oven to prevent cracking and shattering of the glass.
Want more easy dinner ideas?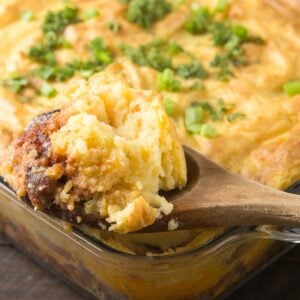 Ingredients
8-10

red skinned potatoes

1/4

cup

sour cream

3

tbsp

butter

1

tsp

pepper

divided

1

tsp

parsley

2

lb

ground beef

1

onion

chopped

2

10.5oz cans beef gravy (or use leftover homemade gravy)

2

tbsp

salt

divided

1/2

tsp

rosemary

1/4

tsp

thyme

1

cup

mixed diced peas and carrot

frozen or fresh

Optional: 1/4 cup shredded cheddar cheese for cheesy potatoes

Optional: Add 1/4 cup red wine to your gravy for extraflavor
Instructions
Peel and boil potatoes until soft; drain. Whip potatoes with butter, sour cream, 1 and 1/2 tsp salt, 1/2 tsp pepper and parsley; set aside. *If you want cheesy potatoes, stir in a 1/4 cup of shredded cheddar cheese while potatoes are still hot.

Brown beef in a pan. Add onion and cook until translucent. Add rosemary and thyme then add gravy then salt and pepper to taste pepper. Bring to a boil them remove from heat; stirring frequently.

Microwave peas and carrots in a bowl, just covered with water for 8 minutes then drain water.

Form a thin "pie crust" with the potatoes in two greased 8x8 baking dished or two deep-dish pie pans. Layer in peas and carrots, then layer in cooked beef with gravy. Finish by layering with mashed potatoes sealing the top of the "pie."

You can use a fork to make a pattern in the top if you want, or just smooth the top of the potatoes with a spatula.

Bake at 400˚for about 15-20 minutes or until top or potatoes is golden brown.