Remember a few years ago when there were going to be no more Twinkies ever??
I never realized just how sad I'd be to see a favorite childhood snack gone. For-ev-er (or so I thought). Until it happened in 2012. My two favorite extra lunch money indulgences, HoHos and Twinkies were reportedly being taken off the market. I remember people saying things like "Well, they just aren't a healthy option. Americans are wising up." Hmmm… don't think so. But that's a nice optimistic thought.
The real reason was actually quite controversial and quite frankly, a little shady. If you never got the full scoop or somehow missed this moment in history, you can read this article that talks about the behind-the-scenes politics that were at play when Twinkies (and their chocolatey friends, HoHos) were taken off the market.
Thankfully in 2013 balance to the universe was restored.  Twinkie and HoHo lovers everywhere rejoiced and the American level of health-conscientiousness remained relatively the same, somewhere between "I'm making healthy eating choices daily" and "YUM, that was delicious."
So, this homemade Twinkie poke cake is for all of you still in fear that there might be another scarcity of Twinkies OR for the truly health conscious American who enjoys a good Twinkie but would like the ability to substitute in healthier ingredients. i.e. apple sauce instead of butter and all that stuff. Check out this cool little chart of health recipe substitutions.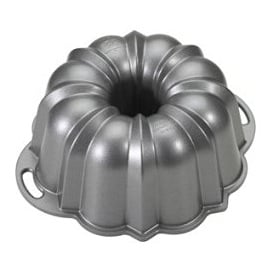 Pro tips: You don't need any special tools to inject the fluffy marshmallow icing inside, but you will need a bundt cake pan, nonstick baking spray, a plastic sandwich bag and well, your finger. They don't call it POKE cake for nothin'. 🙂 Also, ever wondered how to keep cake from sticking to your bundt pan? First, make sure the bundt pan is nonstick, then here's the secret: thoroughly coat the bundt pan with BAKING spray (contains flour). The cake should come out easily looking perfect. Never fear though, if your cake comes out in more than one piece, then sprinkle on some powdered sugar to cover up any cracks. 😉
Helpful Tools to Make This Recipe: