When you want to take breakfast to the next level, try this epic bacon weave breakfast casserole! Easy enough to make for weekend breakfast yet fancy enough to make for house guests, serve at a shower or even celebrate special occasions.
This post may contain affiliate links. As an affiliate, I earn a commission.
Jump down to Recipe
This recipe was developed in partnership with Smith's.
This pretty bacon weave breakfast casserole is making breakfast way more fun.
What's inside this fancy smancy bacon weave breakfast casserole?
This is not only topped with thick-cut bacon, it also has some crumbled bacon mixed in with the eggs, cheddar cheese and hash browns. A bit of half and gives this breakfast casserole a creamy texture and green onions add a little punch of flavor as well as a finished look.
Fresh shredded cheddar cheese is best.
If you've tried my other recipes, you know I love a good shortcut. But some shortcuts just aren't worth it.
Shredding your own cheese is one of the things I try to do because it really makes a difference in flavor. Pre-shredded cheese is coated with an anti-caking powder that you can taste so I try to avoid it when I can. I'll admit though, I still buy it from time to time, especially when I am short on time.
So this is just a recommendation, not a mandate. As I always say, do what works for you! Don't be too hard on yourself. If you are pressed for time, pre-shredded cheese can be a sanity saver. So don't feel bad about it either way.
Hash browns, or any kid of potatoes works here.
You can't go wrong here. Any kind of frozen hash browns or potatoes will taste great in this recipe.
I've used shredded hash browns, homestyle diced potatoes, even my kid's potato smiles in a pinch!
You can also use fresh potatoes, however, you will need to peel and par boil them before adding them into the egg mixture so it's a big time saver to opt for the frozen potatoes. You can even use canned potatoes.
This recipe calls for thick cut bacon.
Yes, it's expensive. But for the woven lattice top, it really works best and also tastes amazing.
Thick cut bacon does require a little more heat to cook it to a nice crisp so be sure to note the change in cooking temperature if you decide to go with regular cut bacon for this recipe and keep an eye on things as they cook. You want a nice flat lattice if possible.
Farm fresh eggs taste better.
Obviously that's my opinion but they really do, depending on their feed, taste different. Farm fresh eggs are even generally a darker yellow color too.
Now, I'm not being snobby about eggs, but if you're making an egg casserole where the eggs are the main ingredients, I think it's worth using the best quality of egg you can get so the whole casserole tastes better.
If you're just tossing an egg into a cake, I don't worry as much. So if could be a special occasion thing to get farm fresh eggs. Or if you just can't swing that, or aren't into it, do whatever kind of eggs float your boat.
No green onions?
No problem. You can leave these off completely and it's not a big deal.
If you like the idea of garnish, you can also use chives or parsley. You can grow your own chive or parsley plant and cut fresh as you need them, or you can buy both parsley and chives dried. OR, use nothing at all. This isn't a deal breaker!
An 8x8 casserole dish works best for this recipe.
A deep dish, small, square casserole dish works best for this recipe. The bacon lattice will fit perfectly on top of this size dish.
If you don't have that size baking dish, you can shop 8x8 dishes on Amazon.
Make Ahead Directions
You can make this breakfast casserole ahead two ways.
1. The Night Before
If you want to prep this the night before and bake in the morning, you can do that. Prep the egg mixture and bake your bacon lattice then refrigerate both over night. In the morning, cover the casserole with foil and bake for about 30-35 minutes. When the top of the casserole is firm, remove the foil and place the bacon lattice on top. Bake for an additional 5 minutes or until the bacon lattice is heated up.
Note: The bake time is longer using this method because the egg mixture will have been refrigerated over night so it will be starting off cold. Allow extra time to bake just in case.
2. For the Week
You can make this as directed below and then store it in the fridge for 3-4 days safely. To reheat, simply cut a serving, poke the top a few times with a fork and then microwave for 1-1.5 minutes or until heated in the center. Makes a great breakfast on the go!
Want more breakfast ideas?
Browse all my breakfast recipes
Special thanks to Smith's!
Smith's, headquartered in Erie, PA has graciously allowed Mighty Mrs. to publish this recipe for bacon lattice breakfast casserole to inspire families with new ways to cook their prepared meats. You can show your gratitude and support by connecting with Smith's on Facebook: facebook.com/smithshotdogs and on Instagram: instagram.com/smithshotdogs. If you're located in the tri-state area, you can find Smith's meats at your local grocer or chain retailer. Visit Smith's website site for a complete list of locations.
This bacon weave breakfast casserole was featured on Menu Plan Monday!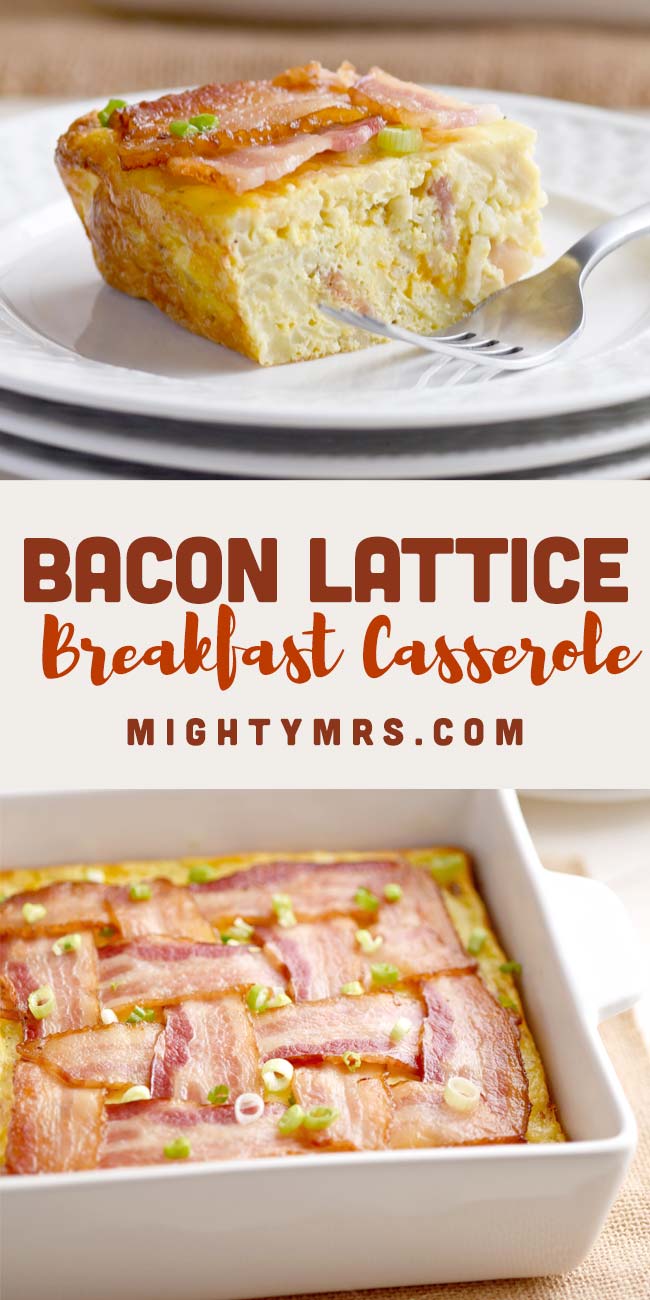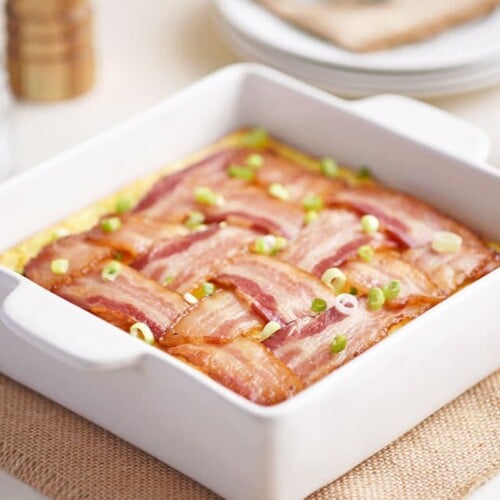 Bacon Weave Breakfast Casserole
When you want to take breakfast to the next level, try this epic bacon weave breakfast casserole! Easy enough to make for weekend breakfast yet fancy enough to make for house guests, serve at a shower or even celebrate special occasions.
Read Comments
Print
Pin
Rate
Ingredients
11

slices

Smith's thick cut bacon

Reserve 1 tablespoon bacon drippings

8

eggs

1

cup

shredded cheddar cheese

3

cups

shredded hash browns

½

cup

half and half

Salt and pepper to taste

2

green onions

sliced
Instructions
Lay 3 pieces of bacon on a lined baking sheet to later be crumbled and mixed in with the eggs. To make the bacon lattice, use the remaining 8 pieces of uncooked bacon. To do this, layout 4 pieces in a row onto the baking sheet, then layer the other 4 pieces on top, perpendicular to the first 4 pieces, leaving some space in between and ultimately forming a square. To weave them, start with the bottom piece of bacon and take it under every other strip of bacon. So it will start over the first strip, then will go under the second strip, over the third, then under the fourth. Move a row up and alternate the weave, starting by going under then over. Finish weaving all 4 pieces of bacon, then straighten as needed so the lattice is flat and square. For thick-cut bacon, bake just the lattice at 400˚for about 15-20 minutes or until desired crispness is achieved. Remove from oven and set aside. (For thinner cuts of bacon, bake at 350˚)

While the bacon lattice is cooking in the oven, mix together eggs, cheddar cheese, hash browns a half and half. Season with salt and pepper as desired. If using frozen hash browns, you'll want to microwave this mixture to reduce cook time. Microwave for 1 minute intervals, stirring in between, until the mixture is room temperature.

When bacon is done cooking, remove the 3 separate pieces and chop them into bits. Stir those bits into the egg and hash brown mixture.

Grease an 8x8 square casserole dish with leftover bacon drippings then pour the egg and hasbrown mixture into the dish. Level the surface with a spatula as needed. Bake at 350˚for 25-30 minutes or until eggs are set in the middle. (Cook time may vary depending on how much you heated the egg mixture). Casserole is done when the middle has set. Remove from oven.

Pat the bacon lattice to remove excess grease then carefully slide the lattice onto the top of egg casserole before serving. Garnish with sliced green onions.
Nutrition Facts
Calories:
549
kcal
|
Carbohydrates:
21
g
|
Protein:
23
g
|
Fat:
41
g
|
Saturated Fat:
16
g
|
Polyunsaturated Fat:
6
g
|
Monounsaturated Fat:
16
g
|
Trans Fat:
1
g
|
Cholesterol:
289
mg
|
Sodium:
669
mg
|
Potassium:
567
mg
|
Fiber:
2
g
|
Sugar:
1
g
|
Vitamin A:
641
IU
|
Vitamin C:
10
mg
|
Calcium:
206
mg
|
Iron:
3
mg
Follow Mighty Mrs. for more easy recipes!
Find @MightyMrs on Pinterest