This post may contain affiliate links. As an affiliate, I earn a commission.
Jump down to Recipe
Dalgona whipped coffee is not new but it seems to have newly arrived to the United States and is arguably the trendiest beverage of the quarantine.
What is the origin of Dalgona, or Whipped Coffee?
Or some have even called it "beaten coffee."
Whipped coffee's roots can be traced back to either India and Korea. From what I can gather, this beverage was recently made popular via a Korean TV show and then went viral on TikTok.
For a more in-depth look at the history of this coffee beverage and how it recently became mainstream, check out this article and this article. The origins of this drink are even more rich and interesting that the drink itself! It's not clear whether India or Korea really deserves credit.
What is Dalgona Whipped Coffee?
Pronounced dahl-gō-nah (hear it here), this frothy caffeinated treat is easy to make using just 3 ingredients—instant coffee, sugar and hot water. Whip these together and you get a thick topping you can serve over chilled or iced milk.
How to you drink whipped coffee?
Maybe I was the only one wondering this? You really should stir it before you drink it to combine the milk and frothy coffee on top. Sadly, that messes with the aesthetic and fluffy texture, but some of the frothy goodness remains even after you give it a stir and stirring allows the rich flavor of the sugared coffee to mix with the milk in a way that can be more thoroughly enjoyed.
So, you serve this Dalgona whipped coffee over a glass of iced milk by spooning the frothy whipped sugared coffee on top. Add a straw. Before you sip it, use the straw to combine the two layers.
Extras
The frothy top already makes this coffee drink a little "extra." And we all love "extra" things. But, of course you can actually make this even more extra, if you want.
Here are some ideas for optional add-ons:
Add a sprinkle of raw or turbine sugar (larger granules) on top. Add a dusting of espresso powder. Shaved chocolate. A sprinkle of nutmeg. A dash of cinnamon. A sprig of mint. Vanilla extract. Honey drizzles. Chocolate or carmel syrup. Whipped cream and a cheery on top? Why not. Or try serving over something heavier than milk—half and half or even heavy cream could be good but very very rich. A side of homemade biscotti for dipping would be amazing (especially when served hot). Kahlua. Irish cream liquor. Basically, ll the things you normally associate with coffee would be appropriate.
Can you drink whipped coffee hot?
Yep! You can do this by simply heating up the milk versus serving it on ice. You can heat up milk in the microwave, on the stove top, or use a handheld milk frother.

How long does it take to make whipped coffee?
About 5 minutes total! So, about the same amount of time, maybe less, than to brew a regular cup of coffee. It's really quick and easy. All that's involved is gathering the ingredients, pouring milk in a glass over ice, and then whipping the frothy coffee topping which takes about 2-3 minutes to achieve the right amount of thickness.
So this is made from Instant coffee?
Yup. I'm going to try and see if you can make whipped coffee using regular coffee if you grind it down into a powder, but I think the frothiness is achieved due to the freeze-dried nature of instant coffee. So I have a feeling it's not going to work with regular coffee. I'll report back with more info as I experiment.
What does whipped coffee taste like?
It's a lot like cold brew coffee. It's rich, semi-sweet, and chilled (usually). But there is a distinct flavor of instant coffee. Which most Americans have sort of shunned. But I guess we all just overlook that for the sake of the frothiness. It's a strange world we live in. But since the instant coffee flavor shines through, you may want to opt for the best quality instant coffee you can find. If you want to be high brow about it.
What goes well with this cold whipped coffee?
Well some warm weather would be nice! But also some homemade biscotti. Check out my recipe for chocolate almond biscotti here.
Want to see how the hubby liked it? Check out his reaction on my TikTok channel!
This recipe showing how to make whipped coffee (Dalgona) was featured on Meal Plan Monday!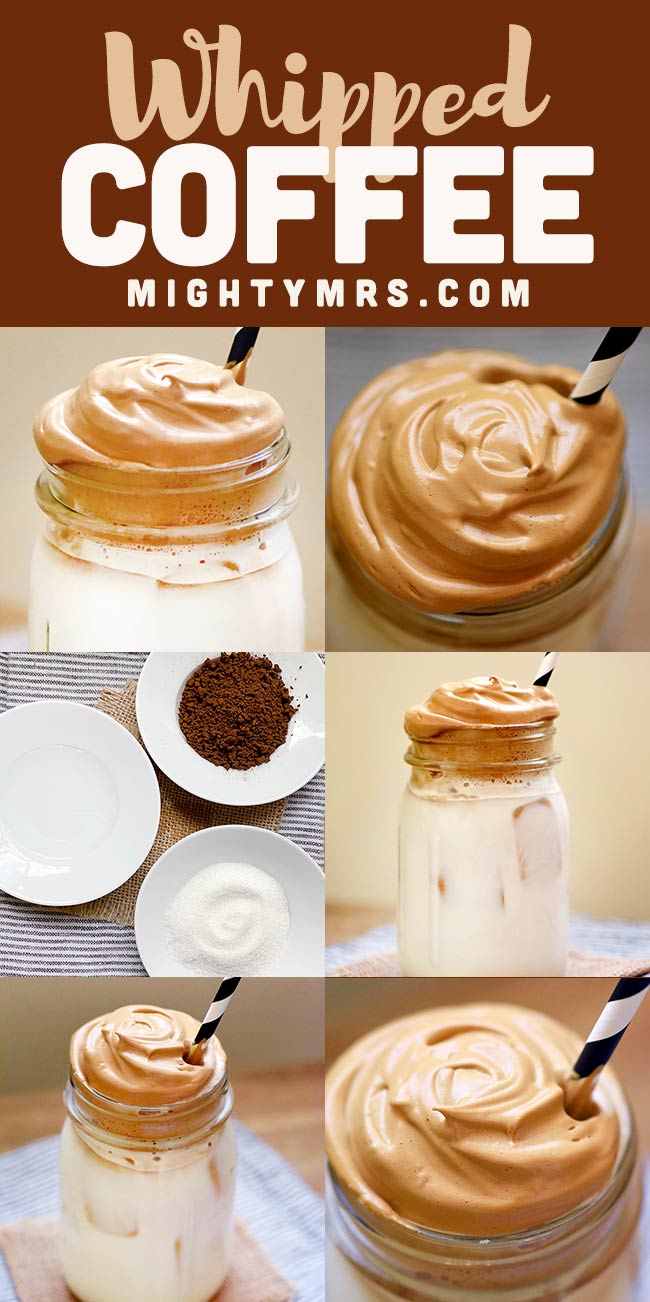 Dalgona Whipped Coffee
Pronounced dahl-gōn-ah, this frothy caffeinated treat is easy to make using just 3 ingredients—instant coffee, sugar and hot water. Whip these together and you get a thick topping you can serve over chilled or iced milk.
Read Comments
Print
Pin
Rate
Ingredients
2

tbsp

instant coffee

2

tbsp

sugar

2

tbsp

hot water

1 ½

cups

milk

Ice cubes
Instructions
Fill a 2 cup mason jar with ice cubes. Add milk.

In a medium sized bowl, whip instant coffee, sugar and hot water together until it's thick and frothy. You will need to whip for about 2-3 minutes to form stiff peaks.

Spoon whipped coffee on top of the iced milk and serve with a straw.

Stir to combine layers and enjoy!
Nutrition Facts
Calories:
351
kcal
|
Carbohydrates:
49
g
|
Protein:
13
g
|
Fat:
12
g
|
Saturated Fat:
7
g
|
Polyunsaturated Fat:
1
g
|
Monounsaturated Fat:
3
g
|
Cholesterol:
37
mg
|
Sodium:
161
mg
|
Potassium:
837
mg
|
Sugar:
42
g
|
Vitamin A:
593
IU
|
Calcium:
428
mg
|
Iron:
1
mg
Want more easy recipe ideas?
Follow @MightyMrs on Pinterest