What do you get when you put leftover chicken, leftover vegetables and a few cans of beans in a pot? The easiest chicken minestrone soup!
This post may contain affiliate links. As an affiliate, I earn a commission.
Jump down to Recipe
What do you get when you put leftover chicken, leftover vegetables and a few cans of beans in a pot?
Easy Chicken Minestrone Soup! That's what.
You'll love how versatile this chicken minestrone soup is. This handy recipe is a delicious way to clean out your fridge. Please, absolutely customize it depending on what you need to get rid of. It's just about impossible to mess up!
Typically, minestrone is a vegetable-packed soup.
So what's the different between minestrone soup and vegetable soup? Mainly, it the addition of pasta and beans.
The word "minestrone" loosely translates to "big soup" in Italian. I love thinking of it that way because it almost begs for you to really just put anything you want into this soup! You can add pretty much any kind of beans — just try to stick with more Italian beans vs. Mexican seasoned beans.
And any kind of pasta works. Some recipes call for rice so you could use that instead of pasta should you have some leftover rice hanging around. Your call.
Ditalini pasta is what I think of when I think of classic minestrone soup. The texture is really nice. Orzo would be good, small shells, even alphabet pasta would work! Small pasta adds a nice texture to each bite and absorbs the flavors a bit more. So if you have something small, that would be ideal.
However, since minestrone is all about cleaning out your fridge, might as well clean out your pantry too and use whatever pasta you have one hand. Break it up if you have to! Be a rebel. It's fun and freeing!
But, wait, there's meat in this minestrone soup?
Yep. There is chicken in this recipe, hence the name chicken minestrone soup. 😉 Minestrone soup is typically known as a vegetable based soup. So this recipe is obviously a bit different than the classic dish. You actually don't have to add chicken at all though. If you want to make this vegetarian, you can just eliminate the chicken and broth. Totally fine. The soup will be excellent just the same. However, I really love the flavor the chicken brings to this soup and I think you will too!
What kind of chicken is best for this recipe?
I have used leftover chicken, rotisserie chicken, even leftover fried chicken and just peeled the skin off. Whatever you have that's easy! Or you could broil some chicken breasts, chop, and then toss those in.
To broil chicken, simply pound out raw chicken breasts till evenly flat (covering with plastic wrap first to prevent splatter), lightly coat with cooking oil and season with salt and pepper then place chicken on a baking sheet lined with a <a href="https://amzn.to/2OQR1kR">silicon baking mat</a>. Broil in a preheated oven on the top rack about 6" from the top oven coils. Note: Your baking sheet might get warped due to the high temperature. Use a <a href="https://amzn.to/37xWlAs">cast iron skillet</a> instead if you have one to prevent this. Depending on thickness of the chicken breast, cook for about 10-15 minutes (depending on size of breasts) or until internal temp is 165˚.
What kind of vegetables can you put in minestrone soup?
Almost anything works! You'll see my preferred vegetables listed in the recipe below, but again, the whole point of this soup is to use up those veggies. Here are some additional vegetables you could add in that would taste great: spinach, corn, kale, bell peppers, broccoli, zucchini, yellow squash, and asparagus—just to name a few!
Could you use beef or another meat instead of chicken?
Yes. The beautify of minestrone is that it is so so so versatile. It can taste very different depending on what you put in it each time. This is nice because then you're not going to get tired of this dish quickly. You can really mix it up each time you make it. So, if you want, try using ground beef instead of chicken, steak, or even shredded meats like pork or leftover turkey and match the stock with your meat choice. You can get fancy and try lamb or other more gourmet meats as well. Get creative or stick to the basics. Up to you!
Can you top minestrone soup with cheese?
Sure can. I don't think this soup even needs cheese, it's got a lot of flavor already but you absolutely can add to it by sprinkling some cheese on top right before serving. Italian cheeses work well here. Parmesan is commonly added to minestrone soup but an Italian cheese blend would be good too.
Is there anything you can't change out here?
Is this even a recipe? So as loosey goosey as this recipe is starting to feel right now, there are some key elements that you won't want to change, and that are foundational to minestrone soup. So if you're feeling creative and you're making substitutions, try not to leave out these basics: tomatoes, broth, celery, carrots, onion.
This makes A LOT of soup!
This chicken minestrone soup recipe is really great for feeding a crowd or a big family, splitting with a sick or recovering friend, or taking to work for lunch throughout the week. You can also freeze portions of this soup to make it last. I don't like to use half cans or boxes of things but you can split this recipe in half if you really want to make less. 🙂
Want more flavor?
Add herbs! I like to enjoy this minestrone soup with a side of garlic bread so I don't actually add garlic to the soup but you totally can. You can add fresh minced garlic, garlic paste or powder. You can also add herbs. Any Italian herbs work, or go with an Italian seasoning blend. Add these extras in at the end of sauteing the veggies, before you add the broth for best results. The butter and oils will bring out their flavor.
Helpful Tools for Making this Recipe:
Want more easy soup ideas?
Browse all my soup recipes and pin your favorites for later.
This quick and easy chicken minestrone soup was featured on The Country Cook!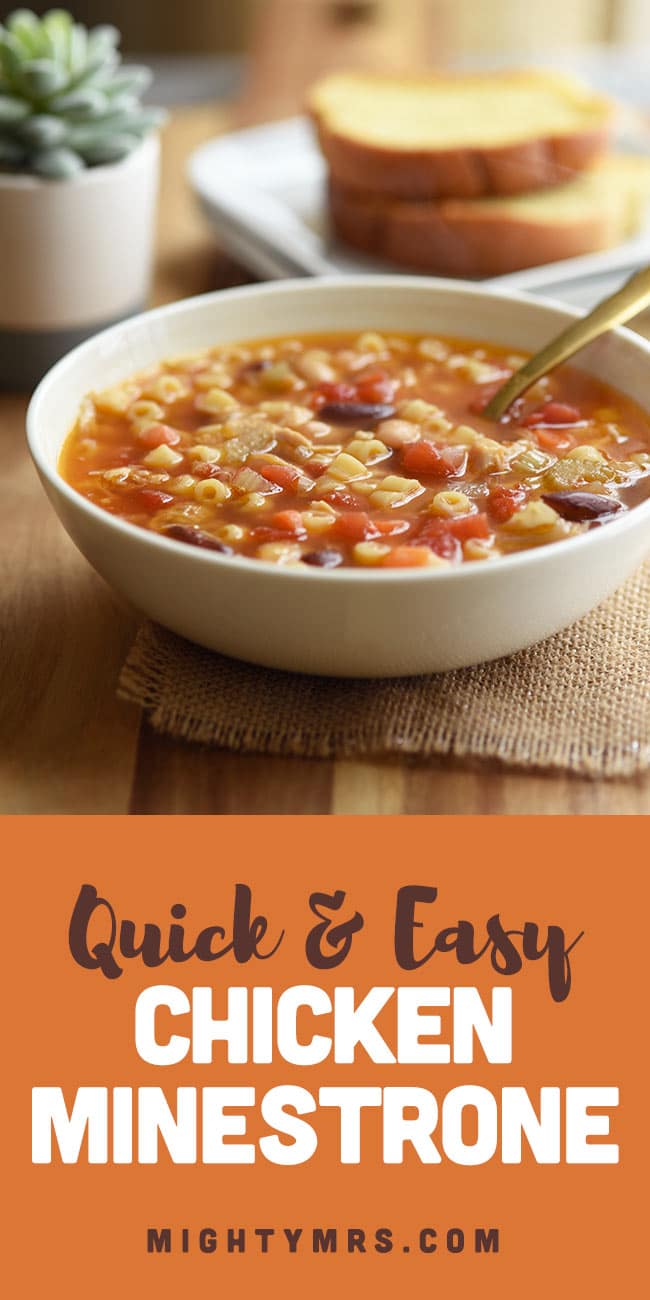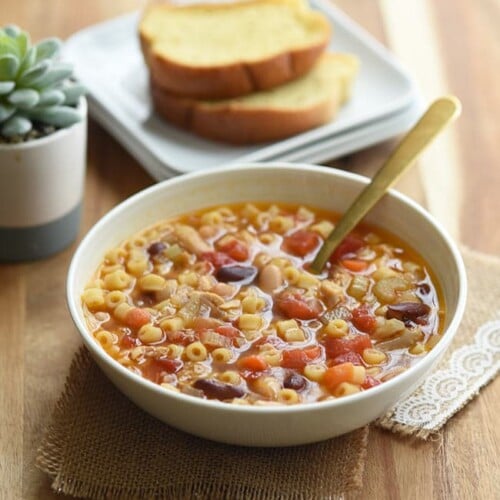 Easy Chicken Minestrone Soup
What do you get when you put leftover chicken, leftover vegetables and a few cans of beans in a pot? The easiest chicken minestrone soup!
Read Comments
Print
Pin
Rate
Ingredients
1

cup

cooked chicken

chopped

2

ribs

celery

1

carrot

chopped*

1

parsnip

chopped

½

onion

chopped

2

tablespoon

butter

2

tablespoon

grape seed or olive oil

½

lb

uncooked ditalini pasta

3

cups

vegetable stock

3

cups

chicken stock

14.5

oz

diced tomoatoes

16

oz

light red kidney beans

15.5

oz

cannelli beans

1

tablespoon

sugar

Salt and pepper to taste

Herbs

optional: Italian herb blend, garlic (fresh or powder), and/or a bay leaf or two

*Optional: Add in other vegetables along with carrots and parsnips

Optional: Parmesan or Italian cheese to top
Instructions
Cook ditalini pasta according to package. Drain and set aside.

In a dutch oven, saute celery, carrots, parsnips, and onions in butter and oil over medium-high heat for about 10 minutes or until soft, stirring frequently. Add herbs and garlic at the end (optional).

Add cooked chicken, vegetable and chicken stock, tomatoes, beans and sugar. Bring to a boil then reduce heat and simmer for at least 10 minutes. Add salt and pepper to taste.

Stir in cooked pasta and serve hot with a side of toasted garlic bread. Top each bowl with cheese right before serving (optional).
Nutrition Facts
Calories:
233
kcal
|
Carbohydrates:
34
g
|
Protein:
11
g
|
Fat:
6
g
|
Saturated Fat:
2
g
|
Polyunsaturated Fat:
1
g
|
Monounsaturated Fat:
3
g
|
Trans Fat:
1
g
|
Cholesterol:
16
mg
|
Sodium:
582
mg
|
Potassium:
384
mg
|
Fiber:
6
g
|
Sugar:
6
g
|
Vitamin A:
1109
IU
|
Vitamin C:
7
mg
|
Calcium:
61
mg
|
Iron:
2
mg
Follow Mighty Mrs. for more easy recipes!
Find @MightyMrs on Pinterest