Homemade baked mac and cheese with bread crumbs is one of my favorite foods. It such a simple side dish yet, actually a little hard to get just right. I've made macaroni and cheese so many times, tweaking all along the way. I've finally landed on this recipe as our family favorite.

Love Cracker Barrel Mac and Cheese? Then you'll love my recipe for mac and cheese.
Inspired by many trips to Cracker Barrel, inquiring with a few of the waitstaff for hints at how they make their macaroni and cheese, I've finally landed on this homemade recipe for baked macaroni and cheese.
It's extra creamy, yet not too heavy or thick and has a little extra layer of flavor just like Cracker Barrel's delicious mac and cheese.
Have you tried Chick-Fil-A's mac and cheese?
Chick-Fil-A's macaroni and cheese is rich and creamy. If that's more your style here are a few tips for making a homemade version of Chick-Fil-A mac and cheese:
Add less milk. You can add more or less milk depending on how thick and creamy you want your cheese sauce to be.
Add a heavy dollop of sour cream. Have you noticed is has a bit of a tart flavor to it? You can easily get that by just stirring in some sour cream to taste.
Change up your cheese. On the Chick-Fil-A website, they tell us they're using cheddar, Parmesan and Roman cheese. So go ahead and use those same cheeses to make a homemade version of Chick-Fil-A.
Skip the bread crumbs. If you want. Or add them and put your own spin on Chick-Fil-A's side dish. 😉
Bread crumbs and baking optional. But recommended for best results. 😉
Unlike Cracker Barrels mac and cheese, I do like to add breadcrumbs to the top because I love the little bit of crunch you get. However, you can leave those off if you'd like. You can also skip the step of baking the mac and cheese if you're short on time.
I like the breadcrumbs baked until their golden brown and I also think baking the noodles in the cheese sauce helps to meld the flavor together a bit more but it's not 100% necessary.

Mom knows best.
Baked mac and cheese always reminds me of my momma. My mom's homemade macaroni is what you might call the "Mac Daddy." Mac Mommy? Gosh, this is getting cheesy…
Sorry, got carried away with the puns there.
It's just that macaroni and cheese reminds me of a specific time in life when I returned home after going away to college. I was welcomed home with a seemingly endless supply of cheesy homemade macaroni and cheese.
It's one of those dishes that is called comfort for for a reason. It fills your belly with warmth and love. For me, macaroni and cheese is just one of those dishes that's delicious, comforting and homey but since it's heavy on starch, I try to make sure I control my portion size.
Make it easy on yourself.
Now I make my own mac and cheese like a grown up. 🙂 And I've really honed my skills as this point since I'm a mom and macaroni and cheese is one of those foods my kids actually eat. So I've had practice. Ya know?
So, I want to let you in on a little secret to making homemade mac and cheese a little easier. It's the pot. You can use a dutch oven or a cast iron skillet. With the dutch oven there's no need to transfer the cheesy macaroni into an oven-safe pan before baking, you can take it right from the stove top to the oven.
You can do the same with the cast iron skillet, the sides are just lower so it's more difficult to stir without spilling but the presentation is nicer. So I guess which one you choose, depends on your priority there.
What's the best dutch oven brand to buy?
Well, I'm not sure of that but I can tell you a little about the ones I've used. I used to own the Food Network dutch oven and I loved it. I actually purchased it from Kohl's on Black Friday and didn't know if I was going to use it that much but it was a great deal and they are not cheap otherwise.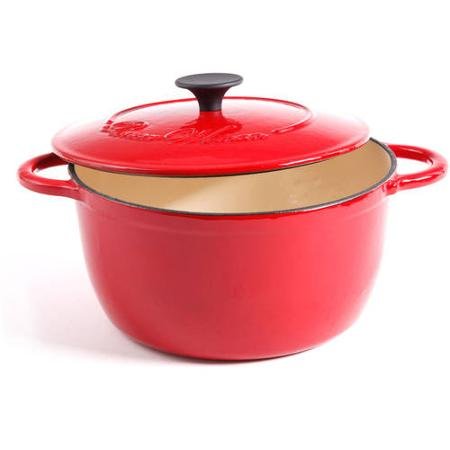 I quickly learned it's very versatile! You can fry in it, make casseroles, popcorn and even bake bread in it! So dutch ovens in general are pretty awesome. I you don't own one, I highly recommend making the investment.
But the point was, which one is the best. Well, the Food Network brand is pretty affordable compared to other brands. I am already on my second dutch oven though. The enamel started chipping on my first one I think because I used bleach to clean it. Apparently that's a no no but I didn't like the stains.
I now have a Lodge dutch oven and I think I love that one even more. 🙂 It's even more reasonably priced and I like the rounded shape of it more. So far it's held up about a year and it hasn't stained like my other one did although, that may be because I know better how to use it now. 😬
But what about a cast iron skillet?
As you may have noticed, the photos show my macaroni and cheese baked in my cast iron skillet. I knew I was going to be taking photos so I opted for the prettier presentation.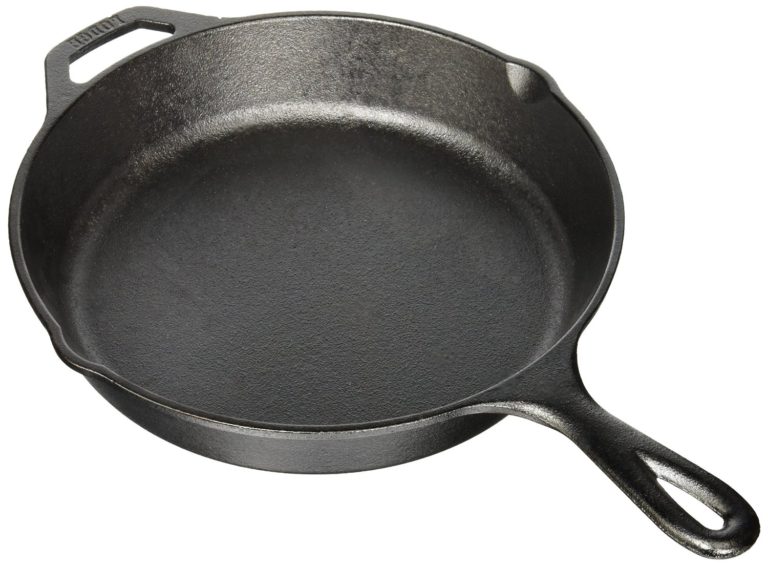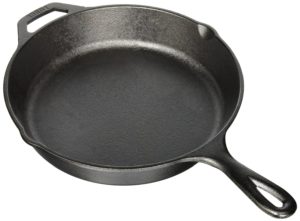 As I mentioned, you can still create your cheesy roux in the skillet, add your noodles and then transfer the skillet into the oven, it's just a little harder to contain the macaroni noodles when you stir in the cheese.
So if you have either a cast iron skillet or a dutch oven, you're good to go. If not, no biggie, you'll just have to use an extra casserole dish when transferring from the stove top to the oven to bake.
What's the deal with adding barbecue sauce to macaroni and cheese?
This is a southern thing. The barbecue sauce is completely optional but if you're serving this mac and cheese with something like pulled pork, ribs or even grilled chicken, then the barbecue sauce really works.
What other food goes well with mac and cheese?
My favorite way to serve mac and cheese is with pork ribs smothered in good quality barbecue with a side of broccoli slaw! And maybe a side of corn bread or corn casserole. 🙂
Grab my homemade broccoli slaw dressing recipe
Try the 3-2-1 Ribs method for cooking pork ribs. It's a no-fail easy way to cook ribs whether you're a noob or pro.
Mac and cheese is a great side dish for any meal though, really. It pairs well with most any main dish.
Mac and cheese is a great and all but maybe you may need some other ideas.
Browse all my side dish recipes
This baked mac and cheese with bread crumbs recipe was featured on Sew It Craft It Cook It, My Pinterventures and Menu Plan Monday!