You only need FIVE ingredients to make this awesome and easy Tuscan pasta salad!
Making pasta salad from scratch is not hard.
I'll admit it. I used to grab those pasta salad kits to save time. They were good. Decent. Alright. I even got compliments when I made that stuff, so was like WHY would I ever want to spend extra time making anything homemade? Well, because you get tired of the same old same old. That's why.
So if you're ready to venture outside your comfort zone and try some new pasta salad recipes that are made from scratch, then this Tuscan-style pasta salad is actually a great place to start.
What exactly classifies this pasta salad as "Tuscan" style food?

Well, Tuscan influences can be pretty loosely defined in the cooking word but you do see a lot of spinach, sun-dried tomatoes, beans and oils. All of which you are getting here in this recipe.
What kind of dressing is best with this pasta salad?

You can actually use any kind of Italian dressing you want. HOWEVER, I do recommend Olive Garden's Italian dressing.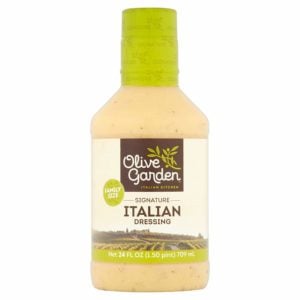 You can get it at most grocery stores now, including Aldi's, and it's really affordable. I love that it's ever so slightly creamy and not overly vinegary like some Italian dressings. So what you end up with is a creamy pasta salad without having to add any heavy ingredients.
There is no mayonnaise, Greek yogurt or anything you've typically find in the uber creamy pasta salad. It's just a touch and it's just enough. I think. But again, if you have a favorite dressing, you can use what you like.
This tuscan pasta salad is vegetarian.

You could add any type of Italian meat though and it would be great! Pepperoni, salami, prosciutto, and ham are all ideas. You can add chunks of cheese as well, if you'd like. Beef this up, so to speak, or don't. Up to you. It's great either way.
A lot of vegetarians are happy when you bring a dish like this to a pot luck without meat because it's something hearty they can eat. You can always split it in half and add meat to one and not the other to cater to your crowd.
Want more easy recipe ideas?
Browse all my recipes and Pin your favorites!