This post may contain affiliate links. As an affiliate, I earn a commission.
Jump down to Recipe
A Halloween cupcake bar is something you can totally pull off with minimal effort. I promise! I've got all the things to help you make this happen, including a totally free printable you can use to label your zombie toes and such. 😉
Being an awesome mom without sacrificing yourself…
This cupcake project was inspired by Michelle McVittie, author of I Quit! Oh wait, I'm the Mom. She and I collaborated on this fun little project after meeting via Instagram. Apparently, that's a thing now! So yeah, after following along with each other for awhile, we decided to work on this Halloween party idea together. It just made sense.
Michelle offers experience-backed parenting advice and a custom set of tested tools for moms. I offer family-friendly recipes and ideas to keep kids constructively busy at home. Because I know first-hand how taxing it is to balance a job and motherhood, I always try to incorporate shortcuts. Cutting corners where I can, is honestly my best trick for pulling off motherhood while still maintaining a sense of self. If that's a topic that you can relate to, definitely check out Michelle's blog, Mom the Manager, her book on Amazon as well as her Etsy shop where she offers printables to help better manage your household.
Get the free Halloween cupcake printable!
Lucky for me and you, she offered to create a fun Halloween themed printable just for this project — for free! Download it here.
Here's how to set up the Halloween cupcake bar:
I said I'd keep this easy. So, let's start with what you'll need and then you can scroll down for the step-by-step instructions:
Cupcakes – Buy some or make some. Personally, I like to use Miss Jones organic boxed cake mix to make my cupcakes and then I make my own frosting. Get my easy buttercream frosting recipe here.
Toppings – To fit the theme of the labels I recommend starting with what's listed in the recipe and then get creative with the few remaining labels.
Paper cups or bowls – Since you'll have a lot of different toppings, you'll need five or more bowls. I found paper cups at Hobby Lobby but you can also buy them on Amazon.
A printer with colored ink for the labels
Serving tray (you may need more than one to hold all your cupcakes)
That's it! This is truly a pretty easy Halloween party idea, no cooking involved unless you want to. This cupcake bar would be fun for a class party or you could host some neighborhood kids and let them indulge a bit! Enjoy the season while it's here and the smiles on the kid's faces while they create their own treats.
Want more Halloween party ideas?
Check out my candy apple kit tips and Apple Cider Witch Brew with floating heads! Both super easy to make.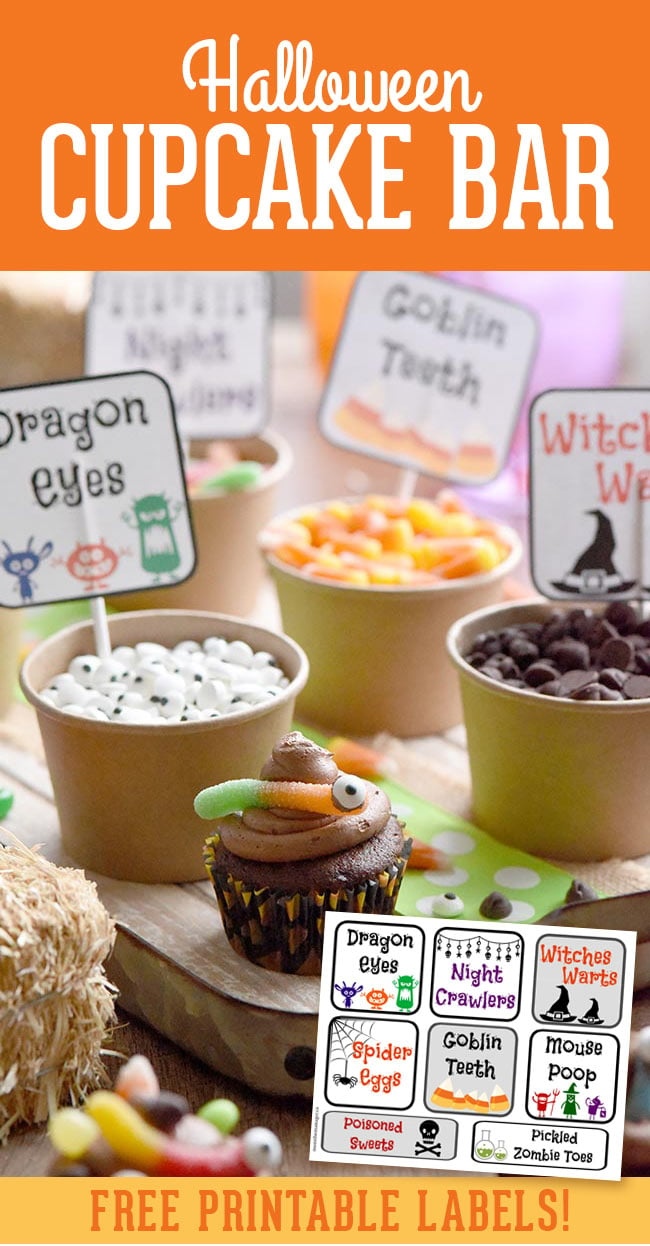 Ingredients
24

frosted cupcakes

1

cup

candy corn

1

cup

of gummy worms

1

cup

of green jelly beans

1

cup

of chocolate chips

1

cup

of candy eyeballs

Any other toppings of your choice!

Lollipop sticks

Halloween-themed labels

Tape

5

+ paper cups or small bowls for toppings
Instructions
Print the labels in color and trim out each one.

Tape each label to a lollipop stick.

Fill paper cups or bowls with the different toppings.

Place a label in each cup, pressing it down to the bottom so the toppings hold it upright.

Arrange cupcakes on a tray and set out toppings. Have kids line up and decorate one cupcake at a time using whatever toppings they want. They can create a monster or just choose what looks yummy. Up to them!