This coconut roasted red pepper soup is one of my favorite soups to make and eat. It comes out different every time I make, I guess because I don't measure when I make this. So I've finally committed to some measurements in order to share this with you all!
Thai-inspired Flavor
This soup has a Thai flavor. Sweet and spicy. The blend of vegetables, spices and coconut milk add an enjoyable complex flavor with very few ingredients.
This soup is amazing over rice or quinoa or with a side of crusty bread.
Healthy yet tasty and easy too!
It doesn't have to be fall to make this soup. In fact, if you're like me and attempting to slim down your fat intake just in time for shorts and swimsuit weather, then this is a great, healthy yet tasty meal choice.
As much as I want spring to be here already, I'm thankful to have a few more weeks of healthy eating in order to prep for a wardrobe with a lot less coverage. My metabolism is not what it used to be at 34 and after two kids, so I'm really having to put forth more effort than any other year prior.
Cooking Methods
This soup recipe is very easy to throw together and you can cook it a couple of ways:
Slow Cooker
You can simmer it for 2 hours on low in your crockpot. Or one hour on high.
Side note: Did you know there are wi-fi Crock-pots? Has anyone tried one? I think the idea is pretty fun. Not sure how useful it would be but at times when I've left my Crock-pot on while I'm away, it would be handy to check on how things are cooking and adjust the temperature as needed.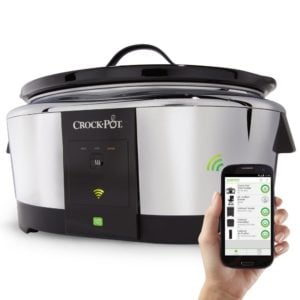 Stove Top
Make this soup on the stove top if you've got less time. No need to saute the onion first, it will soften as it simmers, but you can to add flavor. If sauteing first, then I recommend using a dutch oven or even a regular pot works. You can saute in the pot, then add your ingredients and bring to a boil.
Using a Blender to Puree Soup
You can use a blender or a food processor. I think the blender makes a little bit of a smoother texture but both work. Please be careful when blending hot soup. Allow a little time for the ingredients to cool and be sure to add the coconut milk at this stage, before you hit blend. Blending hot ingredients creates enough pressure to pop the top off the blender and will make a big mess. Trust me. I've done it. Not fun to clean up and you can get splattered with hot soup yourself. Please take caution.
Try fresh ginger.

This is great with fresh ginger, or you can use ginger puree or frozen ginger cubes. You can use ginger powder as well. Lots of options here! But fresh ginger really does add a lot of flavor. I finally learned the proper way to peel ginger — with a spoon! (Thank you YouTube) Using a spoon versus a peeler just shaves off the skin and doesn't take any of the ginger with it. If you use fresh ginger, you don't need much at all.
Use fresh or dried jalapeño.

You can use fresh or dried jalapeños. I keep a small jar of dried jalapeños from our garden that I use just for soups or sauces. They work great because they have a chance to rehydrate in the soup or sauce. I usually throw in only a few seeds though otherwise it can get hot hot hot.
Want more easy soup ideas?

This recipe for spicy coconut roasted red pepper soup was featured on Meal Plan Monday!