These Teriyaki Chicken Lettuce Wraps are just 5 Ingredients! A quick and easy weeknight dinner recipe inspired by P.F. Chang's popular dish.
This post may contain affiliate links. As an affiliate, I earn a commission.
Jump down to Recipe
For just 5 ingredients, you won't believe how amazing these teriyaki chicken lettuce wraps taste!
Anything that's topped off with yum yum sauce is bound to be good, right?
What's in these teriyaki chicken lettuce wraps?
Chicken of course. Ground chicken, to be specific, browned in a pan and then tossed in teriyaki sauce. The teriyaki chicken is then spooned into romaine lettuce cups and topped with chopped green onions and yum yum sauce.
What does teriyaki sauce taste like?
If you're not familiar with teriyaki sauce, or if you don't have it that often, then you might be wondering what teriyaki sauce tastes like. In general it has a salty, fermented taste with a hint of sweetness. The main ingredients in teriyaki sauce are: soy sauce, wine, brown sugar and sometimes honey, garlic, and ginger. So if you wanted to make your own teriyaki sauce, you could combine these ingredients to taste and come up with a pretty great homemade teriyaki sauce.
However, this recipe is meant to be quick and easy so it calls for store bought teriyaki sauce. Now. Unlike some other sauces, teriyaki sauce quality can really vary by brand. If you opt for a store brand, you get a lot of junk ingredients and you miss out on some of the authentic flavors like ginger, specific types of Japanese wines, and in some cases even garlic. So I recommend you purchase a name brand teriyaki sauce and also check the ingredients list to make sure you're getting mostly whole food ingredients.
P.F. Chang's Teriyaki Sauce
I recommend P.F. Chang's teriyaki sauce. It's a little more expensive but P.F. Chang's teriyaki sauce has all the right ingredients. It's also the restaurant that made lettuce wraps famous. So you can't go wrong using their sauce. If you're searching for a recipe that tastes like P.F. Chang's lettuce wraps, then you might as well go ahead and save yourself some guesswork and just buy their sauce.
Next Up, the Yum Yum Sauce
The sauce with a very coy name often leaves people wondering what exactly is in this magical sauce that makes it so yummy.
Yum yum sauce is made up of a combination of essentially mayonnaise and hot sauce, sweetened with sugar. It also has a hint of mustard and tomato as well. So the end result is a creamy, spicy-sweet sauce that goes great on pretty much anything. It's a condiment that layers on flavor in the same way you'd top an already delicious burger with mustard and/or ketchup. It's not mandatory but it sure is well, yummy.
Where can you buy yum yum sauce? Most grocery stores, even the rural stores nowadays carry it. Can't find it? Shop yum yum sauce on Amazon.
Romaine Lettuce
Romain has gotten such a bad rap but as long as you wash it thoroughly, you should be good.
If you're not keen on romaine or can't find it, you can also use butter lettuce. Butter lettuce is much more thin and not as crispy but it makes a beautiful presentation because the leaves of butter lettuce naturally form a cup with pretty ruffled edges.
For me though, taste wins out and I prefer romaine. Its ridged structure makes these easy to fill and eat.
If you're having trouble with your lettuce tearing, try double layering your lettuce leaves.
Try swapping chicken for ground turkey, beef or even tofu.
Choose your favorite meat and go with it! Since this dish is made with just 5 ingredients, changing one of them can really change up the flavor of this dish. So, if you're looking for a different flavor to mix things up, try changing up the meat or go vegetarian and try a plant-based "meat."
Extra Add-ins
You can add to this 5-ingredient recipe to change up the flavor, use up ingredients you have on hand, or just to experiment with customizing this recipe to your liking.
Here are some ideas of things to add that would taste great with the teriyaki and yum yum sauces:
• Shredded Carrots
• Toasted Sesame Seeds
• Nuts — peanuts, almonds and cashews are a yummy match with teriyaki sauce
• Bell Peppers
• Water Chestnuts
Easy Weeknight Dinner or Work Lunch
These chicken lettuce cups are seriously ready to eat in under 15 minutes. Probably less if you're quick in the kitchen. The cooked chicken stores well in the fridge and so if you want to pack up leftovers or meal plan, this is easy to heat, assemble and eat for lunch too.
You might also love...
If you enjoy these chicken lettuce wraps, I bet you'd also like my Chicken Wonton Taco Bowl
This easy recipe for Teriyaki Chicken Lettuce Wraps was featured on Sweet Little Bluebird!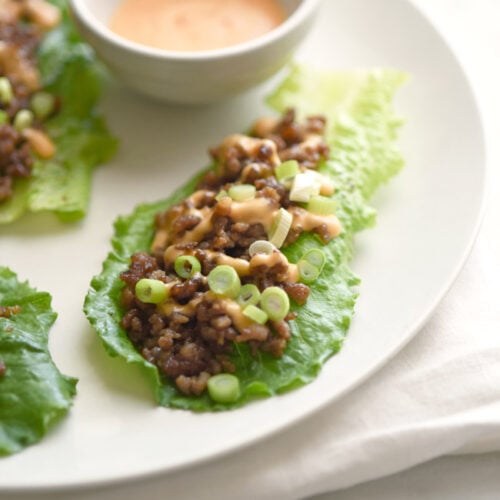 Teriyaki Chicken Lettuce Wraps (5 Ingredients)
These Teriyaki Chicken Lettuce Wraps are just 5 Ingredients! A quick and easy weeknight dinner recipe inspired by P.F. Chang's popular dish.
Read Comments
Print
Pin
Rate
Yield:
1 dozen lettuce cups
Ingredients
1

lb

ground chicken

or sub ground or turkey or tofu

6

ribs

romaine lettuce

½

cup

teriyaki sauce

¼

cup

yum yum sauce

6

green onions

chopped
Optional add-ins
shredded carrots

cabbage

toasted sesame seeds

peanuts

rice
Instructions
In a skillet over high heat, cook ground chicken. Stir frequently and thoroughly cook until golden brown in color, about 5-7 minutes.

Add teriyaki sauce to chicken. Add optional add-in ingredients if desired. Toss to coat everything in the teriyaki sauce. Turn skillet to simmer while you prep remaining ingredients.

Wash ribs of romaine lettice and cut each in half to form 12 lettuce cups.

Spoon teriyaki chicken into lettuce cups right before serving. Top with chopped green onions and drizzle with yum yum sauce.
Nutrition Facts
Calories:
218
kcal
|
Carbohydrates:
10
g
|
Protein:
23
g
|
Fat:
9
g
|
Saturated Fat:
3
g
|
Polyunsaturated Fat:
2
g
|
Monounsaturated Fat:
4
g
|
Trans Fat:
1
g
|
Cholesterol:
98
mg
|
Sodium:
1679
mg
|
Potassium:
789
mg
|
Fiber:
2
g
|
Sugar:
7
g
|
Vitamin A:
426
IU
|
Vitamin C:
6
mg
|
Calcium:
33
mg
|
Iron:
2
mg
Follow Mighty Mrs. for more easy recipes!
Find @MightyMrs on Pinterest