This butternut squash orzo is seasoned with sage and brown butter. Creamy feta cheese adds a delicious tang. A unique side dish for your Thanksgiving dinner menu or add chicken to make it a complete meal any day. This dish is similar to a risotto but made with pasta in place of rice. Super easy to make! Just 6 ingredients!
This post may contain affiliate links. As an affiliate, I earn a commission.
Jump down to Recipe
Do you see that very large casserole dish of velvety roasted butternut squash, orzo, feta and sage up there? Did you see the size of it? Yeah, I could and eat that entire dish. No shame. It's really that good. Like, GOOOOOOOOOOD.
★ Why You'll Love this Recipe ★
An easy yet delicious side dish
It's not often I find a recipe that has a short ingredient list like this that is full of rich, creamy flavor. So when I do... I eat. It. All.
There are so many things to love about this simple butternut squash orzo recipe that I'm going to list them out.
1. Roasted butternut squash is like eating a tiny bite of fall. It's a bit sweet, creamy and earthy.
2. It's healthy! With a hearty dose of vitamin C, butternut squash is a perfectly delicious way to prep for cold season.
3. Orzo has twice as much protein as rice, so it fills you up for longer.
4. It's a perfect and super easy Thanksgiving side dish.
I could go on about how much I love feta and how it perfectly compliments the sweetness of the butternut squash and how shallots are the beautiful marriage of onions and garlic but I'll spare you and just show you some pretty photos with a few tips...
★ Tips & FAQs ★
How to get more flavor from dried sage.
Add sage when you sauté. The oil re-hydrates and allows the flavor of the herb to really come alive. This is important to remember when working with any dry herbs.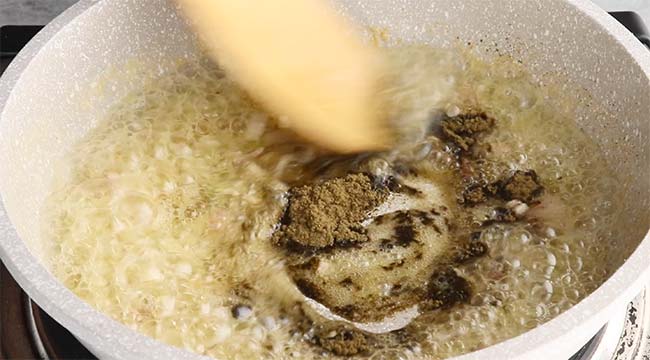 What makes Feta cheese taste different than other cheeses?
Feta cheese is made from sheep's milk or a combination of sheep and goat's milk. However, most grocery stores make their feta with cow's milk. So, if you want a true feta flavor, try visiting a specialty cheese shop.
You may also get better results if you crumble the feta yourself. It's an extra step but pre-crumbled just like pre-shredded cheeses, are often coated with an anti-caking powder to prevent the pieces from sticking together. This translates to a more powdery, less flavorful cheese that you need more of the achieve the same flavor. So you can save money and calories and use less cheese when you buy blocks of cheese. If crumbled is more convenient though, I totally understand and buy it myself most times because I get lazy. 😉
What's the difference between a shallot and an onion?
A shallot grows in clusters not a single bulb and is slightly sweeter than an onion with a bit of a garlic taste to it. If you can't find one at the store (they are small and usually come in a bag of several) or you just don't have one handy, then you can use a combination of onion and minced garlic as a substitute. You'll just want to use a very small onion, or half of a larger onion.
The thing I love most about shallots though is their purple color! It looks so pretty in this dish so it's worth it to try to find one if you can!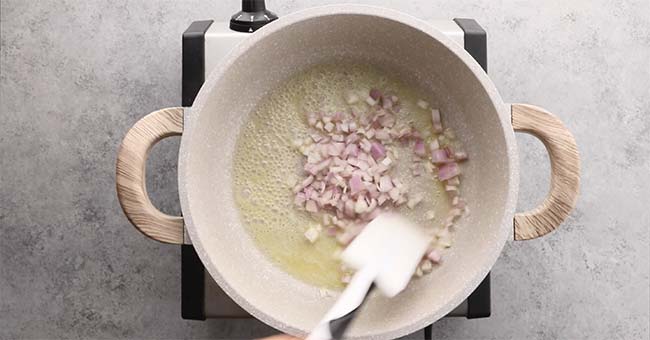 How to Cook Butternut Squash in the Oven
You can start with a whole butternut squash, or pre-cubed butternut squash for this recipe. You can typically find cubed butternut squash next to the snack packaged broccoli florets, snap peas, etc.
If you're starting with a whole butternut squash, simple cut it in half length-wise: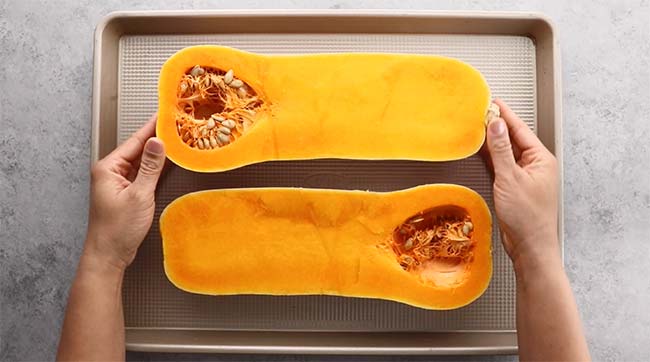 scoop out the seeds: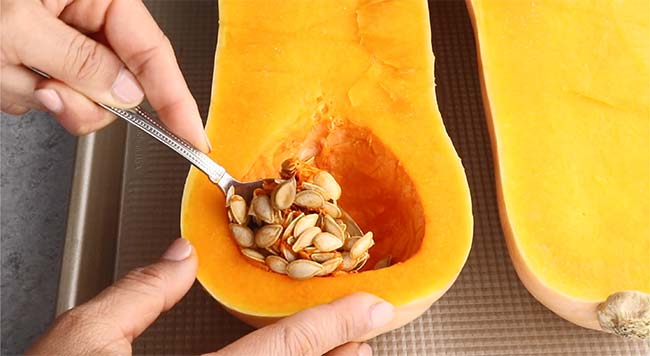 and then place it face down on the baking sheet adding a bit of water to the baking sheet to keep squash moist while cooking.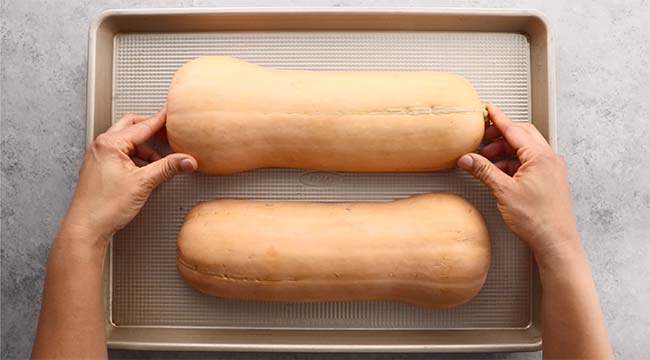 This butternut squash orzo dish is really easy to make.
I honestly like to cheat and use the cubed squash so I don't have to cut or seed a whole squash. However, its still an easy recipe even if you're starting with a whole squash.
Total there are just 7 ingredients!
Making this again and want to try a variation?
Here are a few delicious ways to change this dish up a bit:
• Try adding in spinach! Throw in a handful or two of fresh spinach leaves when you're cooking the shallots. They just need to wilt a little and then they'll stir in perfectly.
• Add some rotisserie chicken or sausage and it's a complete meal in one dish.
• Try using risotto instead of orzo.
What is the difference between risotto and orzo anyway?
Risotto is actually a rice. Orzo is a pasta. "Risotto" refers to the method of cooking rice where you basically infuse the rice with flavor, typically by cooking it in broth.
Orzo on the other hand is an actual product you can buy. It's not a grain like rice. Orzo is made just like any other type of pasta, typically with flour and egg. Orzo is shaped like rice so the texture is very similar.
Since both are so similar, you can use either one to make this recipe. I've noticed that the orzo holds its shape better and doesn't crumble or get as overly saturate as rice can. It's also easier to cook than rice. However, if you have an egg or gluten allergy, rice would make an excellent substitution for orzo in this dish and would also qualify this dish to be called "butternut squash risotto." So now you know!
Do you need a casserole dish to make this?
Not really. This can be prepared on the stove top then transferred to a large serving bowl. I prefer to serve mine in an oven-safe casserole dish though so that I can pop it in the oven to keep it warm. You could also keep this warm using a crockpot.
I really like the presentation of food in a white dish though and that's why I typically serve my side dishes using my favorite Corningware casserole dish.
The 2.5 qt dish is a good size for this recipe, leaving room to spare for scooping without a mess. The set is a good price and the large dish comes with a glass lid so it looks great on the Thanksgiving dinner table.
Thanksgiving Leftover Idea!
This butternut squash orzo pairs so nicely with smoked turkey. Just shred any leftover smoked turkey you have and toss it into this butternut squash orzo. The addition of turkey makes this into a complete meal in just one step and the flavor will blow your mind! By the way, if you've never smoked a turkey before, check out this how to smoke a turkey tutorial. It's super easy but you will need a smoker.
Make it a chicken casserole for dinner!
By just adding shredded rotisserie chicken, this becomes a complete dinner. Perfect for busy weeknights.
★ More Recipes You'll Love ★
Love easy and yummy recipes?
Check out my most popular recipes or browse all my recipes and Pin your favorites for later.
This recipe for butternut squash orzo was featured on Merry Monday, Thanksgiving Recipe Round up, and South Your Mouth!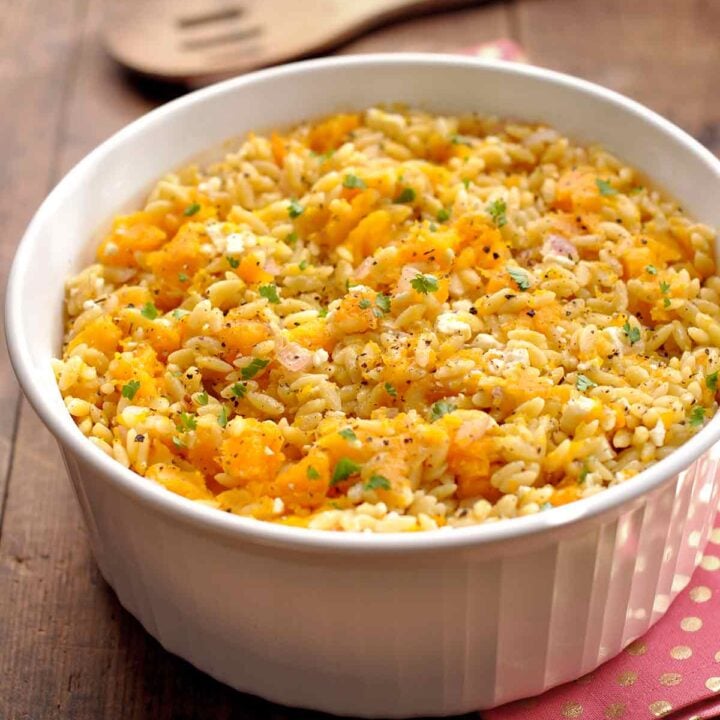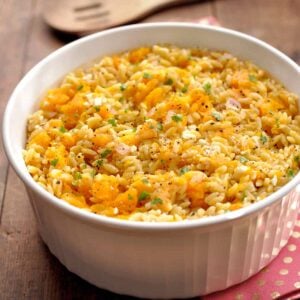 Butternut Squash Orzo with Feta and Sage
This butternut squash orzo is seasoned with sage and brown butter. Creamy feta cheese adds a delicious tang. A unique side dish for your Thanksgiving dinner menu or add chicken to make it a complete meal any day. This dish is similar to a risotto but made with pasta in place of rice. Super easy to make! Just 6 ingredients!
Read Comments
Print
Pin
Rate
Ingredients
1

butternut squash

or bag of cubed butternut squash

16

oz

orzo

4

chicken or vegetable bullion cubes

¼

cup

butter

1

large

shallot

diced

1

teaspoon

sage

1

cup

crumbled feta cheese

Salt and pepper to taste
Instructions
Cut butternut squash in half and remove seeds. Place face down on baking sheet. Add about ¼" of water to baking sheet. Bake at 400˚ for about 25-30 minutes or until squash is very soft. Cool then peel away outer skin and slice into bite-sized chunks.

While squash is baking, cook orzo according to the package but add chicken bullion to the water for additional flavor. When done, drain and set aside.

In a pan, melt butter and add diced shallots. Cook over medium heat until shallots as transparent. Stir in sage.

Return drained orzo to the pot it cooked in, add in butter and shallots then lightly toss in cubed butternut squash and feta cheese. Add salt and pepper to taste. Transfer to casserole dish and serve warm. Or refrigerate and reheat in oven prior to serving.
Nutrition Facts
Calories:
285
kcal
|
Carbohydrates:
44
g
|
Protein:
9
g
|
Fat:
9
g
|
Saturated Fat:
5
g
|
Polyunsaturated Fat:
1
g
|
Monounsaturated Fat:
2
g
|
Trans Fat:
1
g
|
Cholesterol:
26
mg
|
Sodium:
309
mg
|
Potassium:
386
mg
|
Fiber:
3
g
|
Sugar:
4
g
|
Vitamin A:
8178
IU
|
Vitamin C:
16
mg
|
Calcium:
124
mg
|
Iron:
1
mg
Follow Mighty Mrs. for more easy recipes!
Find @MightyMrs on Pinterest