A deliciously easy weeknight dinner idea! Panko crusted crispy chicken pairs nicely with the basil and pimento cream sauce. Serve over Pappardelle pasta or egg noodles. Ready in 30 minutes!
This post may contain affiliate links. As an affiliate, I earn a commission.
Jump down to Recipe
A deliciously easy weeknight chicken dinner idea!
This kid-friendly dish will satisfy your craving for something sophisticated and flavorful.
★ Why You'll Love this Recipe ★
Perfectly seasoned chicken with a bit of crunch.
Panko bread crumbs are seasoned with a bell pepper and garlic spice blend adding lots of flavor in just a few dashes.
Just bread the chicken as you normally would and give it a quick fry in a skillet to really get a crisp outer layer that contrasts so nicely with the creamy sauce.
Flavorful creamy homemade sauce.
The cream sauce is from-scratch yet comes together really easily using leftover tidbits from cooking the chicken and the power of basil, pimento peppers and chicken bullion to really punch up the flavor.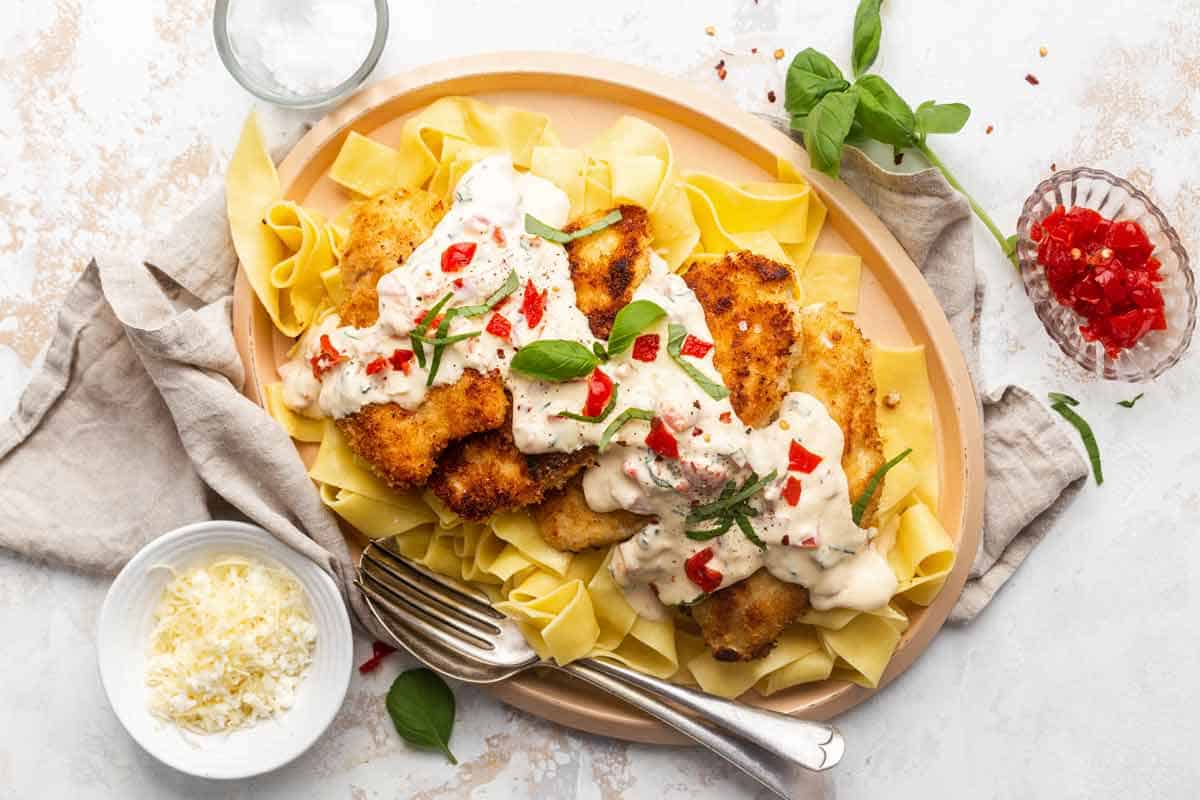 ★ Ingredients You'll Need ★
You don't need a long list of ingredients for this dish making this dinner as natural go-to for busy weeknights.
Here's everything you'll need:
Chicken cutlets. You can buy these ready to go or filet your own chicken breasts. Here's a quick video showing how to make cutlets from a breast.
Sour cream. This single ingredient covers three bases: tenderizes, adds tangy flavor, and helps breadcrumbs stick to your chicken.
Garlic and bell pepper seasoning. You can usually find this spice blend at your grocery store but in case you can't you can also find this herb blend on amazon. Note: Some blends do not contain salt, so you will need to add additional salt if this is the case.
Italian Panko bread crumbs. Panko bread crumbs are larger and provide more crunch. You can use regular breadcrumbs in a pinch, but Panko will give you more texture.
Butter or cooking oil. A flavored cooking oil like olive or grape seed oil is best.
Minced garlic. You can use fresh garlic, garlic paste or even garlic powder if that's all you have.
Half & half. You can substitute with milk or heavy cream. This will affect the richness of the cream sauce but will still work.
Chicken bouillon. This is key to maximum flavor. A small amount of bullion majorly enhances the flavor of chicken. I use it in almost all my chicken recipes. It's one of my favorite tricks for taking a dish from bland to WOW.
Pimento peppers. These come in a little jar with juice. Go ahead and add the whole jar, juice included. No need to drain. The juice will add a nice layer of flavor to the cream sauce.
Italian shredded cheese mix. Any blend of Italian cheeses will do.
Fresh basil. Fresh is key. You can use basil paste if needed but fresh-picked is best.
Red pepper flakes. These are totally optional but add a hint of spice if that's your thing.
Egg noodles or Pappardelle pasta. You can serve this chicken and cream sauce over any type of pasta but these are my favorite options.
★ Tips & FAQs ★
Options for Cooking with Basil
You can get jarred fresh basil in the spice aisle, full plants or fresh-picked basil leaves in the refrigerated produce section at most grocery stores.
There is nothing like the smell of fresh basil. And the taste is a billion times more flavorful than dried basil. In this case, fresh is a must.
Growing Basil Indoors
This past winter I brought my basil plant indoors and it did really well! I loved having the extra greenery in the house and if you have a cute pot, it doubles and home decor. I love the self-watering pots for herbs but really any pot will do.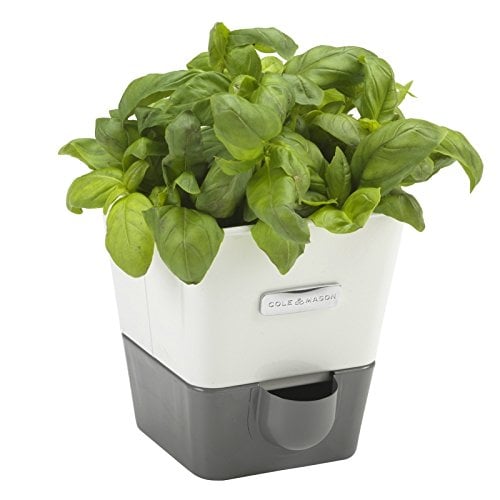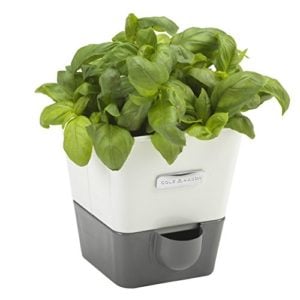 The self-watering ones just come in handy if you are like me and forget to water them often or if you travel frequently.
Tips for Melt-in-Your-Mouth Chicken
There are a couple easy way to achieve moist, tender bites of chicken.
Tenderize by Pounding
One way to ensure your chicken is tender is to pound it out. To do this, simply place raw cutlets on a cutting board, cover with plastic wrap and pound flat with a meat tenderizer until the cutlet is a consistent thickness. This helps the chicken evenly cook as well.
Note: Be careful to clean up well and be avoid splatters as raw chicken can contain salmonella.
Marinate
The properties of sour cream help tenderize the chicken before you cook it. The longer the chicken sits in the sour cream, the better.
To marinate, take your raw chicken cutlets and rub them all over with salt then a thick coating of sour cream. Place in a large ziplock bag and let sit in the fridge for at least 2 hours or overnight.
This requires a little bit of advanced planning but it doesn't make sure time and it's worth it!
What type of pan is best for frying?
I highly recommend a cast iron skillet.
They hold their heat and offer a nice even cooking surface for searing and cooking chicken, steak, pork, fish, etc. to perfection.
Another reason I love cooking with a cast iron skillet is that it can go right into the oven. So if you need to keep something warm or want to bake the top of something to get a final crispy layer, then you can just pop the skillet right into the oven.
Yes, they are heavy. No, they don't work well for cooking eggs. But they are great for cooking meats and creating sauces from the leftover flavor bits left on the skillet.
Don't already own one?
Shop cast iron skillets on Amazon
Aim for Golden Brown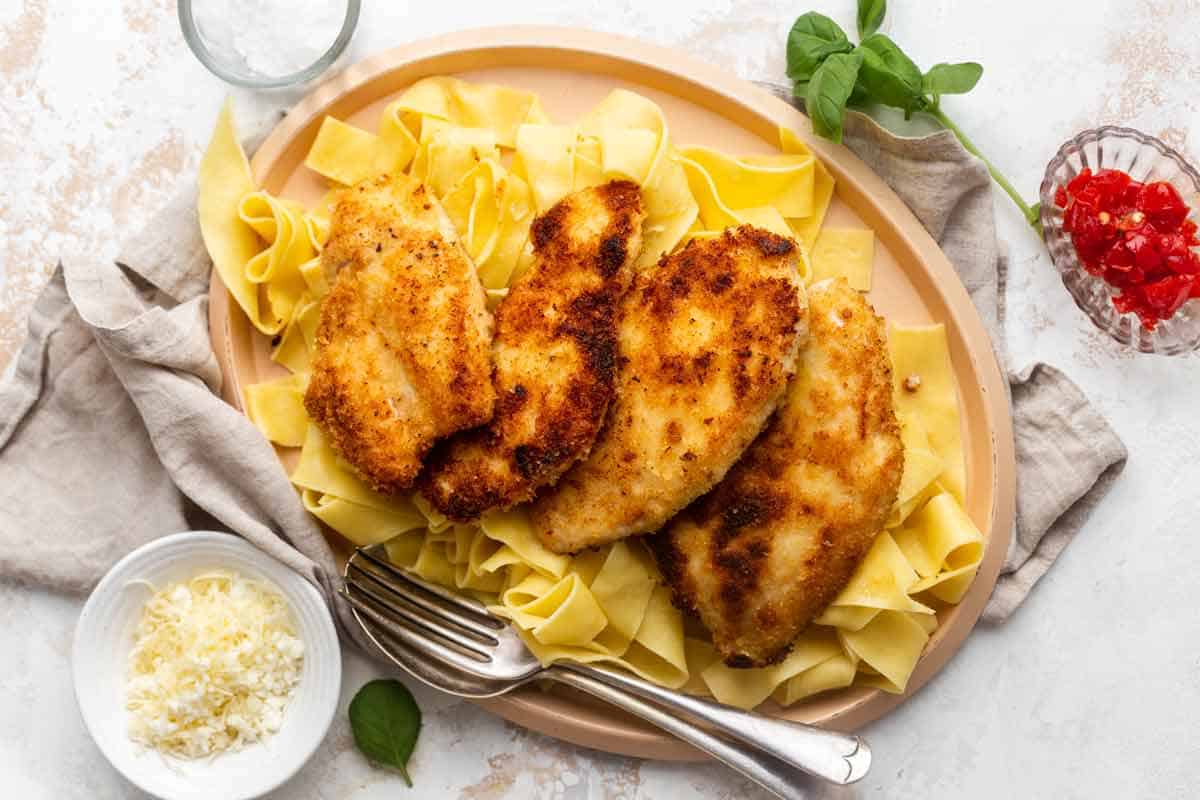 Pan frying can be tricky because when you add the chicken, it lowers the oil temperature. When a drop of water sizzles in the oil, you know the oil is hot and ready to add the chicken. You don't want the pan too hot though, or your breading will quickly brown before the chicken itself is thoroughly cooked.
Use a meat thermometer to check your chicken (165˚ and you're good to go), and flip sides when cooking as needed to prevent over-browning.
Pounding the cutlets flat prior to coating with bread crumbs will also help ensure your chicken cooks evenly with an even golden coloring.
Soak up excess oil
When done frying, I like to transfer my crusted chicken to a plate lined with a double layer of paper towels. This absorbs any excess oil in just a few seconds. While it's still hot, you can move the chicken to top the pasta and add sauce.
Adapted from a popular Pinterest recipe, with tweaks.
This is an adaption of an Herb Crusted Chicken in Basil Cream Sauce Pinterest recipe I experimented with. I altered it to simplify the ingredient list and also added a little heat and tang! I also upped the amount of sauce so there's enough to cover the chicken and noodles.
Want to make this kid-friendly?
Have picky eaters? Serve the chicken and pasta separately and make the cream sauce optional.
★ More Recipes You'll Love ★
This homemade chicken dinner dish is ready in 30 minutes!
Want more easy dinner ideas?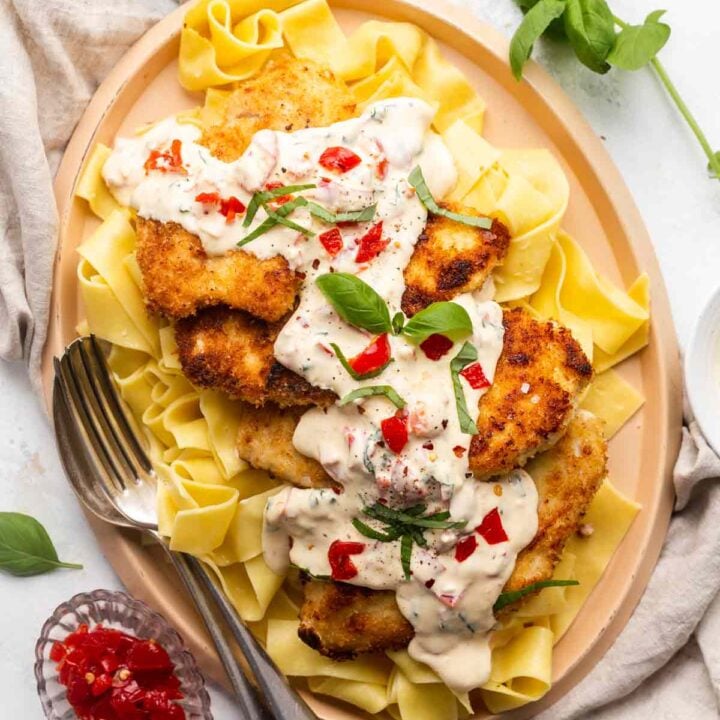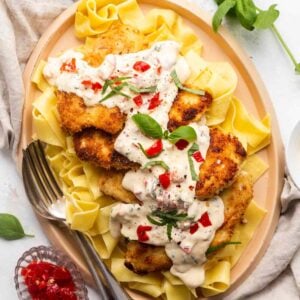 Crusted Chicken with Basil-Pimento Cream Sauce
A deliciously easy weeknight dinner idea! Panko crusted crispy chicken pairs nicely with the basil and pimento cream sauce. Serve over Pappardelle pasta or egg noodles. Ready in 30 minutes!
Read Comments
Print
Pin
Rate
Ingredients
4

chicken cutlets

pounded flat

¼

cup

sour cream

½

teaspoon

garlic bell pepper seasoning

½

cup

Italian Panko bread crumbs

4

tablespoon

butter or cooking oil

divided

1

tablespoon

minced garlic

1

pint

half & half

2

teaspoon

chicken bouillon

4

oz

pimento peppers

no need to drain

½

cup

Italian shredded cheese mix

¼

cup

fresh basil

sliced

red pepper flakes to taste

optional

4

cups

cooked egg noodles or Pappardelle pasta
Instructions
Place bread crumbs mixed with garlic bell pepper seasoning and milk in two separate bowls.

Place chicken on a cutting board and cover with plastic wrap.

Pound out chicken as needed so that the entire cutlet is the same thickness.

Coat each cutlet in sour cream using clean hands or a brush.

Move to the bread crumb bowl and toss chicken until thoroughly coated on all sides.

Preheat a large skillet with 2 tablespoon butter or oil, over medium heat.

Add chicken and cook for 5-7 minutes on each side or until golden brown and internal temp is 165˚ (time varies depending on thickness of the chicken.)

Transfer cooked chicken to a plate and loosely with foil to keep warm.

Using the same skillet, sauté garlic in remaining butter or oil for 1 minute.

Add half & half and chicken bullion, cheese, pimentos, basil, and red pepper flakes. Bring to a bubble and stir until well blended.

Reduce heat and simmer for 4 minutes, stirring occasionally.

Serve chicken over cooked, warm noodles, topped with sauce.
Notes
You can create your own cutles by cutting a chicken breast in half to thin it out.
Nutrition Facts
Calories:
786
kcal
|
Carbohydrates:
55
g
|
Protein:
53
g
|
Fat:
40
g
|
Saturated Fat:
19
g
|
Polyunsaturated Fat:
3
g
|
Monounsaturated Fat:
10
g
|
Trans Fat:
1
g
|
Cholesterol:
238
mg
|
Sodium:
469
mg
|
Potassium:
957
mg
|
Fiber:
3
g
|
Sugar:
7
g
|
Vitamin A:
1785
IU
|
Vitamin C:
34
mg
|
Calcium:
232
mg
|
Iron:
3
mg
Follow Mighty Mrs. for more easy recipes!
Find @MightyMrs on Pinterest