You are going to love this easy cinnamon pull apart bread. It's simple to make and you can make it ahead.
The super secret shortcut? Start with cinnamon rolls.
Imagine warm, gooey, fresh-baked cinnamon bread drizzled with icing. Now imagine not having to make dough, let it rise, or roll it out. Do you like where this is headed?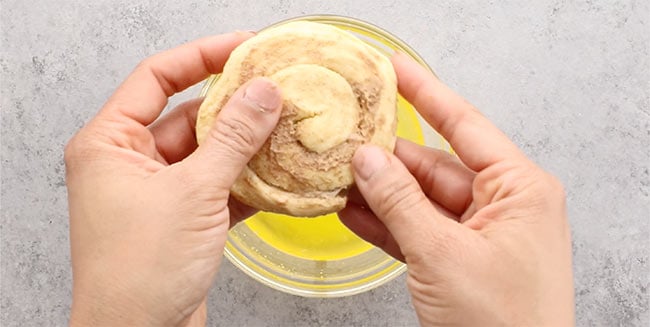 So easy yet so pretty!
Let's take this one step further and talk about the loaves of artisan bread you and I admire at Panera or the local farmer's market. I love the texture and look of bread that is more than just a big honkin' loaf.
I appreciate a dusting of flour, the slits that have baked open to perfection or when the dough is braided or formed into some other fun shape. Those little details make me excited, but the thought of putting in the time to create those details myself can get overwhelming. Especially since when I do most of my "fancy" cooking, it's around the holidays or it's for a birthday party and my stress level is already a little higher that it needs to be.
This is why I like a good shortcut.
Look how pretty this loaf of bread looks, but much easier: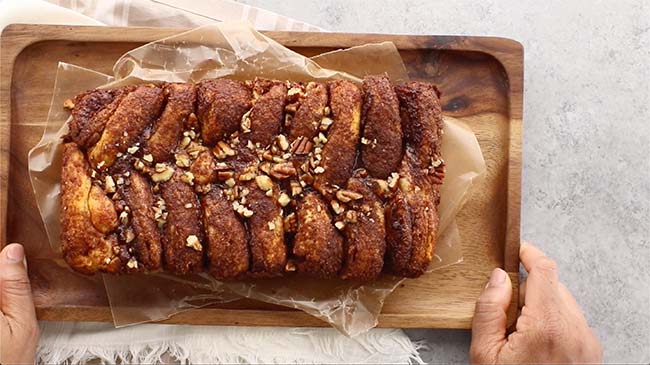 Check out just how easy it is to make this from start to finish.
Watch, step by step, how this pull apart bread is made:
What do you need to make this cinnamon pull apart bread?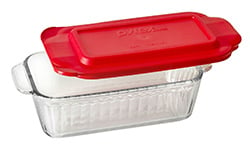 So, here's the deal. All you need is about 10 minutes of prep time, a loaf pan, a fair amount of butter and a little know-how to get a great looking pull-apart loaf. I use Pillsbury flaky Cinnamon rolls as a starting point.
Save time. Sweet, sweet time.
Aside from not having to make dough from scratch, you'll save time not having to make icing too since cinnamon rolls come with icing already (hello cream cheese icing!!)
No more dry cinnamon rolls for breakfast.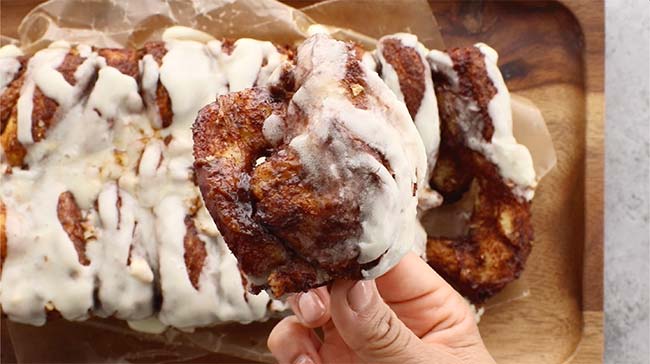 I love this pull apart bread for a lot of reason but mostly because you get the Pillsbury cinnamon roll flavor you love but without all the dry edges.
Raise your hand if you only really and truly enjoy the middle of the cinnamon rolls. Thought so.
So, yeah. This cinnamon bread is basically like the center of the cinnamon rolls but ALL OVER. Am I your new best friend or what?
Do you have to use Pillsbury cinnamon rolls?
Nope. You can use any brand of ready-made cinnamon rolls you prefer.
It's important to note, cook time can vary greatly depending on what type of cinnamon rolls you start with. There's no right or wrong brand or type to use, but just keep in mind, usually the bigger the rolls, or if you are starting with frozen or even colder rolls, the cook time is affected. It's best to keep an eye on the center of the loaf. It's done with it's no longer doughy in the center. You may need to cover the whole loaf with foil to prevent it from browning too much if it needs a longer cook time.

Are you a cinnamon lover?
Do you love cinnamon everything? Then you might want to also check out my cinnamon baked french toast recipe. It's a little quicker to make and has a similar flavor to this pull apart bread but a little more french toast like vs. a bread. You can also make it ahead so it's great for holiday breakfast.
Here are a few others too for you cinnamon lovers:
You may also like these popular recipes:
This easy cinnamon pull apart bread using Pillsbury cinnamon rolls was featured on Sew It Craft It Cook It! and Meal Plan Monday!