This Classic Italian Pasta Salad is my favorite summer side dish. It's so simple, easy to customize and is always a hit at potlucks, barbecues, or parties. Made with creamy Olive Garden Italian dressing.
This post may contain affiliate links. As an affiliate, I earn a commission.
Jump down to Recipe
This Classic Italian Pasta Salad is my favorite summer side dish but it can really be enjoyed year round. It's so simple, easy to customize and is always a hit at potlucks, barbecues, or parties. It also make a great make-ahead lunch for weekdays.
Homemade is indeed better.
This version is similar to the Betty Crocker's boxed pasta salad yet it's completely homemade. So you're going to get a lot more of it for your money and everything is going to taste fresh. Plus you'll save yourself and your guests from eating all those yucky preservatives. The only extra work involves cutting up a few veggies. Worth it? I would say so!
Don't worry, this is tasty side dish is super easy to make!
Watch this video that shows how to make this classic Italian pasta salad, start to finish:
Ingredients Needed to Make this Classic Italian Pasta Salad Recipe
Just 8 ingredients plus S&P! Super easy.
Here's everything you'll need: Cooked Rotini pasta (or any shape you'd like), fresh-shredded carrots, fresh parsley, red and green bell peppers, black olives (optional), Olive Garden Italian dressing, and grated Parmesan cheese. Add Suddenly Salad seasoning to give this an extra flavor boost — not required but totally recommend.
What kind of dressing is best for this classic Italian pasta salad?
Well, Italian dressing of course. 😉 But you decide what's you're favorite. There are several bottled dressings that taste really great and are not full of preservatives.
My favorite for this pasta salad is Olive Garden's creamy Italian dressing:
Shop Olive Garden Italian Dressing on Amazon
You can also buy the packets of Italian dressing seasoning and mix the dressing yourself, adding your own oil and vinegar. Sometimes if I'm making a big batch of this pasta salad, I'd do a packet of Italian dressing seasoning mixing it with oil and vinegar, and then I'll add a small bottle of the Olive Garden creamy Italian dressing. Kind of like, half creamy half not.
Or you can go fully homemade and mix your own Italian seasoning blend and add oil and vinegar.
So depending on what you like, how much time you have or what you have on hand, choose whatever option fits you best.
What kind of Parmesan cheese goes best with this salad?
Again, I really recommend going with whatever option suits you best and what's most convenient. You can opt for grated or shredded Parmesan cheese. The flavor is very similar, the texture is just a bit different.
Grated Parmesan cheese will give you move of that all-over cheesy flavor, whereas the shredded Parmesan cheese will give you a bit more bite and bursts of cheesy flavor.
You can opt for per-shredded or grated cheese or grate your own. I am a fan of grating my own because I feel like you get so much more flavor when it's fresh, however, I'm also a big fan of convenience so I am not above buying the cylinder of grated cheese either. I just go with what time allow each time I make this dish.
If you're using an Italian dressing that already has cheese in it, you may not need to add any extra cheese. Taste and see what you think! Like I tell the mister, you can always add things in, but it's hard to take things out. Taste first and then decide!
What are the key ingredients of this classic Italian pasta salad?
Remember this "classic" Italian pasta salad recipe is mirrored after Betty Crocker's version. So an Italian cook would have a different answer for this I am sure! I just really like the simplicity of the Betty Crocker recipe but the boxes are so tiny, when you're trying to feed a crowd, I just decided to make my own version one day and never looked back.
So, the featured flavors here are: carrots, black olives, red pepper, Parmesan cheese and Italian dressing. I also added in a green pepper just because I think the green looks nice and adds a little different flavor to compliment but is not as sweet as the red pepper.
Could you add in other vegetables like cucumbers to this pasta salad?
Absolutely! Cucumbers, tomatoes, red onions, fresh mozzarella, mushrooms, artichokes, beans, pepperoni, ham, salami, fresh spinach… pretty much anything you'd put on a pizza, I think, would work in this salad. I've even added in a bag of salad greens. This is a great base recipe but you can absolutely customize it especially if you're making it multiple times throughout the season. Try some different ingredients just to keep things interesting and fresh.
Want an extra boost of flavor and texture?
I sometimes add several heavy dashes of McCormick Perfect Pinch Salad Supreme Seasoning. It's specially made for pasta salads so the spices don't need to cook to activate like other dry herbs do. The flavor complements Italian dressing really well and my personal favorite part about this topping is the little sesame seeds in this mix. They just add a subtle crunchy texture to this pasta salad that's so good.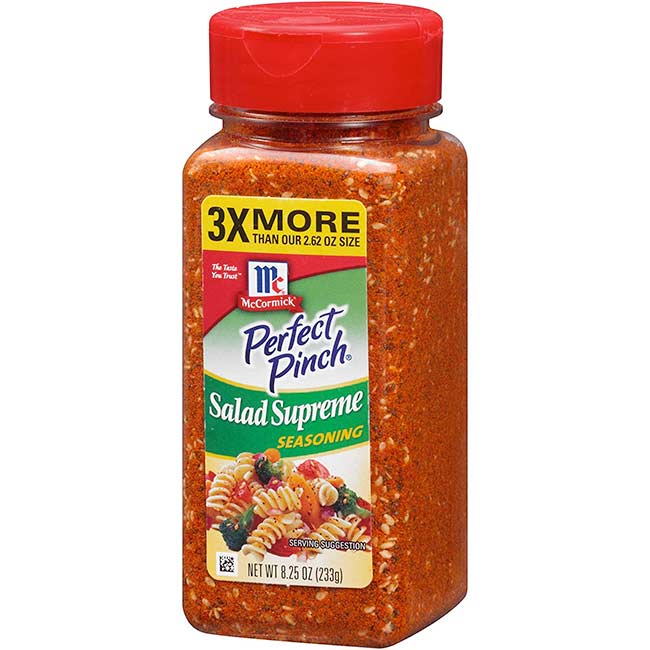 Shop Salad Supreme Seasoning on Amazon
You can check out the blend of spices and other ingredients if you scroll down and look for "Important Information." Again, this is something I sometimes add. It's totally optional but usually gets people talking about how yummy the pasta salad is so it's a bit of a secret ingredient if you're looking for amazing flavor.
What kind of pasta works best?
Again, up to you. I used rotini pasta because it's pretty hearty. You can go with the tri-colored rotini, or choose any type of pasta that looks appealing. We like to get fun shapes sometimes, I've even used spaghetti because that's what I had. Mix it up! Use whatever you have! There's no right or wrong pasta. You can even use tortellini!
If you want some extra vitamins, you can opt for tri-color pasta which has veggie powder and extra vitamins. There are also gluten-free pastas and well as extra-protein pasta available. Go with what suites your diet and/or your taste buds.
What if my family doesn't like olives?
I am so sad for you. But I can relate. I have many people in my family who do not like olives. So I just opt to put a bowl of olives on the side. Problem solved! And more olives for me. 🙂
Does this need to be refrigerated?
Ideally, yes. This pasta tastes best when it has time to marinate overnight or for at least 2 hours. The dressing need to soak into the noodles. Also, before you serve it, be sure to give it a stir to evenly distribute the dressing.
This Italian pasta salad is a great little side dish but makes an easy lunch too.
My mom almost always had a batch of pasta salad in the fridge. It's great for a quick lunch or even dinner. No heating necessary so it's great for busy summer months.
Want more side dish ideas?
Browse all my side dish recipes
This classic Italian Pasta Salad recipe was featured on Menu Plan Monday and South Your Mouth!

Classic Italian Pasta Salad
This Classic Italian Pasta Salad is my favorite summer side dish. It's so simple, easy to customize and is always a hit at potlucks, barbecues, or parties. Made with creamy Olive Garden Italian dressing.
Read Comments
Print
Pin
Rate
Ingredients
14.5

oz

rotini pasta

tri-colored or plain

1

red pepper

seeded and chopped

1

green pepper

seeded and chopped

¼

cup

freshly shredded carrots

1-2 carrots

3.8

oz

sliced olives

¼

cup

dried or fresh chopped parsley

16

oz

Italian dressing

or make your own

Sea salt and pepper to taste

½

cup

Parmesan cheese

shredded or grated

Few dashes of McCormick Perfect Pinch Salad Supreme Seasoning

Optional but highly recommend
Instructions
Boil pasta according to package and drain. Place pasta in a large bowl and toss a few time to cool.

While pasta is cooking, chop peppers and shredded carrots then add to drained pasta. Add olives and parsley and finally stir in Italian dressing.

Add salt and pepper to taste. Ideally chill for at least 2 hours or overnight but OK to serve right away too.

Before serving, add Parmesan cheese and toss to distribute evenly or offer Parmesan on the side as a topping.
Nutrition Facts
Classic Italian Pasta Salad
Amount per Serving
% Daily Value*
* Percent Daily Values are based on a 2000 calorie diet.