These grilled veggie sandwiches make an easy and light weeknight meal or a hearty appetizer. Try them for your next barbecue— something other than burgers and dogs!
This post may contain affiliate links. As an affiliate, I earn a commission.
Jump down to Recipe
This shop has been compensated by Collective Bias, Inc. and Mazola® Corn Oil. All opinions are mine alone. #MarinadesWithMazola #MakeItWithHeart #CollectiveBias

This recipe is made with Mazola® Corn Oil, an all-purpose, cholesterol free cooking oil that is a smart heart-healthy choice for your family. See Mazola.com for more information on the relationship between corn oil and heart health. It has a variety of uses include baking, grilling, sautéing, stir frying, or mixing up a marinade or dressing. I love having it on hand because of its versatility! With more cholesterol-blocking plant sterols than other cooking oils, it's a great choice for just about any type of cooking. A clinical study showed Mazola Corn Oil reduces cholesterol 2x more than extra virgin olive oil.​ To learn more about this claim and other claims within this post, see Mazola.com.
For this recipe, we're using Mazola as part of the marinade.
Mazola has a smoke point higher than most cooking oils at 450°F and performs well in a variety of cooking applications. Many home cooks may not realize that all cooking oils have a smoke point that, once exceeded, can negatively affect the food's flavor and nutritional value
Pick up a bottle of Mazola Corn Oil to keep on hand and use this special offer for $1 off: Text MAZOLA to 79495 between 6/20/19 – 9/26/19 to receive $1.00 back on your purchase of Mazola 40oz Corn Oil! Limit 1 rebate per household. PayPal account required. By texting, you expressly consent to receive multiple automated text messages on this offer. Consent not required as a condition of purchase. Message & data rates apply. Text HELP or STOP to 79495 at any time. Full terms: http://cbi.as/a38tw.
Okay, so let's talk about this delicious, open-faced marinated grilled vegetable sandwich! It's one of my all-time favorite dishes to make during grill season. It's so tasty and easy to make.
Try this sandwich for dinner or serve as an appetizer.
These grilled veggie sandwiches make an easy and light weeknight meal or a hearty appetizer. Try them for your next barbecue— something other than burgers and dogs! Or just something different for dinner.
Light yet oh-so tasty!
These vegetable sandwiches are lightened up in three different ways:
No meat! Grilled veggies, smothered in flavor thanks to a quick and tasty marinade, bring so much flavor. You won't even miss the meat.
I use Mazola Corn Oil for the marinade vs. olive oil. My husband can't actually eat olive oil due to an allergy but it works out because corn oil has a neutral taste and that lets the flavors of the marinated vegetables really shine through.
I swap out mayo with plain Greek yogurt. My mom is not a fan of mayonnaise. Even though I've tried to convince her there is really only just a little bit in the aioli sauce, she still just isn't a fan. So for her, and when I want to lighten up this dish, I make that swap. Your choice if you want to do this too. Both produce great results but the Greek yogurt is a bit more nutritious and adds some extra tang.
Short on time?
I have some tips for you!
The Marinade
It honestly doesn't take much time to make a batch of these marinated grilled veggies. An overnight marinade is not required. Just 30 minutes will do. However, if you're really crunched for time, then you can skip letting these veggies sit and just use the marinade to coat your veggies before you grill them. The flavors will sink in a bit as the veggies cook. You'll be making a sauce that will also add flavor so don't stress if you don't have 30 minutes to wait around. It's not a huge deal.
The Veggies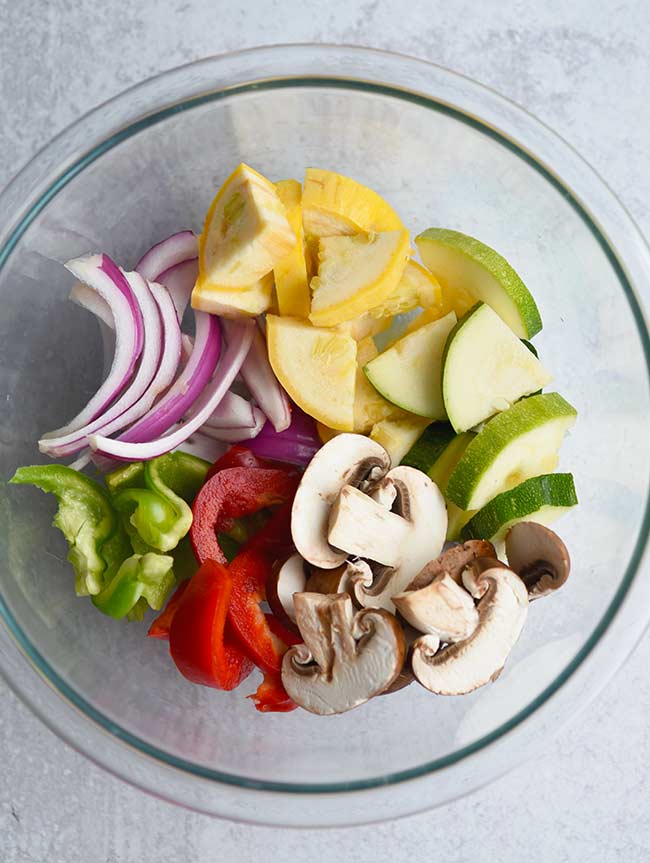 During grill season, many stores have prepackaged veggies, already cut and ready to be grilled. This particular combination of veggies — squash, zucchini, bell peppers, mushrooms and red onion is one I see often already all sliced and packaged together. I really prefer fresh-sliced veggies but if you don't have time, this is a great next-best option.
The Bread
You can usually find ciabatta bread at your local bakery. Toast them lightly so they're nice and crunchy. If you can't find ciabatta bread, any dry, crusty bread would work well.
The Aioli Sauce
This homemade sauce adds an extra layer of flavor and also helps the veggies and feta all stick together and stay put as you bite into these sandwiches. The sauce is very easy to whip up, however to save time, you can search your grocery store for pre-made aioli sauces. Keep in mind though, they're usually made with mayonnaise. So if you want a lighter version, make your own and use Greek yogurt in place of mayo.
So many reasons you'll absolutely love this sandwich!
Just look at it. ?
Here's a break down of exactly what I love about this marinated vegetable sandwich:
The lemon-garlic marinade and aioli sauce adds a punch of flavor at both ends.
It's a healthier alternative to meaty sandwiches.
It's so colorful it'll just make you happy! ?
You can grill or cook the veggies in a skillet on the stove top.
Tips for Grilling

If you try to grill veggies directly on the grill, most likely you're going to loose them down the cracks. That makes a big mess and your dinner lighter—but not in a good way!
If you're determined to have your vegetables look "grilled," complete with pretty grill marks, then your best bet is to use a cast iron griddle with ridges. Place the griddle on top of your grill and heat it up along with your grill. The griddle transfers the heat of the grill. A perk of using a griddle with ridges is that any juices the veggies produce when cooking, will drain off, leaving just a light coating of oil which will make your veggies crispier and tastier!
I'd recommend a cast iron griddle that has an edge to it. It's really hard to stir and flip the veggies without them fall off the sides if you don't have somewhat of an edge. Here's an example:
However, if you don't have a griddle, that's okay. You can still get really good results with other tools.
You can use a veggie basket, a standard cast iron skillet, or even just a baking sheet. I recommend using a heavy duty baking sheet that's thick, otherwise the high cook temperature can warp your pan. I use a baking sheet when I'm making a big batch since it holds a lot of veggies and has a lip so it keeps things contained pretty well.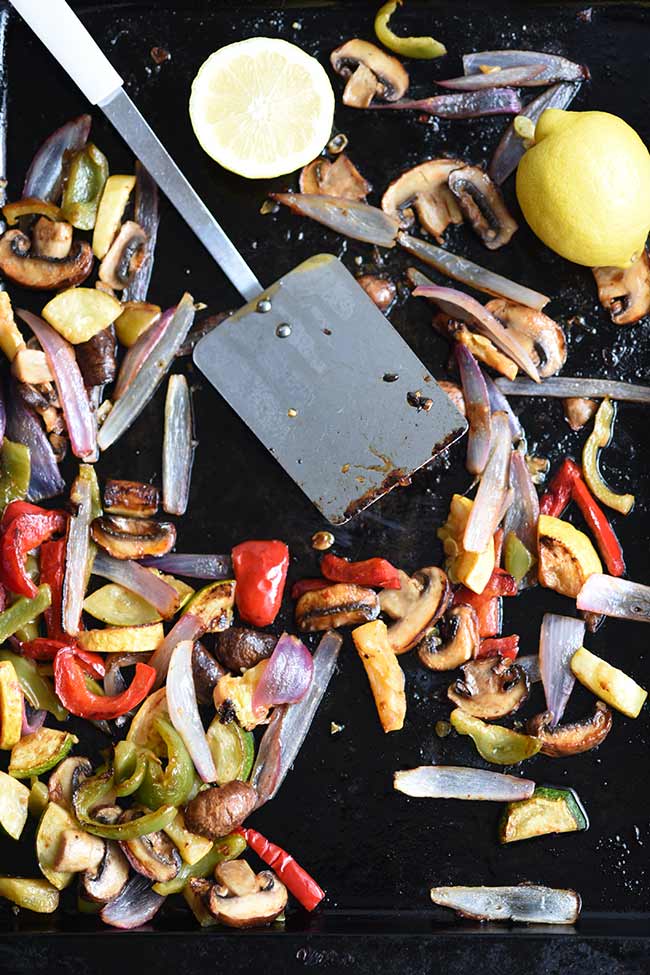 Keep an eye on the grill.
You're going to want to stir the veggies a few times during the cooking process so they cook evenly and get some tasty charred marks without completely burning.
I recommend standing watch and stirring or flipping as needed. The amount of water that will cook out of your vegetables can vary greatly, so you may need to stir more or less. Just keep an eye on the color. If the vegetables start to darken or get stuck to the pan, it's time to flip or stir them.
Serve these sandwiches, open-faced.

"Open-faced" is just a fancy way of saying these sandwiches only use one piece of bread. This helps cut down carbs and also looks pretty when served. Win-win!
Enjoy this summer grilling favorite and feel free to sub in or add other veggies as you please. Also, let me know what you think in the comments below!
Want more vegetable recipe ideas?

Browse all my vegetarian recipes
This marinated grilled vegetable sandwich recipe was featured on South Your Mouth and Menu Plan Monday!

Marinated Grilled Vegetable Sandwich
These grilled veggie sandwiches make an easy and light weeknight meal or a hearty appetizer. Try them for your next barbecue— something other than burgers and dogs!
Read Comments
Print
Pin
Rate
Yield:
4 open-faced sandwiches
Ingredients
2

ciabatta rolls

¼

cup

feta cheese

4

portobello mushrooms

½

yellow squash

½

zucchini

½

red bell pepper

½

green bell pepper

½

small

red onion
MARINADE
¼

cup

Mazola Corn Oil

½

tsp

fine sea salt

1

tbsp

lemon zest

1

tbsp

garlic paste
LEMON-GARLIC AIOLI SAUCE
2

tbsp

lemon juice

¼

cup

mayo

swap with Greek Yogurt to lighten up

1

tbsp

garlic paste
Instructions
In a bowl, combine Mazola Corn Oil, sea salt, lemon zest and garlic to create marinade.

Slice mushrooms, squash, zucchini, bell peppers, and onion and add to marinade. Toss to coat. Cover and refrigerate for 30 minutes.

Line your grill with a large sheet of foil or use a baking pan or griddle. Heat grill to high then add marinated veggies. You'll want to stir the vegetables occasionally as they cook. Grill for about 15 minutes or until veggies are softened and a bit charred.

Prepare the lemon-garlic aioli sauce by simply mixing together the ingredients in a small dish.

Slice the ciabatta rolls in half and toast lightly on the grill or in the toaster.

Layer grilled veggies on top of the toasted rolls, then top with feta cheese crumbles. Spoon on lemon-garlic sauce and you're ready to serve!
Nutrition Facts
Marinated Grilled Vegetable Sandwich
Amount per Serving
% Daily Value*
* Percent Daily Values are based on a 2000 calorie diet.